Facebook Removes Post by Trump for First Time Over COVID-19 Misinformation
Social media platform Facebook removed a post from President Donald Trump's page on Wednesday claiming it violated the company's coronavirus misinformation policy. It is reportedly the first time that Facebook has taken down one of the president's posts.
Trump's post included a portion of video from a Wednesday interview conducted with Fox News. President Trump alleged that children should be able to return to public schools for in-person education because they are "almost immune" to COVID-19.
"If you look at children, children are almost—and I would almost say definitely—but almost immune to this disease," Trump said in an interview with Fox & Friends.
"I don't know how you feel about it, but they've got much stronger immune systems than we do somehow for this than we do and they don't have a problem," Trump added. "They just don't have a problem."
"This view includes false claims that a group of people is immune from COVID-19 which is a violation of our policies around harmful COVID misinformation," a Facebook spokesperson told Newsweek in a Wednesday statement.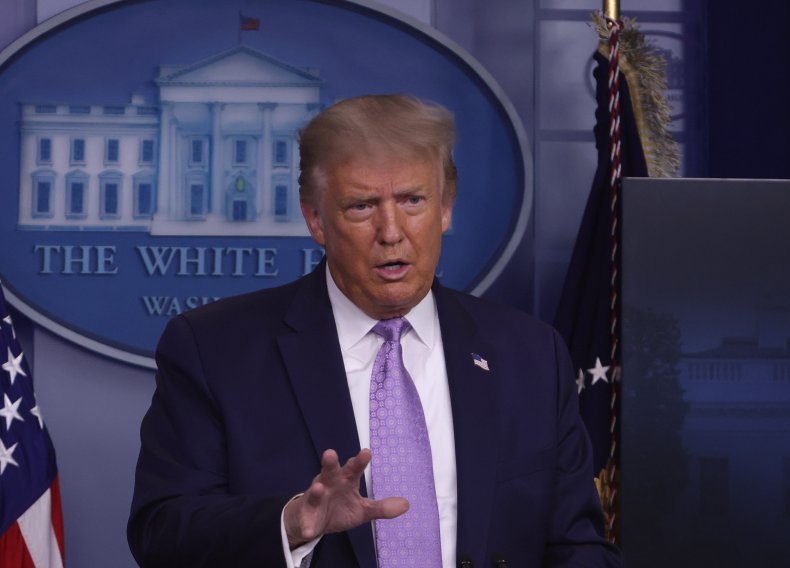 Although the post was removed from Facebook, the video could still be viewed for a short while on the Trump campaign's feed on Twitter. Twitter said the account would be prohibited from making more posts until the coronavirus tweet was removed. The tweet was deleted soon after.
In a statement emailed to Newsweek from the Trump campaign, Deputy National Press Secretary Courtney Parella said Trump "was stating a fact that children are less susceptible to the coronavirus. Another day, another display of Silicon Valley's flagrant bias against this President, where the rules are only enforced in one direction. Social media companies are not the arbiters of truth."
Although this is the first time Facebook has removed a post by the president himself, ads from his reelection campaign were removed in June. In a post urging voters to stand with Trump against far-left groups including antifa, the Trump campaign included the imagery of an upside-down red triangle. During World War II, Nazis sewed upside-down red triangles on the uniforms of political prisoners being held captive in concentration camps.
At the time, Facebook released a statement claiming it removed the posts and advertisements "for violating our policy against organized hate. Our policy prohibits using a banned hate group's symbol to identify political prisoners without the context that condemns or discusses the symbol."
The Trump campaign alleged that antifa used the red triangle as a symbol and questioned why Facebook would highlight their advertisement.
"We would not that Facebook still has an inverted red triangle emoji in use, which looks exactly the same," said Trump campaign spokesman Tim Murtaugh in June, "so it's curious that they would target only this ad."