Trump Ad That Included Nazi Symbol Removed By Facebook
A Trump ad, which included an inverted red triangle-a badge used to identify political prisoners in concentration camps-has been removed from Facebook for violating the social networking site's policies regarding organized hate.
As previously reported, in the since deleted Facebook post from Team Trump, Trump called for supporters to sign in support of his decision to recognize antifa as a terrorist organization. "Dangerous MOBS of far-left groups are running through our streets and causing absolute mayhem. They are DESTROYING our cities and rioting - it's absolute madness," the campaign wrote in the post. "It's important that EVERY American comes together at a time like this to send a united message that we will not stand for their radical actions any longer. We're calling on YOU to make a public statement and add your name to stand with President Trump against ANTIFA."
In a statement received by Newsweek, a Facebook spokesperson said the content is no longer available. "We removed these posts and ads for violating our policy against organized hate. Our policy prohibits using a banned hate group's symbol to identify political prisoners without the context that condemns or discusses the symbol," a Facebook spokesperson said in a statement.
The Trump War Room Twitter account responded to an NBC News reporter implying that the symbol was based on an inverted red triangle emoji and an antifa symbol, found on the shirt printing company Spreadshirt's website. The account also wrote that the symbol does not appear in the Anti-Defamation League's database of hate symbols.
In a statement emailed to Newsweek, Trump 2020 campaign director Tim Murtaugh said that the red triangle is an antifa symbol and noted that it is not included in the ADL's list of hate symbols.
"The inverted red triangle is a symbol used by Antifa, so it was included in an ad about Antifa. We would note that Facebook still has an inverted red triangle emoji in use, which looks exactly the same, so it's curious that they would target only this ad. The image is also not included in the Anti-Defamation League's database of symbols of hate. But it is ironic that it took a Trump ad to force the media to implicitly concede that Antifa is a hate group," Murtaugh said in a statement.
The campaign drew criticism for using the symbol in the ads. Bend the Arc, an organization dedicated to "uniting progressive Jewish voices across America," wrote that the campaigns' "masks are off," in a Twitter thread criticizing the ads. Bend the Arc showed that the symbol had been used in various campaign posts by Trump and Pence's Facebook pages in addition to the Team Trump Facebook page.
Dove Kent, senior strategy officer for Bend the Arc, told Newsweek that Bend the Arc was calling on Republicans to denounce these campaign tactics. "For us, it's very clear that the President of the United States is campaigning for re-election using a Nazi concentration camp symbol against black protesters. So, we are calling on all Republican officials to condemn these actions and to hold their party accountable for putting lives at risk in order to hold onto power," she told Newsweek.
Kent also said that the fact that Facebook removed the ads was telling of what tactics the Trump campaign was willing to do to be re-elected. "We support Facebook's decision to remove [the ads], and I just think we need to recognize what has happened today: that Facebook had to take down ads from the President and the Vice President of the United States for violating their policy against organized hate," she said. "That is something that Americans need to know, and it is a very dangerous sign of what the Trump campaign is willing to do to hold onto power."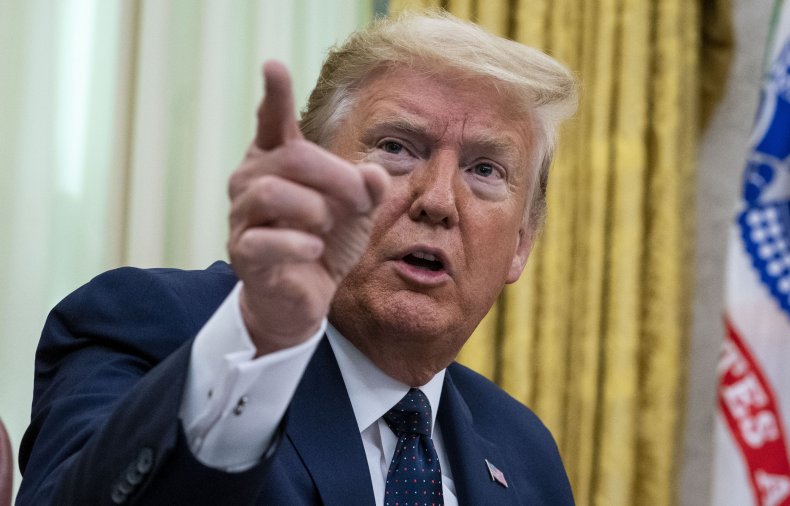 Updated 6/18/20 7:05 p.m. EST: This story has been updated to include comment from Trump 2020 communications director Tim Murtaugh, which was received after the story was originally published.