Facebook Removes Trump's Post Saying COVID-19 Is Less Deadly Than Seasonal Flu
Facebook removed President Donald Trump's Tuesday post that falsely claimed the coronavirus is less deadly than the seasonal flu.
Facebook spokesperson Andy Stone confirmed to CNN that the post was removed for breaking the social networking's guidelines on spreading misinformation about the virus and COVID-19.
"Flu season is coming up! Many people every year, sometimes over 100,000, and despite the Vaccine, die from the Flu," Trump tweeted the morning after he returned to the White House after being hospitalized at the Walter Reed medical center for his coronavirus infection. "Are we going to close down our Country? No, we have learned to live with it, just like we are learning to live with Covid, in most populations far less lethal!!!"
As the president continued to downplay the severity of the coronavirus, many were quick to call him out for equating the virus, which has claimed the lives of more than 210,000 Americans, to the seasonal flu.
Newsweek's fact check found Trump's claim to be false based on the existing data from both the World Health Organization and the Centers for Disease Control and Prevention.
While Trump wrote that there are "over 100,000" flu deaths per year, preliminary estimates from the CDC show last year's flu season, one of the worst in recent history, claimed the lives of 24,000 to 62,000 Americans.
Comparably, more than 200,000 Americans have died from COVID-19, making the virus roughly five times more deadly, on average.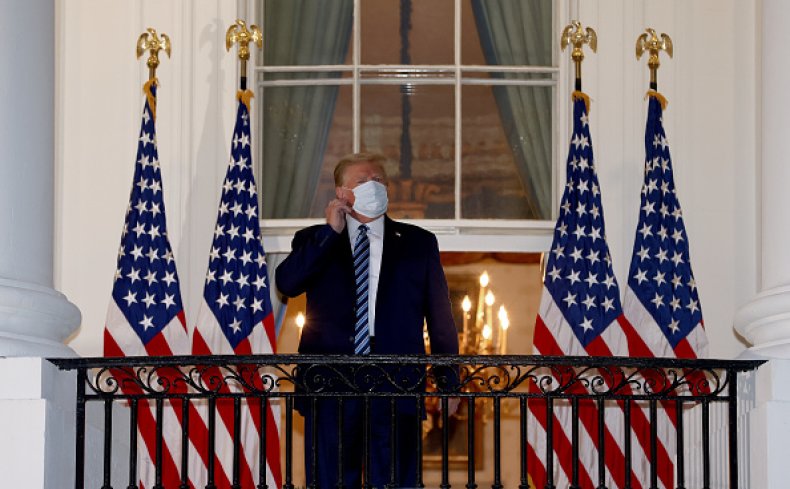 Shortly after Facebook's decision, Twitter flagged the president's tweet, which stated the same message, for violating Twitter's rules about spreading misinformation about COVID-19. However, Trump's tweet remains visible as "Twitter has determined that it may be in the public's interest for the Tweet to remain accessible."
Social media platforms have increasingly acted on flagging posts from the president after facing public pressure to prevent the spread of misinformation, particularly about the coronavirus pandemic.
In August, Facebook deleted a post by Trump that featured a link to a Fox News video in which the president is heard saying children are "virtually immune" to the virus. The social network said the "video includes false claims that a group of people is immune from COVID-19 which is a violation of our policies around harmful COVID misinformation."
A study published by the CDC in April found that while children were less likely to be hospitalized for COVID-19 in comparison to adults, 1 in 5 infected children versus 1 in 3 adults, they may still be infected with the virus.
Tuesday's events mark the second time Trump's posts have been removed by Facebook for spreading misinformation about the coronavirus.
Newsweek reached out to Facebook for comment but did not hear back before publication.
This story has been updated with additional information and background.