Internet Impressed With Aerial View of Sydney: 'Butterflies'
A frequent flyer has impressed the internet with an amazing airplane shot of Sydney's iconic harbor bridge.
The aerial shot posted by Tracey, who doesn't wish to reveal her surname, racked up 67,000 likes on Facebook.
The photo is captioned: "View from my window flying back into Sydney from a work trip. Never, ever fails to give me butterflies in my tummy."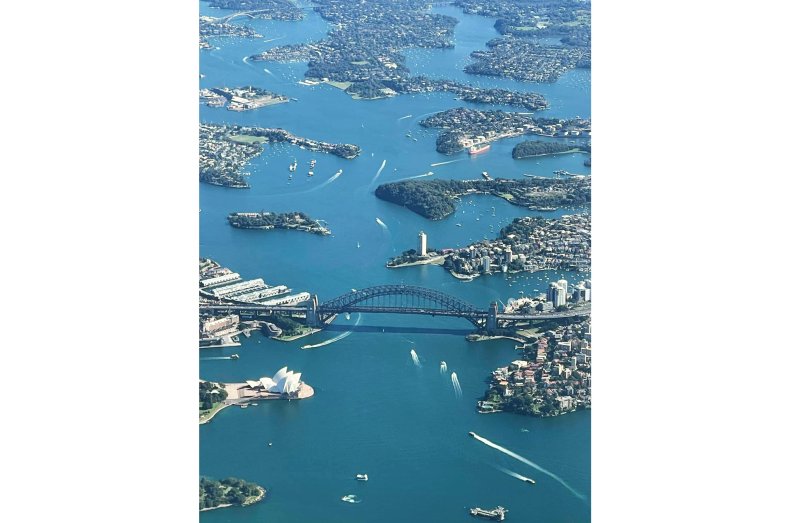 Speaking to Newsweek, Tracey, 53, who lives in Western Australia, explained she could never get bored of the picture perfect view.
She said: "I have flown to Sydney hundreds of times but it's just a sight that no matter how many times I see it from the air, it gives me goosebumps and butterflies.
"It is without a doubt one of the most breathtaking sights and incredible harbors.
"People really do have strong emotional reactions to it. It's stunning!"
Tracey told Newsweek she visits the capital city of the state of New South Wales, Australia, weekly. She is one of the hundreds of thousands of visitors that get to see one of the world's most recognizable landmarks through the window.
Sydney Airport states it has 44 million business and leisure passengers flowing through our terminals each year and hosts 150,000 visitors every day.
In January 2023, the Australian Bureau of Statistics released a report that states the three leading source countries where visitors came from were:
New Zealand (65,480 trips)
The U.K. (55,070)
The U.S. (49,840)
Passengers are delighted to see more than just the bridge, they can also view the famous Sydney Opera house and stunning beaches too.
Over 1,650 people have commented on the popular post, some of which have shared a similar image that had taken when traveling to Australia.
One user said: "Best view in the world after traveling."
"The most beautiful harbor in the world in my opinion, from Vancouver Island," commented another.
"Best view in the world especially when you are coming home," said another person.
Another made a reference to the 2003 animated comedy/drama adventure film Finding Nemo, she said: "I never knew it looked like that. Marlin and Dory never stood a chance!"
Recently, Newsweek shared a video of a plane passenger's view of the Aurora Borealis on a flight from San Francisco to New York City.
But not every traveler is lucky enough to get a picturesque view, and some don't have a chance to look out of the window due to turbulence, and some windows are too scratched to even enjoy the view.
If you have a personal dilemma, let us know via life@newsweek.com. We can ask experts for advice on relationships, family, friends, money and work and your story could be featured on Newsweek's "What Should I Do? section.