Facebook Wants to Use Its Interface to Stop Suicide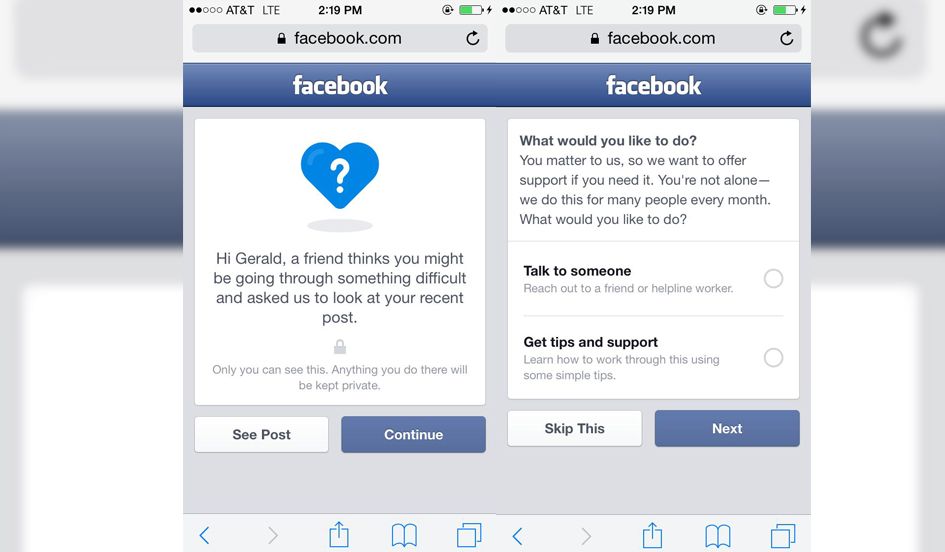 In 2013, hours before 16-year-old Adrian Alvaresz killed himself during lunchtime in the courtyard of his high school in Texas, he posted a warning on Facebook: "I don't know if this is going to affect people or if ya'll are even going to care but I just want to say I'm taking my life away." He asked his friends to care for his mother, as well as his ex-girlfriend and young son. Along with the message, he posted a photo of himself holding a gun to his cheek.
Alvaresz's post was a suicide note for the social media age. Tragically, going online with final messages is not uncommon, and now Facebook wants to make it easier for people who might be at risk to get help.
The social network announced on February 25 that it will be adding tools to its interface so users can more easily report Facebook friends whose posts suggest they might be considering suicide.
"Keeping you safe is our most important responsibility," Rob Boyle, a Facebook product manager, and Nicole Staubli, a Facebook community operations safety specialist, said in a statement. "If someone on Facebook sees a direct threat of suicide, we ask that they contact their local emergency services immediately. We also ask them to report any troubling content to us. We have teams working around the world, 24/7, who review any report that comes in."
After a user reports a troubling post, Facebook will begin a review and if its safety specialists believe the person seems at risk, a message will pop up next time he or she visits Facebook that says, "A friend thinks you might be going through something difficult and asked us to look at your recent post." A second message says: "You matter to us, so we want to offer support if you need it. You're not alone—we do this for many people every month. What would you like to do?"
Facebook then gives the option to "reach out to a friend or helpline worker" or "learn how to work through this using some simple tips." Users have the opportunity to skip the messages.
"For people who are at risk for suicide, they often feel isolated and disconnected, and the fact that they're reaching out on social media presents an opportunity," says Jennifer Stuber, co-founder and faculty director of Forefront: Innovations in Suicide Prevention, which is affiliated with the University of Washington and is a partner on the Facebook initiative.
Stuber says that Facebook has been working with suicide prevention groups around the world for years and that the social network reached out to her group last July. "I was quite skeptical," she says, but adds: "Once I realized they had already developed these resources around the globe to try to deal with issues that come up, I was pretty blown away."
Facebook also consulted Now Matters Now, the National Suicide Prevention Lifeline, Save.org and other resources.
Elizabeth Makulec, executive director of Kids Under Twenty One, a youth crisis intervention corporation that is not involved in the Facebook initiative, says it's becoming increasingly common for people to post messages of despair online. "The problem that you run into a lot of times is that it's hard looking at black and white text to really determine the tone or the intent," she says. "People are more likely to test the waters, if you will, via texting or chatting or other social media to see what type of response comes back to them."
The new Facebook tools do raise some concerns. For example, Facebook contacts the person who might need help only when he or she next visits the network, which might not be right away. And Kristina Kersting, also of Kids Under Twenty One, says she supports the Facebook initiative but worries that users might file false reports as a way of bullying, and that the resources may not focus enough on long-term help.
There is also the issue of privacy: Should Facebook be monitoring and responding to user content? "People don't want to be using a product that is doing that," concedes Stuber, "but in the suicide prevention world, we're talking about life and death."
Facebook's new suicide prevention tools are currently available to about half of users in the United States; the company will roll them out to others in the coming months, and to more countries after that.