Facebook Will Now Let You Choose From 'Custom Gender' Options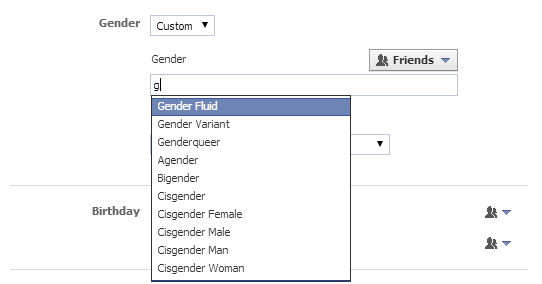 After ten years and one week of limiting profiles to "male" and "female," Facebook has inched away from the gender binary. The company announced Thursday that it will let users choose from "custom gender" options on the site, providing a drop-down menu that includes "Gender Fluid," "FTM," "MTF," and about 50 other terms.
According to a statement, Facebook worked with LGBT group Network of Support to narrow down the list of gender identities. PFLAG National, an organization for family, friends, and allies of LGBT people, tweeted that it also aided the process, along with The Trevor Project.
"We recognize that some people face challenges sharing their true gender identity with others," Facebook wrote, "and this setting gives people the ability to express themselves in an authentic way." Users can also pick their preferred gender pronouns ("he," "she," or "they," as in: "Write on their wall"), although singular gender-neutral pronouns aren't included in the mix.
The move shows a newfound attentiveness to trans* rights issues on Facebook's part. Turns out the company had a boost from within. A Facebook software engineer who worked on the project is transgender herself, the Associated Press reported, and she was able to change her Facebook profile to "transwoman" as soon as the software went live.
"Better late than never," wrote one of several hundred commenters beneath Facebook's announcement. "This is progress."