Facebook Will Take 'Similar Approach' to Georgia Senate Runoffs, Like It Used in General Election, Zuckerberg Says
Mark Zuckerberg told members of the Senate Judiciary Committee on Tuesday that Facebook will moderate content related to the Georgia Senate runoff elections in a way similar to what it did for the November 3 elections.
The Facebook CEO and Twitter CEO Jack Dorsey appeared at the hearing virtually to answer senators' questions regarding how their companies handled election-related posts. While Democratic senators participating in the hearing repeatedly expressed concern about whether the steps each platform takes to avoid the spread of misinformation were enough, Republican senators questioned whether efforts to flag or limit the exposure of certain posts qualified as censorship.
With both of Georgia's Republican senators heading into runoff elections in January, Connecticut Senator Richard Blumenthal told Zuckerberg and Dorsey that he was worried both of their platforms were "backsliding" and "failing to take action against dangerous misinformation."
The Democratic senator then asked if both CEOs would commit before the runoffs to the same kind of content management strategy—involving fact-checking, labeling questionable content and limiting the spread of misinformation—seen during the general election.
"Our policy is to have a similar approach in the upcoming Georgia special elections that we took during the general election," Zuckerberg said.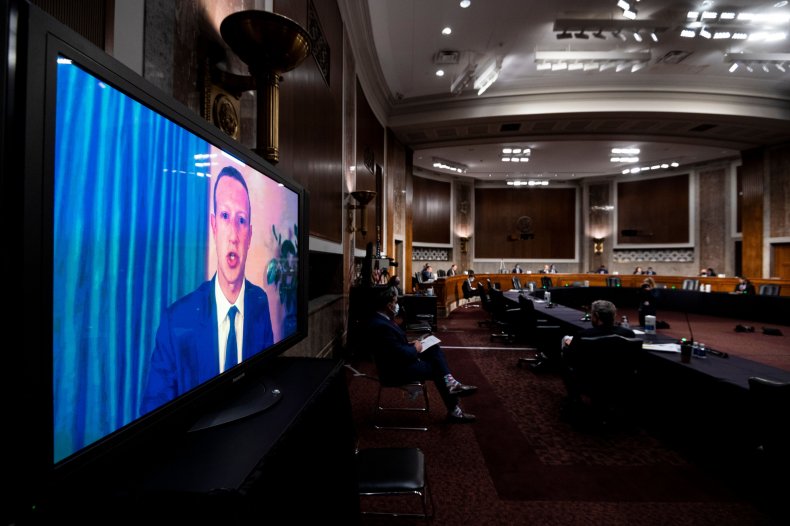 Dorsey also responded to Blumenthal's question in the affirmative, adding, "We intend to learn from all of our experience with this election and bring all of that learning going forward to make it more robust."
Blumenthal asked both companies to send him information regarding any additional steps they plan to take before the runoffs. Newsweek reached out to Blumenthal for comment but did not receive a response in time for publication.
In recent weeks, both platforms actively flagged election-related content that was identified as either spreading misinformation or making potentially misleading or contradictory statements about election results. Facebook and Twitter have flagged several posts by President Donald Trump and his associates for violating company policies in the days following the election. Trump has made allegations of voter fraud, without evidence, and said he had won the national election, despite official sources calling the race for Joe Biden.
According to Dorsey, Twitter added flags to approximately 300,000 election-related tweets between October 27 and November 11. Dorsey said that number represented about 0.2 percent of all election-related tweets posted on the platform.
Zuckerberg said Facebook worked directly with local election officials and law enforcement to identify misleading information posted by its users and drew about 140 million people to the company's voter information center. He estimated that Facebook also helped about 4.5 million people register to vote and assisted states with recruiting approximately 100,000 poll workers.
With the general election over and states now in the process of certifying their election results, focus is starting to shift to Georgia's runoffs, where Republicans and Democrats are both hoping to pull out a win. Though the Senate is currently controlled by a slim Republican majority, that control could change to the Democrats, depending on the runoffs' results. If the Democratic candidate in each race wins the runoff, the parties will be on equal footing in the Senate, and Democratic Vice President-elect Kamala Harris will cast any tie-breaking votes.