When Facebook CEO Mark Zuckerberg testified before Congress last week about his firm's privacy policies and the recent Cambridge Analytica scandal, he reported that hate groups were disallowed from his multibillion-dollar social network.
"We do not allow hate groups on Facebook, overall," Zuckerberg said. "So, if there's a group that their primary purpose, or a large part of what they do, is spreading hate, we will ban them from the platform overall."
But Zuckerberg has been saying that exact thing for several years without backing it up, Muslim advocacy groups allege. Anti-Muslim rhetoric and imagery is commonplace on the site, they claimed.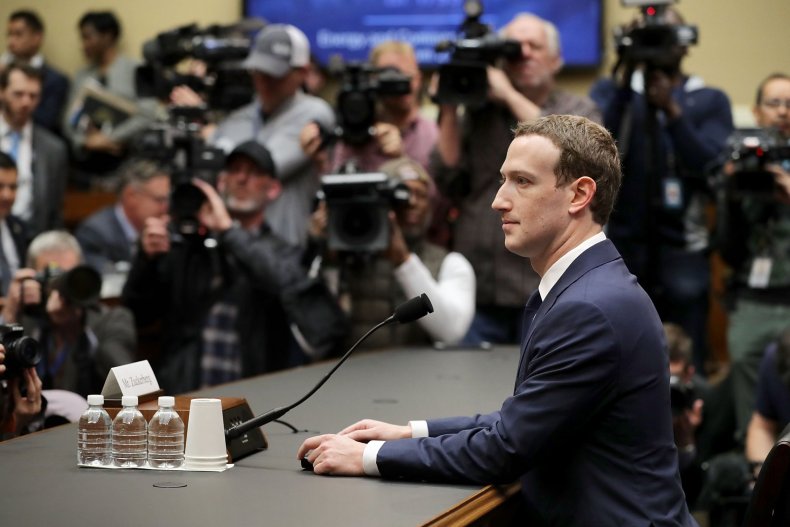 Muslim Advocates, a legal advocacy group, presented the social media giant with a list of 26 different groups that they viewed as hate groups in December of 2017, but 24 of those remain active, they say. Scott Simpson, the Public Advocacy Director for that group, and Madihha Ahussain, their special counsel for anti-Muslim bigotry, told Newsweek they started meeting with Facebook four years ago about anti-Muslim groups and images being spread on the site.
Facebook repeated the same promise that hate groups are forbidden, according to Simpson and Ahussain. Simpson noted that the site took action after a Russian-controlled Facebook group was caught running ads for a 2016 event called "Stop Islamification of Texas" but suggested that when the news cameras were not paying attention, similar content was ignored.
"This has been happening on Facebook and being done by Americans for a long time," Simpson says. "It feels like it's only because Russia was involved [that they noticed]. They're [sic] promises to remove hate groups stuck us as quite hollow."

Southern Poverty Law Center, a civil rights group that has been lobbying Facebook to address hate groups using their platform since 2016, also expressed disappointment with its response to hate groups. Heidi Beirich, who leads the SPLC's Intelligence Project, told Newsweek that the United States remains behind its European counterparts in combatting hate speech on social media. Facebook has helped give greater legitimacy to controversial organizations like ACT for America, a self-described national security grassroots advocacy group that has been accused of promoting Islamophobia, according to Beirich.
"When we met with them, they said the same thing that Zuckerberg told Congress," Beirich said. "Facebook did nothing, and we started criticizing them publicly to get a response."
A spokesperson for Facebook directed Newsweek to its community standards on hate speech, which said that the platform "removes hate speech" that directly attacks people based upon "race, ethnicity, national origin, religious affiliation, sexual orientation, sex, gender, or gender identity, or serious disabilities or diseases."
The standards also stated that "organizations and people dedicated to promoting hatred against these protected groups are not allowed a presence on Facebook."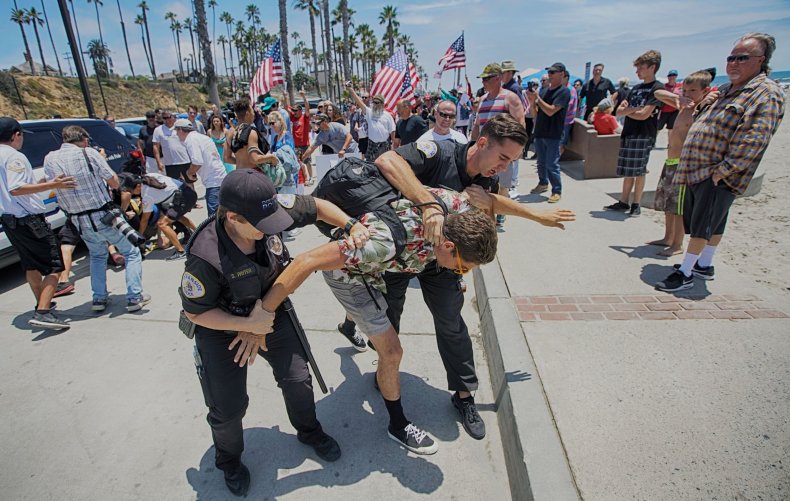 But Act for America, which has over 160,000 likes on Facebook and is followed by more than 150,000 others, is a designated hate group, according to the Southern Poverty Law Center. Brigitte Gabriel, the group's founder, has argued that Muslims "cannot be loyal citizens of the United States." Billy Roper, an Arkansas-based neo-Nazi, organized a Batesville, Arkansas, rally for ACT for America's March Against Sharia in 2017. ACT for America made efforts to disavow Roper, but only after news about his inclusion in the controversial protest event spread.
"ACT for America has never, and will never, tolerate any bias, discrimination, or violence against anyone, based on their religion, gender, race, or political persuasion," Act for America told Newsweek in a statement.
In addition to larger groups, Newsweek pointed Facebook to a list of eight different smaller groups with names as explicit as Death to Islam that regularly promoted violent imagery directed as Muslims on Facebook. The groups remained up for years in some cases, despite being reported, the researcher says.
Memes circulated in these groups featured gun targets centered over ostensibly Muslim people, called for a new Christian crusade or showed images of the Quran being burned. Facebook claims that one of the groups was removed on March 16 and another on April 10. Others appear to have been removed after Newsweek reached out for comment about them.
One group that remains up is called Infidels United for Truth.
"Gun porn and 2nd amendment rights are encouraged, in fact, anything that ties into our way of life may be posted here," Infidels United for Truth group declares in its mission statement. The group once used the image of a knight in its cover photo including a statement declaring that a "final crusade" had begun. Today it posts "Proud American Infidel" with an assault rifle replacing the letter F. The group has over 2,700 members.
"Muslims are definitely being impacted by this content," Ahussain told Newsweek about the influence material found on social media potentially has on the culture at large. "Facebook is a global brand, and right now they're providing a space for hate."