Faces of Apartheid at the ICP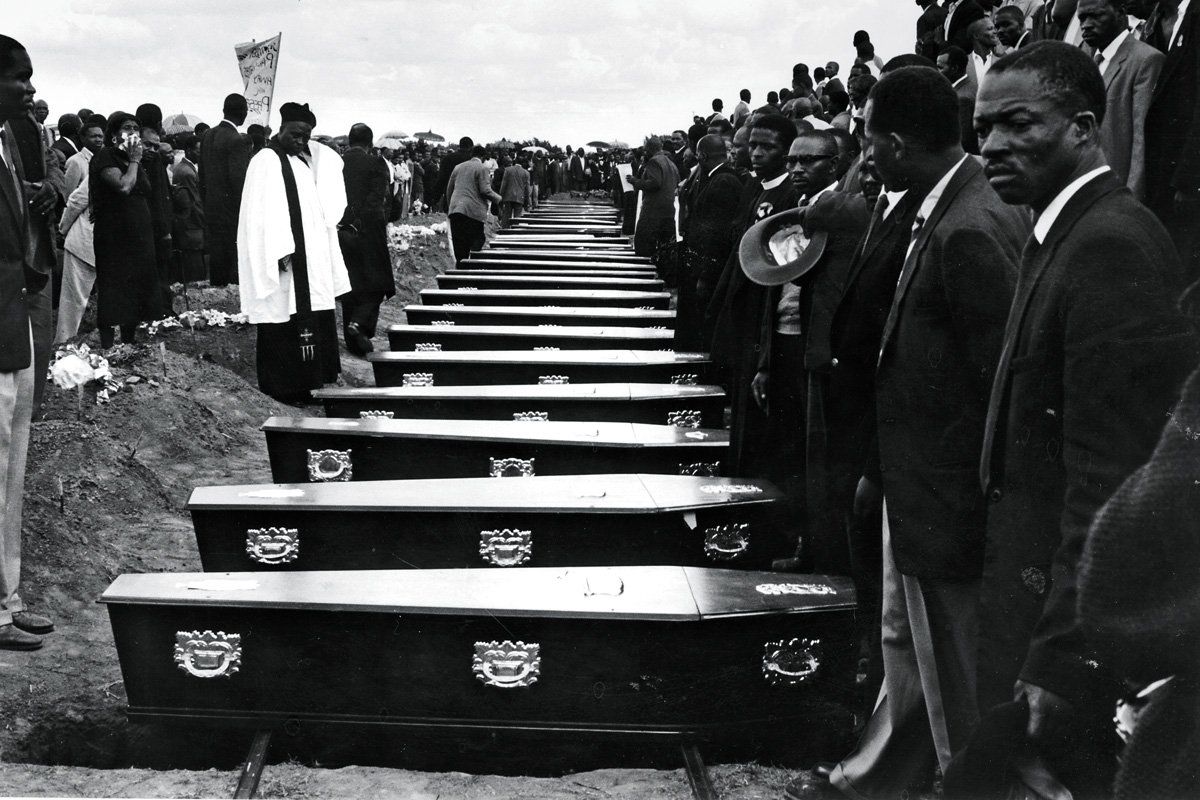 How do you capture something as large as South Africa's apartheid era?
"The Rise and Fall of Apartheid," a massive exhibition at the International Center of Photography in New York City, tackles that subject. It includes photographs that reveal scenes of protest, of segregation, of violence, of funerals, and more. There are quotidian moments, too: There's an image of two black men dancing at a jazz festival in 1967; another of three unsmiling whites at a Johannesburg bus stop in 1983 (the stop is for whites only). We see a young white girl watching a 1988 military parade, and a 1990 photograph shows two black men, identified as "Zulu migrant workers," having a conversation in Soweto, among huge coils of barbed-wire fencing. The exhibition, on display until Jan. 6, spans the years from 1948 to 1994.
"What I was principally interested in is the way in which apartheid gave us an image of a political doctrine that transformed from a juridical instrument into a normative reality," says the show's curator, Okwui Enwezor. That normative reality is what the show's subtitle refers to as "the bureaucracy of everyday life." The exhibition is also interested in examining apartheid's "symbols, signs, and representations," and in those specific motifs it is possible for larger stories to be told. Looking at "gesture," Enwezor says, is a way of "tracing the arc of the resistance," noting that in images of the protest movement from early in the exhibit in the 1950s, "most of the people there have their thumbs up, and we begin to see very clearly that this was a time when the idea of nonviolent resistance was part of the credo of the movement, but by 1960, after the Sharpeville Massacre, the thumbs up—the gesture of solidarity—has turned into a fist, the gesture of resistance, and by 1994 it has turned into a V sign."
The aftermath of the Sharpeville Massacre resulted in one of the show's most striking images: darkly beautiful in its composition, it is of a funeral in May 1960 for victims of that massacre, in which 69 blacks were killed by police during a protest. The photograph shows a long row of coffins, flanked by mourners, stretching away from the center of the frame. In another powerful image, naked black miners are lined up against a wall, their backs to the camera, their arms held above them, part of a medical exam. There are so many photographs in this exhibit—around 380—that it feels overwhelming, as many of them are hung one above the other and it can be hard to know where to focus. But, says Enwezor, the scope of the exhibit is the point. "I wanted people to feel suffocated in the exhibition, almost, in the sense that the cumulative effect of what took place in South Africa could not be experienced otherwise."
Some kinds of sorrow are probably only able to be captured photographically, and one of the exhibit's most upsetting photographs shows the dead body of Hector Pieterson in the arms of Mbuyisa Makhubo, another student. Pieterson's sister, Antoinette Sithole, is next to Makhubo, her face contorted in a grimace and her hand held outward, palm towards the camera and fingers stretched apart. Both she and Makhubo are images of wild grief. Pieterson was shot and killed during the Soweto Uprising in June 1976; he was 12 years old. On a nearby wall another image shows a single hand, belonging to a lifeless body, protruding from underneath newspaper. A caption starkly states that "Dead bodies covered by newspaper filled the streets of Soweto during the 1976 riot."
The exhibit ends in a room that depicts the 1990s in South Africa, and joy and horror appear in close proximity. A short looped video shows, over and over again, Nelson Mandela leaving Victor Verster Prison in 1990; it then cuts to children running to a stadium in Soweto where Mandela spoke. One child runs with a hand pumping the air, and then we see Mandela again, his hand also in the air, an enormous smile filling his face.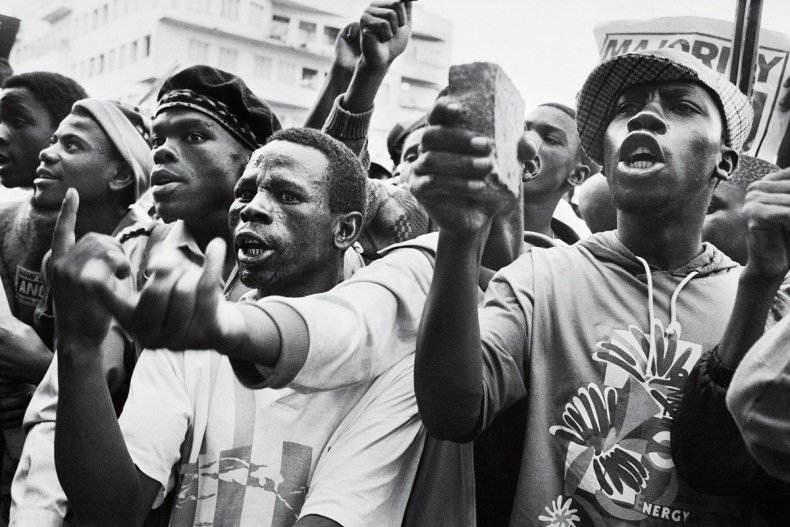 In the same room is one of the show's most graphic images: a dead woman lies face down on the sidewalk in front of a store window full of goods and what look like bags of cookies or biscuits. Ribbons of blood have flowed from her head. The caption explains that this woman, a nurse, was killed in 1994 by the AWB (Afrikaner Resistance Movement), which was "randomly shooting at black people in Bophuthatswana." She was going to work. A 1993 photo beside it reveals another dead body, this person identified as a member of the African National Congress party who had been killed by the Inkatha Freedom Party. Apartheid's end, Enwezor says, was "delicate." "It was not this kind of very hopeful uplifting event," he says. "It was really down to the very last minute. Nobody knew whether this election"—the 1994 general election which resulted in Nelson Mandela's presidency—"will come off peacefully, and that room was to remind us that we did not want to tell uncomplicated stories of victims and oppressors … it was much more complex than that."