Fact Check: Has Leonardo DiCaprio Dated Women Over the Age of 25?
Leonardo DiCaprio's dating life is the subject of speculation once again after he reportedly broke up with his 25-year-old girlfriend Camila Morrone.
The news sent social media into overdrive as countless memes and jokes were shared online about DiCaprio's apparent inability to date anyone over the age of 25.
The Titanic, Don't Look Up and The Great Gatsby actor has enjoyed a number of high-profile relationships throughout his career, but has the now 47-year-old ever actually dated anyone over the age of 25? Newsweek Fact Check investigates.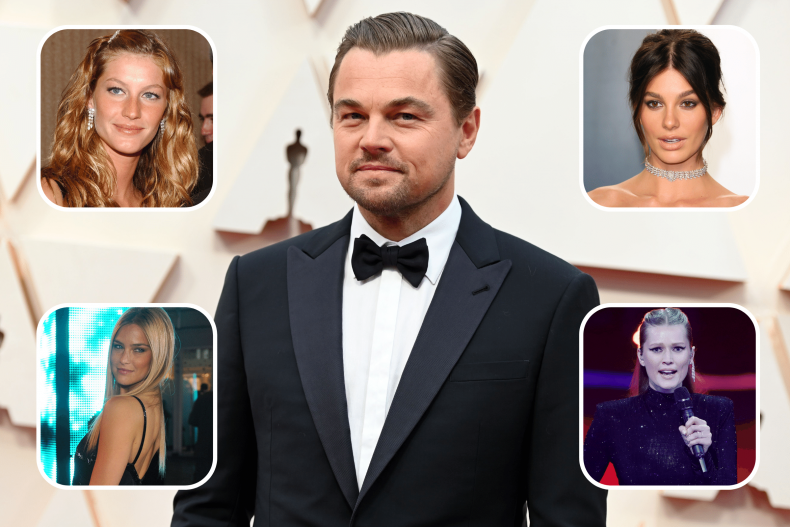 The Claim
After yet another apparent breakup, Leonardo DiCaprio has once again being targeted with claims that he has never dated anyone over the age of 25.
The claim has fueled a barrage of jokes and memes being shared across social media, with hundreds of thousands of people liking and sharing their favourites.
"There's no phenomenon on this planet more reliable than Leonardo DiCaprio breaking up with his girl by age 25, the stats are breathtaking," wrote @zedonarrival, gaining over 275,000 likes for her observation on Twitter.
Meanwhile others pondered if there was a hidden meaning to DiCaprio's apparent propensity for dating women in their early 20s. "Maybe Leonardo DiCaprio hated 9/11 so much that he can't even date women who remember it. did that even occur to you," joked @sarahclazarus, gaining 180,000 likes in the process.
An elaborately annotated timeline of Leo's relationships, published on Reddit three years ago by user u/TrustLittleBrother and upvoted more than 26,000 times, has also resurfaced amid the hype.
The Facts
Social media jokes aside, there appears to be an element of truth to the claims that DiCaprio doesn't date women above the age of 25.
Though he keeps a low profile outside of promoting his movies, DiCaprio has had a number of relationships known to the public. Dating back to the year 1999 and onwards, DiCaprio had not publicly dated anyone over the age of 25, Newsweek found.
This trend started when DiCaprio, 24 or 25-years-old at the time, entered a relationship with Brazilian model Gisele Bündchen, who was born in 1980. The pair dated "on and off for six years" according to Vogue. In 2009 Bündchen commented on the relationship and told Vanity Fair, "We know what we had. We were very young, and we grew together in a lot of ways." They broke up in 2005, the year that Bündchen turned 25-years-old.
DiCaprio's next long term relationship was with Israeli model Bar Refaeli whom he was involved with from November 2005 to May 2011, according to a Daily Mail article dated May 12. Refaeli turned 26-years-old on 4 Jun, 2011.
After this DiCaprio dated German model Toni Garrn in a relationship that ran from July 2013 until December 2014, according to The Los Angeles Times. They were also photographed together again in September 2017, though it is unconfirmed if they were officially a couple again at this time.
Regardless, Garrn turned 26-years-old on July 7, 2018, when DiCaprio was already dating his next long-term partner.
DiCaprio's most recent girlfriend was American model and actress Camila Morrone. People magazine has claimed, citing sources, the couple has now broken up after more than four years together. As stated by a number of social media users, Morrone turned 25 in June this year.
While largely unconfirmed, DiCaprio has been linked with a number of other famous women, most of whom were 25-years-old or younger at the time.
This includes the three additional names featured on the Reddit chart, including Blake Lively, Kelly Rohrback and Nina Agdal, all of whom were 25-years-old at the time their reported relationships with DiCaprio ended.
While it is of course possible that the actor had secret relationship at some points in his life, perhaps with older women (speculative tabloid reports have previously linked him to Demi Moore and Rihanna, among others), there is insufficient publicly available evidence to support those stories (and much of the speculation has been dismissed by the actor himself or by his purported romantic interests).
Newsweek has reached out to Leonardo DiCaprio for comment.
The Ruling
Needs Context.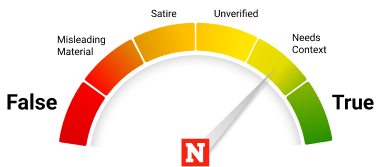 So far as it is possible to corroborate a public figure's dating history, the claim that Leonardo DiCaprio has not dated anyone above the age of 25 appears to be correct.
But the important bit of context here is that it is feasible that some relationships have gone under the radar of the press or the public, so this possibility cannot be definitively ruled out.
FACT CHECK BY Newsweek's Fact Check team