Facial Transplant Patients on Life After Surgery: I Had to Tell People I Was Crying. Now I Can Feel Kisses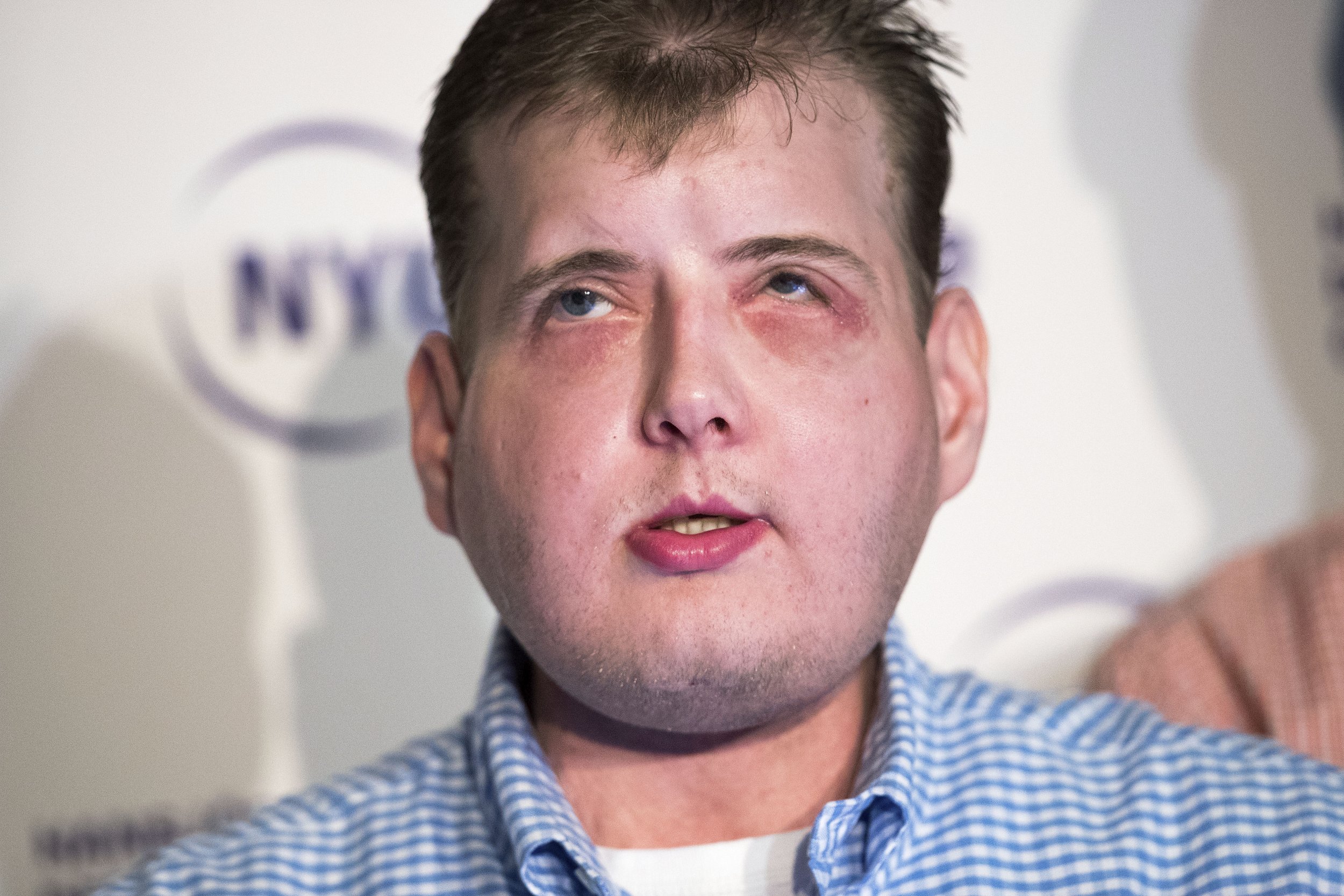 One of the only people in America to receive a facial transplant has spoken of how the procedure has transformed her life, enabling her to feel kisses and visibly express emotions again.
In a study published in the New England Medical Journal Wednesday, physicians detailed how six facial transplant patients have fared in the five years following their life-changing procedures.
On average, the patients—who had suffered from severe facial deformities—regained 60 percent of the movement in their faces, and their quality of life improved. What's more, the transplants helped the patients to reintegrate into society.
Facial transplant surgery involves taking the face tissue from a deceased donor and attaching it to a recipient. In order to stop the body rejecting the tissue, patients must take immunosuppressants for life. But according to Brigham and Women's Hospital, a world leader in this technique, the operation is "life-giving" and can dramatically improve a person's mental and physical health. It can help them breathe through their nose again, regain facial expressions including smiling and speak in a way that others can understand.
In 2005, Isabelle Dinoire, whose face was ravaged by a pet dog, became the first partial human face transplant patient.
Carmen Tarleton, a motivational speaker, is among the patients featured in the New England Medical Journal paper. She was left with burns covering more than 80 percent of her body when her estranged husband broke into her home in rural Vermont in 2007, beat her with a baseball bat and splashed her with a powerful form of hydroxide lye.
In 2013, she became the sixth person in the U.S. to have a facial transplant, according to NBC. Tarleton detailed in her blog how she felt "extremely scared" when she was added to the transplant list in 2012.
"The uncertainty of how much pain would I have, what if it did not work out and so many questions, put me in a state of constant fear," she wrote. But thinking of the woman who would have to die in order for her to have a fuller life helped to rid her of the intense worry.
"Her gift was more important than the fear that infected my mind and then my body," she wrote.
Tarleton, who will turn 51 on Friday, told NBC of an ex-boyfriend after she had her operation: "I remember the day I could feel my boyfriend, his hairy chest on my face. I could feel kisses." She added: "Now it's second nature to me."
Before her face gradually regained some its function she would need to explain whether she was laughing or crying.
"It made being upset or sad even harder because people couldn't just look at you and see tears running down your cheeks," recalled Tarleton. Now, it's easier for her to display her feelings, she said.
Tarleton is not alone in her returning sense of normalcy. Patrick Hardison, a firefighter whose face was burned in 2001, is among the most famous face transplant patients. He told reporters a year after his surgery in 2015 he felt like a "normal guy" for the first time in 15 years, according to The Associated Press.
Hardison had the world's most extensive face transplant at NYU Langone Medical Center. "Before the transplant, every day I had to wake up and get myself motivated to face the world," Hardison said. "Now I don't worry about people pointing and staring or kids running away crying. I'm happy."