Facing a London Ban, Can Uber Prove to U.K. Regulators It Is Now Fit to Operate?
Uber representatives have told a British court that the company has taken steps to "repair and reform" the business as the ride-hailing giant tries to avoid being banned from London, Bloomberg reported.
Transport for London told the company in September 2017 that it would not renew its license over safety concerns. The firm was allowed to continue operating while British courts considered its appeal against Transport for London's decision.
Transport for London cited Uber's approach to reporting criminal complaints and its failure to perform background checks on its drivers as key grievances. It also wants an improved process for obtaining drivers' medical certificates and had concerns over the company's use of technology to potentially evade law enforcement personnel.
Uber has been at the forefront of the rebirth of the taxi industry. Alongside peers including Lyft and Grab, the company has leveraged smartphones to overhaul the way people travel. Uber operates in 84 countries and 799 cities worldwide.
In New York City—world-famous for its traditional yellow cabs—the number of journeys completed last year with a ride-hailing app surpassed regular taxis for the first time. Just 4.5 million journeys used ride-hailing app companies in 2014, compared with 159.9 million in 2017—a more than 3,453 percent growth. The number of traditional cab rides in the city in 2017 was 125.5 million.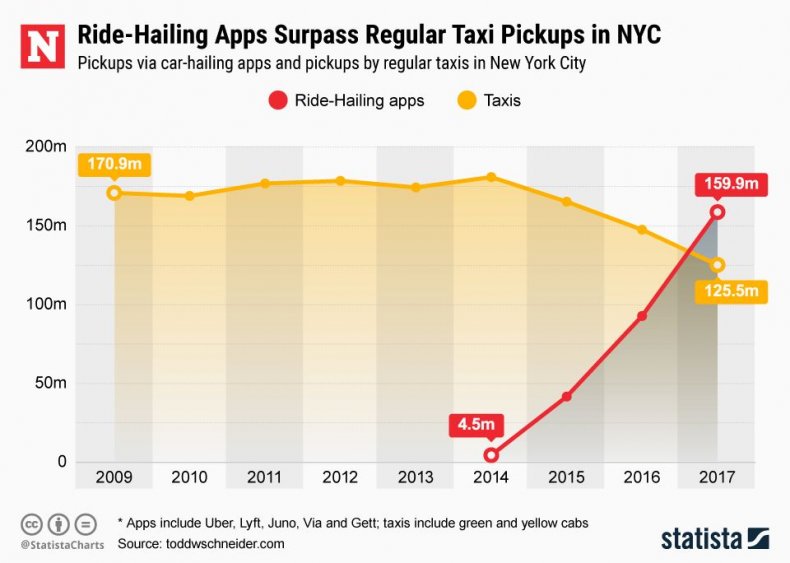 In 2017, the company was valued at $69 billion. But regardless of its impressive balance sheet, Uber's decision-makers fear falling foul of increased regulation as governments consider how feasible the "gig economy" is. Europe is at the forefront of the debate, and ride-sharing apps are working hard to stay in the game.
London is the biggest market for the company outside the U.S. Losing access to the city would be a major financial blow and may embolden other cities to follow suit. In a pre-hearing session yesterday, Chief Magistrate Emma Arbuthnot said Uber's past conduct had been "pretty abysmal," and questioned whether the company's newfound contrition was "a smokescreen."
However, lawyer Philip Kolvin said operational changes had been introduced to address the city's concerns. Transport for London accepted that changes had been made, but said "it is really for the court to decide whether…Uber is fit and proper." There were 25 issues to be discussed in the appeal, but Kolvin believes this total can now be reduced to 11.
The full hearing will take place on June 25.