Facing Pressure to Deliver, Democrats' Slim Majority in Congress Leaves Little Room for Error
President Joe Biden is understandably focused on the pandemic, but it may not be enough to maintain a Democrat majority in Congress after the 2022 midterm elections, so Democrats will need to walk and chew gum at the same time.
Ending the pandemic is at the top of Democrats' to-do list, and it's possible they could pass a relief package next week without support from Republicans. It's critical that Biden's administration makes visible progress on vaccine administration, a key factor in resuming a sense of normalcy, while also aggressively pushing an agenda that meaningfully affects minority communities.
"The party in the White House traditionally loses seats in the first midterm," Democratic strategist Michael Gordon told Newsweek. "So the fact that the margins are so narrow in both the House and the Senate means there's little to no margin of error on the part of Democrats."
The last time a president gained seats in both chambers during the midterm was in 2002 when Republicans picked up eight seats in the House and two in the Senate. In the past five midterm elections, the president's party has lost an average of 27 seats in the House and three in the Senate.
If Democrats lose six seats in the House, they'll lose control, and their majority in the Senate hinges on Vice President Kamala Harris casting the deciding vote in the event of a tie, so the loss of a single seat would turn over control to Republicans.
Minority voters not only helped propel Biden to the presidency but secure the Democrat majority in the Senate by turning out to vote in the two Georgia runoff elections. So, Jasmine Burney-Clark, consulting director of the Equal Ground Education Fund, told Newsweek Biden has an "immense amount of pressure" to deliver on their promises because minority voters are looking for a "return on their investment."
"The narrative was, 'Let's get these two Senate seats because we're going to be able to make life better, make sure people have access to health care and clean water,'" Burney-Clark said. "The Senate seats were delivered, so what is the result of that now?"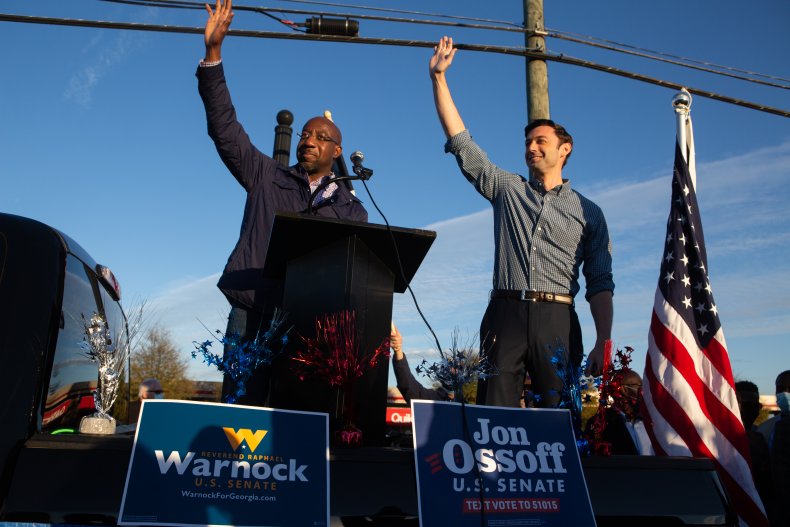 In his first week in office, Biden signed a number of executive actions aimed at reversing former President Donald Trump's policies and advancing racial equity. That "impressed" Burney-Clark, who said she sees Biden as taking the issue seriously and is "headed in the right direction."
That investment in issues affecting minority communities can't end with executive actions, according to Burney-Clark, and Democrats need to start making "earlier, larger investments" in communities of color. The funding, she said, comes too late and is often the "last round of funding they plan to dispense."
"There needs to be a real long strategic plan," she said. "They have been dependent on local and state leaders to put together a plan for far too long, and that's something the national Democratic leaders need to be carrying and leading."
The pandemic disproportionately affected minorities and Kelly Dietrich, founder of the National Democratic Training Committee, said if 2022 is anything but Democrats bragging about ending the pandemic and getting the economy back on track "our message is way off."
As someone who is concerned about his own parents being able to be vaccinated, Dietrich said the Biden administration's ability to execute a plan and for voters to see that follow-through is "what matters." That means being "honest and upfront" about problems and new goals, according to Dietrich, and communicating with Americans in real-time.
What Democrats can't do, Dietrich says, is rely on deflecting blame on Republicans for why they were unable to pass legislation.
"The majority of people don't want excuses and saying, 'We couldn't get it through the Senate because of Republicans,' doesn't matter. It's did you deliver or did you not," Dietrich said. "We need to be communicating with voters about our accomplishments constantly and start building a Democratic brand that can weather the storm of Republican attacks."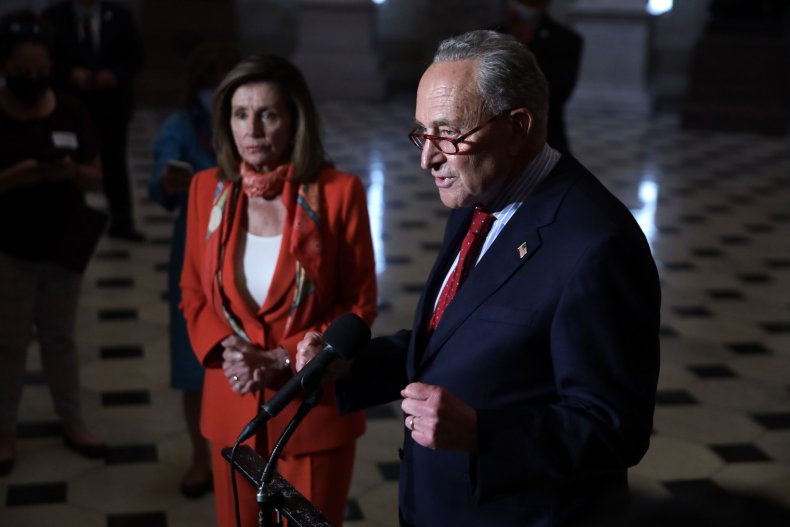 Vaccine rollout is the "most important" item on Democrats' list, but Brian Lemek, executive director of Brady PAC, said legislators can "walk and chew gum at the same time." Given the intersectionality of gun violence on other issues related to social equity and communities of color, Lemek said they're expecting to see it as parts of other conversations, as well as a "standalone priority."
Biden's the "gun violence prevention champion" that Lemek has been wanting to see in office and his organization wants to see action in the first year. Despite a promise to send a bill to Congress repealing liability protection for gun manufacturers and closing background check loopholes on his first day in office, a week later, there's been no bill.
The coronavirus outbreak has affected every aspect of life, including the firearm industry. Last year saw record-high numbers of firearm background checks, a spike that was attributed in part to the pandemic.
While Biden has a "little bit" of time to implement his plan to end the pandemic, Gordon said two months from now, blame for mistakes will shift from Trump to the current president. And when that happens, "there's nothing he can say to make up for that," because he's the commander-in-chief.
With a lot of hope placed in Biden to be the "antidote to Trump," as Gordon phrased it, and the Congress in place that Democrats need to move their agenda forward, Burney-Clark warned that choosing inaction could make that majority "go away."