Facing Pushback on Defense Secretary Pick, Biden Makes Case for General Lloyd Austin
Facing bipartisan pushback, President-elect Joe Biden has set out to defend his pick for defense secretary, describing the retired four-star general as a "leader of extraordinary character, courage, experience and accomplishment" more than a month out from a potentially contentious U.S. Senate confirmation fight.
Lloyd Austin, 67, will need a waiver to existing law that requires the Pentagon leader to have at least a seven-year cooling off period from military service—a long-standing tradition that's meant to ensure civilian control of the military and guarantee that the Pentagon chief is loyal to the nation's interests and not the military's like in authoritarian regimes.
Austin, who would make history as the nation's first Black secretary of defense, retired from the military four years ago. Such a waiver has only been granted twice before in United States history, most recently with President Donald Trump's first defense secretary, James Mattis, in 2017.
"There's a good reason for this law that I fully understand and respect," Biden said Wednesday during a formal introduction ceremony that came after some senators already expressed apprehension. "I would not be asking for this exception if I did not believe this moment in our history didn't call for it."
Several senators from both sides of the aisle have voiced opposition to the waiver or haven't committed either way. That's prompted Biden to make a more aggressive push for this particular cabinet post ahead of his January 20 inauguration.
Austin's nomination creates a particular quandary for Democratic lawmakers—forcing them to choose between backing the civilian leadership tradition at the Pentagon or voting to confirm the nation's first Black defense secretary.
Civil rights leaders have said they plan to heavily promote Austin's nomination, after meeting with Biden Tuesday evening to discuss their priorities for his cabinet.
"It is interesting to me, and I said it to the president-elect, that we hear about [Austin] needing a waiver—we had two waivers in American history to make a Department of Defense secretary who had been in the military," the Rev. Al Sharpton told reporters after the meeting. "We will not accept getting to the Black guy and all of a sudden we're going to change what we've already done twice."
Derrick Johnson, president of the NAACP, made a similar pitch on cable news shows on Wednesday.
"First of all, [Austin]'s well-qualified. There's no question about that," Johnson said on MSNBC's Morning Joe. "We've just recently seen Gen. Mattis receive the waiver."
Austin said Wednesday that he has a "deep respect" for the principle of civilian control of the military.
"I intend to keep this at the forefront of my mind," he said, adding he would surround himself with "capable civilian appointees and career civil servants" if confirmed.
Vice President-elect Kamala Harris cited the ongoing coronavirus pandemic, its effects on the military and the role the military will play in continued response as justification for turning to a more recently-retired military leader.
"We need a proven leader to help address this pandemic," Harris said Wednesday. "Our service members represent America around the world and must uphold the nation's highest values and ideals.
"This is a milestone nomination—a seasoned, highly-decorated and trail-blazing commander," she added.
Austin and Biden have a long-standing relationship, dating back to a trip together to Iraq early in the Obama administration. At the time, President Barack Obama had tasked Biden with directing the end of the Iraq War and ensuing withdrawal.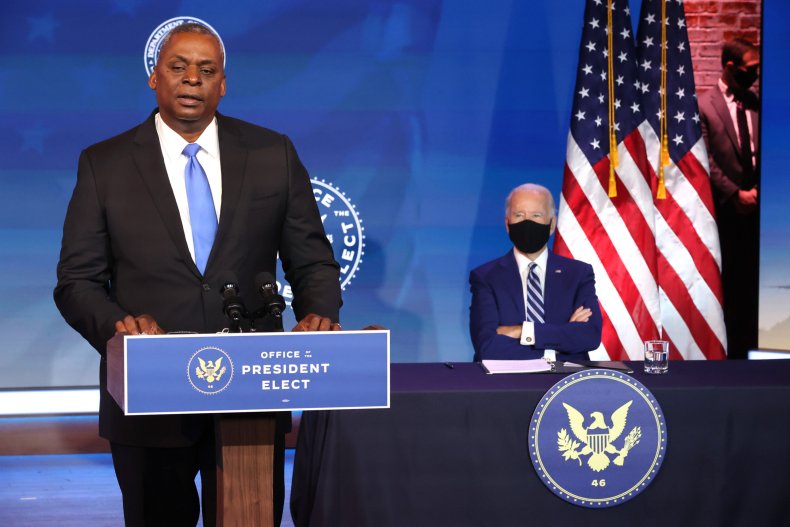 "General Austin was with me on the ground—not just for meetings with our troops or for military strategy sessions. He was there when I met with Iraq's political leaders, when I met with the leaders of our coalition partners," Biden recalled. "He was a statesman, representing our country with skill at tables with foreign leaders, both military and civilians."
Austin's nomination also is deeply personal to Biden. His late son, Beau Biden, a military lawyer who died of cancer in 2015, worked under Austin's command in Iraq and had a close friendship.
Biden noted their connection in his remarks Wednesday.
"[Austin] has inspired so many young people who work for him to give their very best, and to live up to his example of leadership — including, for a time, a lawyer serving a year in Iraq with his Delaware Army National Guard unit—my son, Beau Biden," the former vice president said, turning to Austin. "I know how proud Beau was to serve on your staff, General Austin."