Facing Unrest, Iran Credits U.S. Wars in Helping Islamic Republic Survive
Forty-four years after undergoing an Islamic Revolution that had worldwide ramifications, Iran is facing one of its greatest challenges yet as it contends with foes both internal and external in a fight for survival and greater-power status.
But in the face of such adversity, Tehran had an unlikely power to thank in Washington, whose history of war and intervention in the region and its periphery is seen by Iranian officials as a factor contributing to their government's staying power.
"Iran doesn't have to worry about a regime change or fall," the Iranian Permanent Mission to the United Nations told Newsweek. "The U.S. unintentionally helped Iran through aggression in Iraq, Afghanistan, Libya, and supporting instability in Syria, leading even opponents of the government to conclude that the current situation is more bearable than instability after witnessing the situation in these countries."
Iranian officials have deeply criticized this U.S. record, which has often left states deeply destabilized. Such condemnation comes even as some of Washington's ventures ultimately allowed Tehran to further expand its own influence as it also built up its military capabilities at home. It has become the Middle East's leading missile and drone power, albeit at great cost to an economy long beset by sanctions.
Now, hostility between Tehran and Washington has mounted to the point of President Joe Biden's administration threatening that "every option remains on the table" in ensuring the Islamic Republic does not obtain a nuclear weapon it has always denied seeking.
Attacks within Iran, widely attributed to U.S. ally Israel, have increased in recent years. Domestic insurgency is also on the rise, a development that Tehran also ties to foreign actors looking to take advantage of nationwide protests over the death of 22-year-old Mahsa Amini while in police custody in September.
In the midst of these tensions, however, the Iranian Mission argues that, "at the moment, war and foreign threats aren't a challenge for the Islamic Revolution because Iran has reached a balance between military power and threats, which has reduced the possibility of foreign military action."
"The government's focus is on fixing the internal problems of the country," the Mission added, "which means managing the economic problems and opening up political space within the constitution's framework."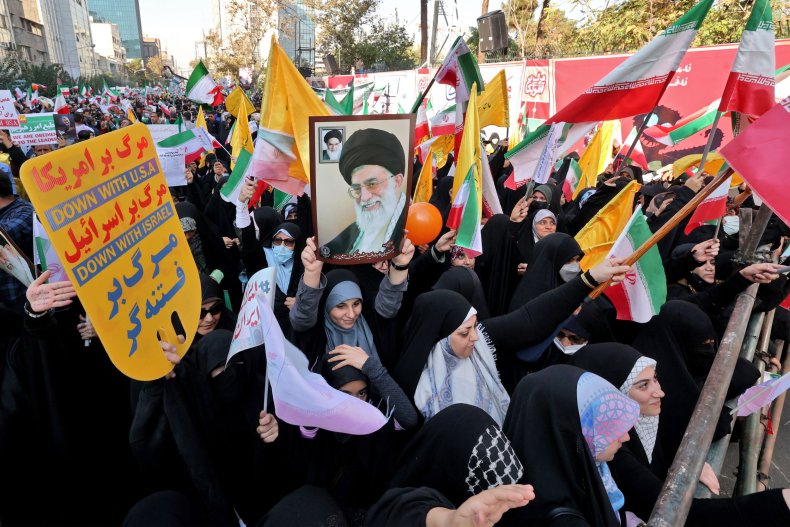 Iran's current constitution was adopted in December 1979, months after the Islamic Revolution ousted a long-standing monarchy backed by the West and brought exiled cleric Ayatollah Ruhollah Khomeini to power in February. The shah, whose rule was solidified in a 1953 coup backed by the CIA, fled to the U.S., and Iranian demands for his extradition to the newly formed Islamic Republic led to a crisis in which 52 U.S. citizens were held hostage at Washington's Embassy in Tehran for 444 days.
"Despite the Islamic revolution, Iran didn't cut off relations with the U.S.," the Iranian Mission said. "It was the U.S. that cut them off, and U.S.'s support for the coup and separatism in Iran led to the occupation of the U.S. embassy in Tehran, which was an espionage nest."
These dramatic events set the stage for hostilities between Iran and several countries, including the U.S., Israel and other regional powers. President Saddam Hussein of Iraq, leader of one of the countries opposed to Tehran, launched an eight-year war that killed hundreds of thousands of people on both sides over the course of much of the 1980s. Throughout the conflict, the majority of the international community backed Iraq. But many of those same countries joined a coalition that would go on to battle Hussein in the following decade.
Hussein's ultimate downfall at the hands of a U.S.-led invasion in 2003 gave room for both Tehran and Washington to forge new ties with Baghdad, one of the many arenas in which the two powers are still vying for influence 20 years later. Short-lived signals of a thaw in the Iran-U.S. rivalry emerged in the rise of the Islamic State militant group (ISIS) as a common enemy and the establishment of a nuclear deal, but tensions soon mounted again as the jihadis were defeated and the Trump administration abandoned the multilateral accord known as the Joint Comprehensive Plan of Action (JCPOA) in 2018.
Iraq was also the site of the U.S. killing of Islamic Revolutionary Guard Corps Quds Force command Major General Qassem Soleimani in January 2020 in the last year of the Trump administration, marking the onset of a new, even more dangerous period in tensions in the rivalry between Tehran and Washington. With little chance of reengaging with the West, Iran has strategically shifted the focus of its relationships to the East, including growing ties with China, Russia and even Arab countries with which progress has been made in revitalizing ties.
But as Iran continues to contend with the economic woes of U.S. sanctions and security challenges posed by both the U.S. and its ally, Israel, the emergence of nationwide unrest stoked by demonstrations in support of what has come to be known as the "Women, Life, Freedom" movement has served as an opportunity for critics to call for the fall of the Islamic Republic.
John Ghazvinian, an author and historian who serves as executive director of the University of Pennsylvania's Middle East Center, told Newsweek that there is truth to the shift in Tehran's narrative, as it now perceives the greatest threat to its survival coming coming from within.
"I think Iran is well aware of the fact that the United States is in no position to be launching new wars in the Middle East, that is has more than enough distractions elsewhere in the world as well as at home," Ghazvinian said, "and I think Iran feels that its immediate security position in the region is actually relatively stable and comfortable."
"And it's probably true that these kinds of domestic expressions of disgruntlement are probably more of a threat at this point than the United States is," he added. "That's very different from where we were 15, 20 years ago."
But he also expressed skepticism that the current level of unrest had reached the point where it was likely to topple the Islamic Republic as Iranians had done 44 years ago. He's not yet calling this a second Iranian "revolution," even if "the Islamic Republic is at the lowest point of its popular legitimacy today."
"One of the things that the Islamic Republic, for all of its flaws, has been able to do over the past 40 years has been to entrench itself at many levels of Iranian society through welfare, wealth distribution programs that have given it a level of buy-in for many segments of the population, at least in the past," Ghazvinian said.
He identified other key "sources of legitimacy," including the powerful Islamic Revolutionary Guard Corps (IRGC) and, perhaps unexpectedly, the actions of the very powers that oppose the Islamic Republic.
"There is some truth to the idea the Islamic Republic has benefited in certain ways from the instability that's been caused in the region, generally, in the context of regime change," Ghazvinian said. "I think it continues to give Iranian citizens pause for thought before they're too quick to pour into the streets in the hundreds of thousands or millions."
"And I think that's why we haven't seen these protests turn into the kind of truly massive movement that would cause a fundamental threat to the regime," he added.
Even as the Biden administration argued it operated in support of the Iranian people, this hesitation applied specifically to the aftermath of policies pursued by the U.S.
"I think over the past decade or two, Iranians have looked around the region and they've seen either U.S.-backed regime-change wars that have sown a great deal of volatility and bloodshed," Ghazvinian said, "or they have seen popular uprisings such as those in Syria that have been exploited or manipulated by external forces."
"And the Iranians are very well aware of the fact that their country is very much in the crucible of the interests of foreign powers," he added.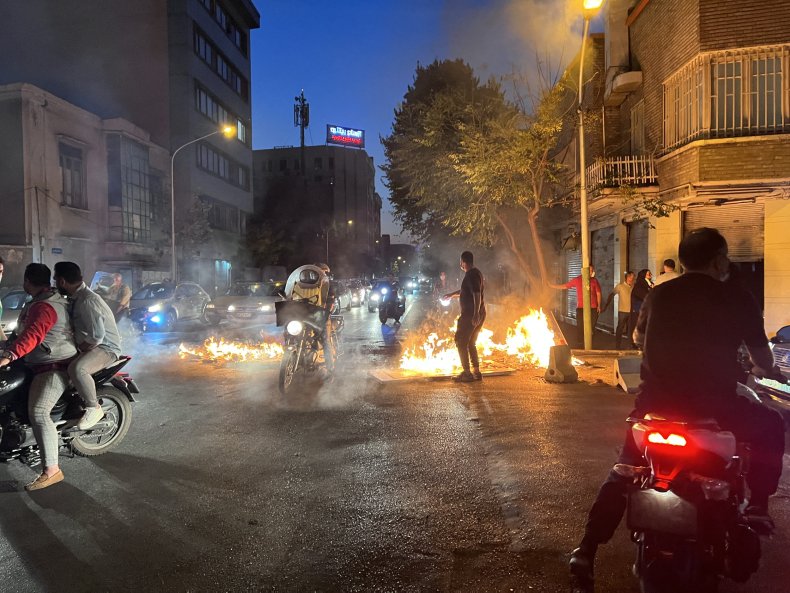 Among those Iranians aware of this reality was Afifeh Abedi, a Tehran-based researcher who has worked for the Center for Strategic Research based in the Iranian capital.
"The U.S. has created networks of external and internal threats against Iran," Abedi told Newsweek. "Washington is trying to influence Iran's political and economic development inside and Iran's neighborhood relations abroad with its interventionist policy."
And though she argued that the Iranian government "certainly sees these actions as threats on its national security," she said that among the nation's 83 million people, "there are different tendencies that have a different view of the American threats." Still, she stated that "the dominant approach sees the contradictory policies of Washington as a threat."
Abedi acknowledged the shifting tides of relations between Tehran and Washington, which were severed by the Islamic Revolution but have been subject to occasional signs of rapprochement. She saw the U.S. at fault, both for its approach to Iran as well as other countries.
"In the past few decades, Iran has tried to reach a level of relations with the U.S. in bilateral, regional and international relations," Abedi said, "but America's aggressive policy in the region and in the world showed Washington's aggressive goals against Iran."
On the one hand, she said Iran "had seen the military operations in Iraq and Afghanistan" being conducted by the U.S. while Washington carried out "an Iranophobic policy." On the other, she said that Tehran witnessed Washington "opening new regional and international cases against Iran, showing Washington's endless hostility against Tehran."
"The United States was trying to make Iran look like a threat and affect all foreign relations of Iran with other countries," Abedi said. "This policy continues."
"The U.S. pretends to seek diplomacy with Iran," she argues, "but actually seeks to increase threats against Iran. Naturally, this process has affected Iran's policy towards the U.S. and others regional and international issues."
Both Iran and the U.S. have accused one another of not being serious in their attempts revive the JCPOA in talks held in the Austrian capital of Vienna since Biden took office. Yet, as the European Union has pointed out to Newsweek, there remains no alternative to the embattled agreement.
As Iranian officials have previously argued to Newsweek, should a conflict break out, the Islamic Republic is confident in its capabilities to prevent the outcomes seen in Afghanistan, Libya, Iraq, Syria and other nations targeted by the U.S.
After a historically large-scale joint exercise conducted last month by U.S. and Israeli forces, the Iranian military unveiled on Tuesday a sprawling underground base to showcase the nation's aerial capabilities. Such capabilities could soon be bolstered by growing defense cooperation with Russia.
In the face of this perceived threat from abroad, Abedi asserted that "Iran has been forced to achieve a deterrent against America's aggressive actions."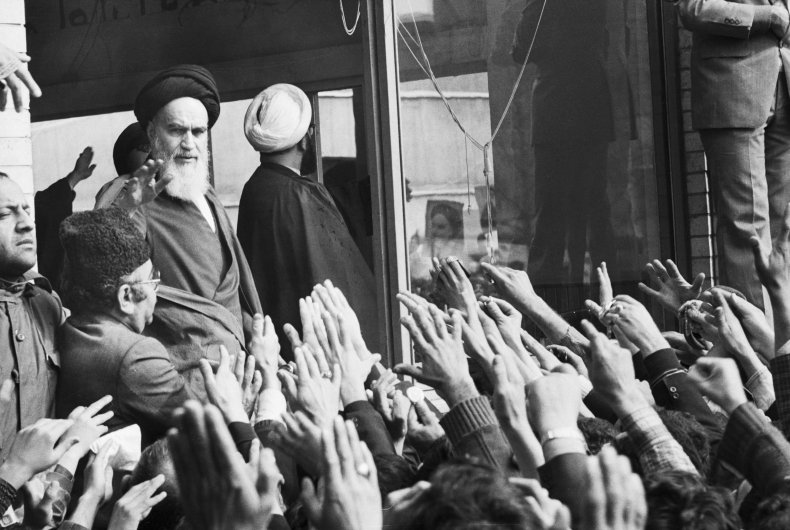 The history of U.S. interventions abroad shows such operations take many forms, however, and the threat of even limited acts of sabotage or smaller-scale conflict emerging into a broader, more protracted war "is serious," according to Vali Nasr, an expert who has advised world leaders, including the White House, and now serves as a professor at the Johns Hopkins University School of Advanced International Studies and a senior fellow at the Atlantic Council's South Asia Center.
Nasr explained that the same fears that emerged in 1979, when the Islamic Republic first identified Washington as a threat, still exist today. In fact, he told Newsweek that, with a total collapse of what's left of the JCPOA on the horizon, "we're in this sort of uncharted territory and I do think that the risk of conflict is pretty high."
What that would mean for Iran and its population is all but guaranteed, however, and Nasr said this uncertainty lives on in the minds of Iranians, even as they take aim at the policies of their government. He highlighted the experience of neighboring Iraq as being particularly influential to Iranians given not only the geographical but historic, cultural and religious ties between the two countries.
Nasr said that the "disastrous" outcome of the U.S. invasion offered Iranians "no proof that the Americans can actually deliver and things get worse," especially "in terms of your daily lives."
"Right now, you hate the mullahs, but you can drive to work, you hate the mullahs, but you can to mosque, you can go do business," Nasr said. "Whereas Iraqis basically did not have an actual daily life in that sense."
"And not just in Iran, I think a lot of other Middle Eastern countries initially had an effect of basically providing support for authoritarian regimes," he added. "There is an old saying in Sunni Islam that 100 years of dictatorship is much better than one year of chaos."
Nasr argued that, for the Islamic Republic, this "has become a powerful line of argument, that there is no sort of a Berlin Wall example in the Middle East, that the American-European intervention did not produce fantastic democracies with great economies being integrated into the European Union, and the result has been bad."
For some actors, such as separatist elements operating in majority-Baloch and Kurdish regions of Iran, such chaos could prove an opportunity and Nasr noted how "they actually sort of have egged on confrontation." He also highlighted some external forces such as the exiled People's Mojahedin Organization of Iran, or Mojahedin-e-Khalq (MEK), and regional actors like Israel and Saudi Arabia that have invested in undermining the power of the Islamic Republic.
Ultimately, he asserted that "Iranian society, in many ways, it's like the American society, it's deeply divided." To demonstrate this, he offered the examples of real outrage after Soleimani's killing, which drew massive crowds in support of the government, as well as real genuine anger over the IRGC's shootdown of a Ukrainian passenger jet as Iran responded to the slaying of its most iconic military leader with missile strikes against U.S. positions in Iraq days later.
Given the struggles faced by other countries targeted by U.S. intervention, many Iranians fear that a regime change effort at home may only further stoke such divisions and lead to greater instability.
"I think it'd be very dangerous to either assume that everybody's going to support the Islamic Republic in the event of the war, or that somehow Iranians will think they are being liberated and are going to side with an advancing army trying to topple the regime," Nasr said.
"There's nothing in Iranian history that suggests that would be a reaction," he added.
This article has been updated to reflect the fact that the coup to reinstall the shah in Iran took place in 1953.