Fact Check: Are KFC's New Plant-Based Nuggets Suitable for Vegans?
This month, KFC started offering its new plant-based menu item, which it claims "looks and tastes like KFC's world-famous fried chicken," at restaurants across the U.S.
The plant-based "Beyond Fried Chicken" nuggets were rolled out in partnership with Beyond Meat, a soya- and pea-sourced protein producer, in response to rising consumer demand for meat-free, sustainable food options.
The Claim
"After an incredibly successful pilot with plant-based partner Lightlife in 2019, vegetarians and flexitarians everywhere can now experience KFC's delicious taste at their local restaurant," the company announced on January 29.
The announcement has been met with generally positive feedback on social media, with users praising KFC's new "vegan chicken."
"happy to announce: the VEGAN chicken at kfc is good," one Twitter user wrote.
"So I tried the vegan "chicken" from kfc and I'll admit it's not half bad! This would be a good transition food for those wanting to go plant based," wrote another user.
But the new product has also sparked legitimate questions from the vegan community as to whether the nuggets are indeed suitable for vegans and vegetarians.
The Facts
While both vegetarian and vegan diets exclude meat and seafood, as well as byproducts of animal agriculture such as lard or gelatin, the latter also covers a broad range of products of animal origin, including dairy, eggs and honey.
But matters become more complicated when it comes to the issue of "cross-contamination," meaning that a vegan-friendly product is cooked in such a way that it comes in contact or gets tainted by animal products.
While some vegans and vegetarians adhere to very strict definitions that forbid consumption of foods made in a non-vegan environment, others are more open to it, seeing it as a trade-off in shifting the general public's preferences towards more sustainable foods.
So as per the basic definition, the entirely plant-sourced proteins making up the nuggets are indeed vegan- and vegetarian-friendly. But, as the company notes itself on its website, the nuggets are, in fact, not vegan when served.
"It is NOT vegetarian, vegan, or Certified Vegan. It is 100% plant-based, but they are prepared in the same fryers as our world-famous Kentucky Fried Chicken, which may not be acceptable to certain types of vegetarian or vegan diets," the KFC website states.
A representative for KFC responded to a Newsweek comment request, confirming that "all KFC ingredients, including Beyond Fried Chicken, are handled by employees in common fryers, which may not be acceptable to certain types of vegetarian or vegan diets."
KFC does indeed offer truly vegan-friendly options, including its Quorn-based Vegan Burger. Some have even called for KFC to start preparing the nuggets in separate vegan-friendly cooking areas so that such products can be relabelled as vegan-friendly.
The nuggets may well be suitable for some vegetarians, or for those "enjoying a vegetarian and flexitarian lifestyle," as the company's announcement puts it. But for now, with the same facilities used for cooking animal and plant-based products, that is not the case.
The Ruling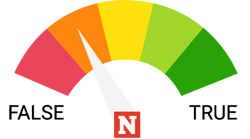 Mostly False.
While the new "Beyond Chicken" nuggets are indeed entirely meat-free, they are not certified as vegetarian or vegan friendly because of how they are prepared, according to the KFC website.
FACT CHECK BY NEWSWEEK