Contrary to an internet rumor, convicted sex offender Brock Turner is not currently scheduled to give a speech at the Republican National Convention (RNC) in August.
Turner was imprisoned in 2016 after sexually assaulting an unconscious woman outside of a fraternity house at Stanford University. Prosecutors in the case had demanded a sentence of 6 years for Turner, but Judge Aaron Persky sentenced him to 6 months. Turner's light sentence was criticized by lawmakers and Turner's victim, Chanel Miller.
Rumors of Turner's appearance at the RNC began after a tweet by comedian Jena Friedman. Friedman is a veteran of network television comedy including the parody news program Soft Focus on Adult Swim.
"BREAKING NEWS," Friedman's tweet read. "Brock Turner, Stanford Student Athlete Who Assaulted Unconscious Woman, Will Speak at RNC."
Among those expected to speak at the 2020 RNC include St. Louis couple Mark and Patricia McCloskey, who faced felony charges after brandishing firearms at demonstrators during a Black Lives Matter protest in their neighborhood, and former Planned Parenthood director Abby Johnson. President Donald Trump is slated to accept the Republican Party's nomination for reelection in a speech from the White House. An official list of speakers has yet to be publicly released by the RNC.
Newsweek reached out to the RNC for comment.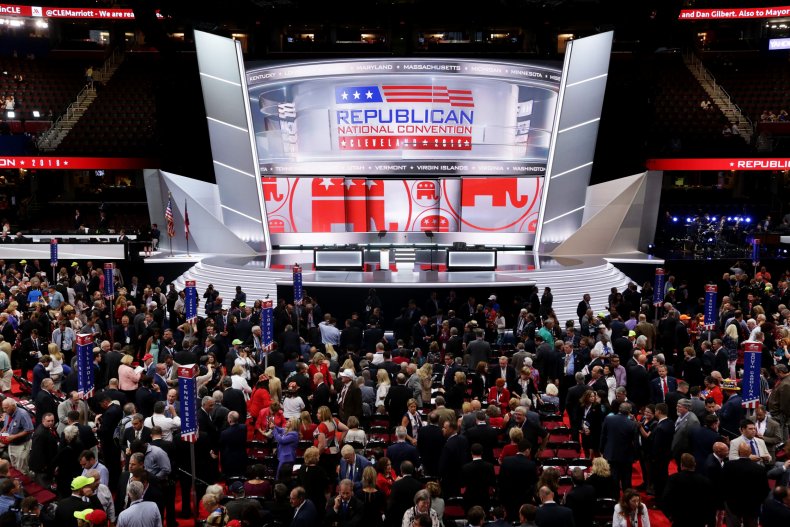 Judge Persky defended Turner's light sentence because of Turner's remorse for the crime and the lack of a criminal record. Current Democratic Vice Presidential candidate Kamala Harris, who was California's Attorney General at the time of Turner's sentencing, said Turner's victim's voice was "not heard."
"It was not respected, and she was not given dignity in the process," Harris said.
Both President Trump and presumptive Democratic presidential candidate Joe Biden have faced allegations of sexual misconduct.
Journalist E. Jean Carroll accused Trump of rape after an assault in a department store dressing room during the 1990s. Carroll claims she kept the clothing she was wearing at the time which holds genetic material that could be used as evidence against Trump. Attorneys for Carroll have requested a DNA sample from Trump in order to test for a match.
President Trump responded to Carroll's allegations by telling The Hill that she was "totally lying."
"I don't know anything about her," Trump said in June 2019. "I know nothing about this woman. I know nothing about her. She is—it's just a terrible thing that people can make statements like that."
Former Senate staffer Tara Reade said Biden assaulted her in 1993 in a hallway. Biden claimed the event described by Reade did not occur.
"This is just totally, thoroughly, completely out of character," Biden said during a May interview with MSNBC. "And the idea that in a public place, a hallway, I would assault a woman? I mean, it's, anyway, I promise you, it never happened."
Biden also said that people who believed Reade's allegations against him should not cast their ballots for him in November. "I wouldn't vote for me if I believed Tara Reade," Biden said.
Correction (8/18, 7:45 p.m.): An earlier version of this article referred to Brock Turner as a convicted rapist. Turner was convicted of sexual assault. We regret the error.