Fact Check: Can Republican State Legislatures Step In To Hand Donald Trump an Electoral College Victory?
President Donald Trump, who has yet to concede the 2020 election, reportedly has floated the idea of subverting the normal Electoral College process to clinch a second term in the White House.
The seemingly implausible scenario comes after several news organizations, including the Associated Press, called the race for Democratic nominee Joe Biden. On Friday, projections showed Biden with 306 electoral votes to Trump's 232.
The Question
According to the New York Times, the president asked advisers in a meeting Wednesday whether it was possible for Republican legislatures to sidestep the popular vote and select pro-Trump electors in key battleground states.
The idea has received support from several prominent Republicans. South Carolina Senator Lindsey Graham told Fox News host Sean Hannity that "everything should be on the table." Florida Governor Ron DeSantis similarly suggested on the network that people living in battleground states with GOP-controlled legislatures should contact their state lawmakers who might be able to provide "remedies."
The Facts
"Direct appointment of electors by state legislatures is being discussed in some circles as an extreme measure, but is not actually a plausible scenario," said Barry Burden, director of the Elections Research Center at the University of Wisconsin-Madison.
Burden explained that while the Constitution gives state legislatures the power to appoint electors in any manner they choose, they have all already decided that they will allocate electors based on the popular vote.
"Legislators might decide to change the rules for 2024 and use a mechanism other than the popular vote to choose electors in that election," he said, "but it is not possible to alter the rules now that the 2020 election has already taken place in the 'manner' outlined by state statutes in advance of the election."
The National Task Force on Election Crises, which is a group of experts on election law and voting rights, compiled a report outlining how such a move from a state legislature would raise significant constitutional concerns.
"A state legislature's post-Election Day substitution of its own preferences for those of voters would violate federal law," the task force wrote. "Even if circumstances delay the final determination of the results of a state's election beyond Election Day, a state legislature may not usurp the electoral process under the pretext of declaring a failed election."
Any attempt by a state legislature to override the popular vote would swiftly be met with legal challenges, Burden said.
David Daley, a senior fellow at the nonpartisan electoral reform advocacy group FairVote, called the hypothetical scenario that state legislatures appoint pro-Trump electors "extraordinarily unlikely and rather anti-democratic."
"There is no legal basis for that to happen," Daley added.
One of the only possible paths for state legislatures, under federal law, to ignore the popular vote and appoint their own electors is to argue that voters "failed to make a choice."
"Except that's where the fact that there's no legal basis would come in because voters did in fact make a choice," Daley said, "and every time the Trump campaign has made a legal argument in court about irregularities or fraud, it hasn't worked."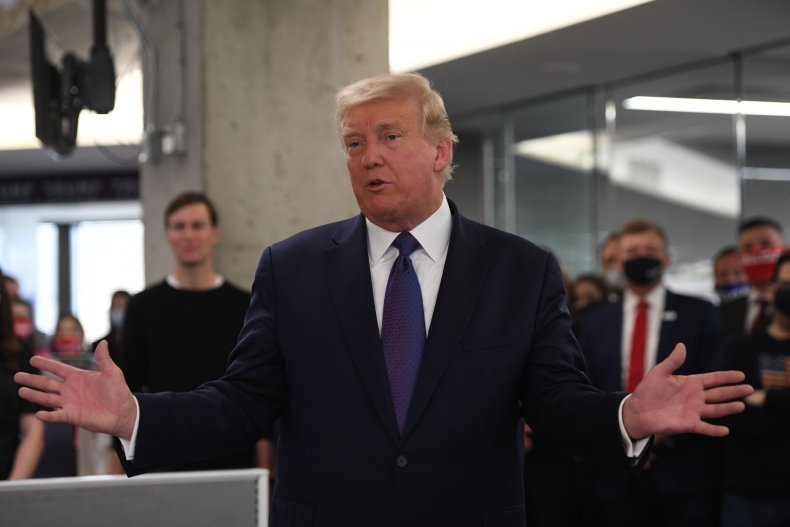 The president's legal team has filed at least a dozen lawsuits alleging election irregularities or improper ballot-counting procedures. Nearly all of the legal challenges have been tossed by judges.
The Trump campaign has focused its post-election efforts on key battleground states, including Pennsylvania, Wisconsin and Michigan. While each of these states is controlled by Republican legislatures, they also have Democratic governors who could veto any attempt to switch electors.
The Answer
Election law experts said counting on Republican legislatures to appoint pro-Trump electors is not a viable path for the president's re-election.
"There's no reasonable argument anywhere that the voters didn't make a choice and there isn't an ascertainable result," said Wendy Weiser, who directs the Democracy Program at the Brennan Center for Justice at New York University School of Law.
"There's no legal way at this point that any state legislature can have a role in selecting the electors," Weiser added.
Plus, state officials have expressed little appetite for going against the will of the people.
Pennsylvania Attorney General Josh Shapiro, a Democrat, said in a statement that "there is no legal mechanism for the General Assembly to act alone and appoint electors. None." The state's top Republicans also have ruled out the possibility in an op-ed published before the November 3 contest.
Republican leaders in Michigan also have clarified that the state's 16 electoral votes will go to the winner of the popular vote, The Detroit News reported Friday.
"This would require state legislatures to participate in something so brazenly undemocratic that it would be breathtaking," Daley said. "You have already seen over the course of this week that while there may be some appetite to test this in the thickets of conservative talk radio, I think much cooler heads will prevail long before it gets to this position."