Fact Check: Can Schools Vaccinate Children Without Parental Consent?
A panel of experts formally recommended the U.S. Food and Drug Administration to authorize Pfizer's COVID-19 vaccine on Thursday. As the emergency use authorization is expected to be granted any day now, some have raised questions about who can mandate vaccinations.
While children are not a priority group in immunization rollouts and vaccine studies are only beginning in children now, some parents are worried schools will require students to get vaccinated before attending classes—or that the school may go ahead and vaccinate kids without parental consent.
The Question
A Michigan state chapter of Informed Choice USA working to "fight for medical freedom in Michigan and the right to true informed consent," has recently urged parents not to send their children to school if their child's district is allowing the Genesee County Health Department to administer vaccinations on school grounds.
Yesterday, the county health department announced it had partnered with eight schools in the county to help distribute a COVID-19 vaccine once it becomes available.
Informed Choice Michigan President Erica Pettinaro argues that these vaccination sites will make it easy for schools to vaccinate children for the coronavirus without seeking explicit parental consent, while deferring to implied consent instead.
"Per WHO, implied consent occurs when 'the physical presence of the child or adolescent, with or without an accompanying parent at the vaccination session, is considered to imply consent. This practice is based on the opt-out principle and parents who do not consent to vaccination are expected implicitly to take steps to ensure that their child or adolescent does not participate in the vaccination session,'" Pettinaro wrote in a statement to MLive/The Flint Journal.
Pettinaro recommended that parents who can't keep their children from attending school should send them with a written statement refusing to allow the school to administer vaccinations to their child without a parent or guardian present.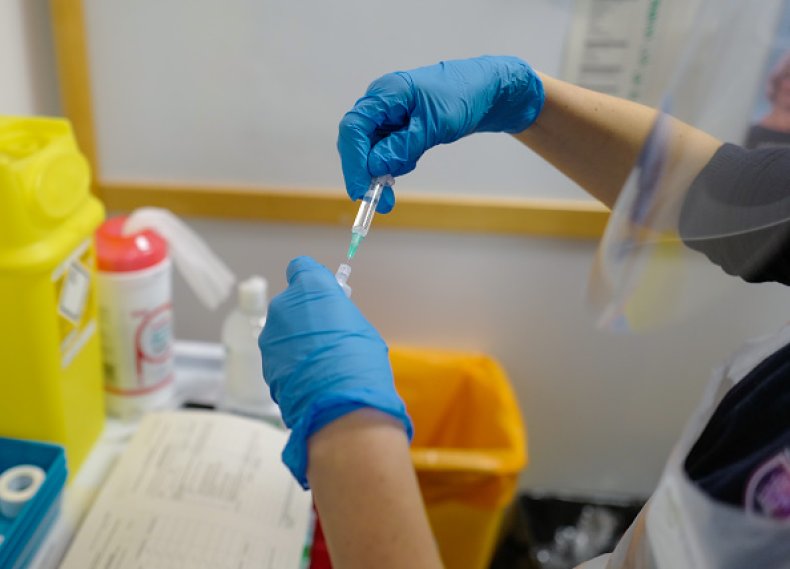 The Facts
Health officials and local school districts have disputed these claims of implied consent, arguing that the partnership between the Genesee County Health Department and school districts is to help create more distribution sites.
Suzanne Cupal, a county health department spokeswoman, told Newsweek that people would be immunized via a drive-thru rather than in a school building.
"These school partnerships have been in site for a long time," Cupal said, noting that the same distribution pods were in place during the H1N1 epidemic.
"The idea of the pod locations have absolutely nothing to do with the student population and everything to do with the community population," she added. "Because schools are trusted sources and known in the communities, if you ask somebody where the local school is, they'll be able to tell you that."
Cupal also said minors would not be vaccinated without a parent present and granted permission.
"All of the consenting process is the same. It is not something where the schools are being utilized to immunize children, it's the school site that's being used as a location to immunize the community," she said.
In fact, the press release specifies that the vaccine is "currently approved for persons 18 years of age and older," which will make it near impossible for a child to be vaccinated even if a parent or guardian were to grant consent.
The distribution plan will require adults being vaccinated to provide written consent before being administered the dose.
The department specified that once vaccines are approved for children, "standard protocols including the requirement to have a parent or guardian accompany the child, along with written consent by the parent or guardian, are always followed."
Grand Blanc Community Schools' Public Relations and Communication Agent Andrea Calvert told Newsweek that the only way a child could be vaccinated, once it is approved for minors, is if their parent or guardian brought the child to a point-of-distribution site outside of the school day to be vaccinated.
"The students will be kept completely separate from the vaccination activities and have nothing to do with the use of the school as a site for the Health Department, if in fact students are even on site when the vaccination clinics take place," Calvert said. "Our understanding is that efforts will be made to hold the clinics outside of hours when students are present, and if Michigan weather permits, outdoors."
Calvert stressed that implied consent is used only during life-threatening emergencies, such as when an epipen is administered during anaphylactic shock.
"The district requires prior written request from a parent or guardian to even give Tylenol for a headache. In all instances outside of an ice pack for a bruise or a Band-Aid for a cut, parent/guardian(s) or next available emergency contact on file are notified of any illness or injury immediately and consulted on how to proceed, unless it is an eminent life or death situation," she said.
The Answer
No.
The Genesee County Health Department has said it has no plan to implement implied consent at vaccine distribution sites and that the sites will run separately from school activities.
"There's a lot of misinformation that's being shared and clearly there's an anti-vaccine movement that is probably the source of much of this, but school sites have been utilized for many, many years for this purpose," Cupal said.
Moreover, the vaccine currently is not available to children under 18, which would prohibit health officials from administering the COVID-19 vaccine to any school-age children.
Once children become eligible, the health department has reiterated that it will need written consent from a parent or guardian and that a parent or guardian will need to be present when the child is being immunized.
Newsweek reached out to Informed Choice of Michigan for further comment but did not hear back before publication.
Update 12/11/20 1:01 p.m. ET This story was updated with comments from Calvert.