A graphic short video of a man setting himself alight in front of what appears to be a police barracks has been circulating on social media, accompanied by anti-vaccine narratives and rumors that the man has died as a result of his injuries.
The 25-second clip, which is too graphic to include on this page, depicts a man engulfed in flames, with a canister lying beside him, in front of a police station in what is reported to be the town of Rende, near Cosenza in Italy's Calabria region. Two bystanders quickly rush to his rescue, spraying him with fire extinguishers as the man slowly walks through the street.
The Claim
A number of Italian- and English-language accounts on Twitter, Telegram, Reddit (the post was soon deleted) and other platforms, posted the video with captions claiming a 33- (or 35)-year-old teacher protesting the mandate, introduced this month, under which those in the workforce who are over 50 will have to show a health pass.
The so-called Green Pass must show that they have either been vaccinated or recently recovered from COVID-19, otherwise they would face suspension from work from mid-February.
The video was first shared on Monday, January 31, though its provenance is unclear. Bianca Laura Granato, an Italian senator in Calabria, shared the video on her Facebook page, with an accompanying comment implying that the man was suspended without pay for refusing to get vaccinated. The post was later updated with mentions of vaccination mandates removed.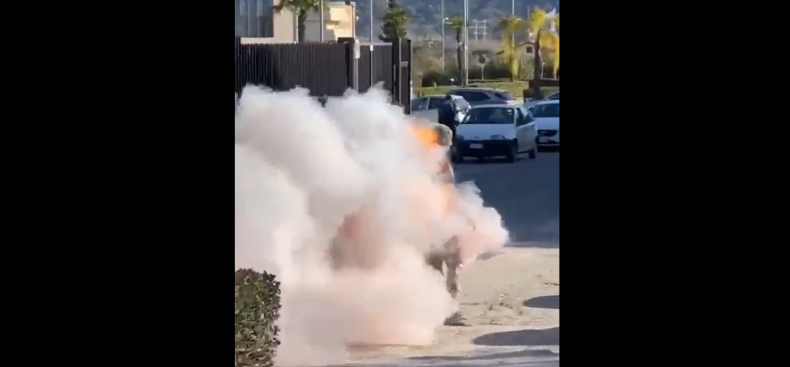 Uil Scuola Monza e Brianza, a workers union, also shared the video on its Facebook page, repeating the unsubstantiated claims, but later removed it and issued a new statement that said, in part:
"It is absolutely not true that the episode that occurred on 31.01 us was dictated by the suspension from the Worker's service due to the lack of vaccination against covid-19. It is true, rather, that the actual causes of the incident are not known at present."
The statement concluded with an apology for "any misinterpretation."
The video was nevertheless quickly picked up by several misinformation-spreading accounts and outlets, including the conspiracy theorist website TheCovidWorld, tying the incident into existing anti-vaccine narratives.
"The 33-year-old Italian teacher who sustained life-threatening injuries on Monday after dousing himself with gasoline and setting himself ablaze has passed away, local media reports. The teacher, who worked in Lombardy, had been suspended without pay following the new mandatory vaccination laws implemented on January 10, which eliminated the option of showing a negative test to gain access to work and school," the article claimed, without offering any evidence for the claims.
The Facts
Several Italian media outlets reported the incident on Monday, with Agenzia Nazionale Stampa Associata (ANSA) news flash stating, "A man was in serious condition in hospital Monday after setting himself alight in front of a Carabinieri barracks at Rende near Cosenza in Calabria."
The reports by ANSA and local sources noted that while the man had suffered severe burns, he was hospitalized and still alive. Reports also noted that his motive was unknown.
Witnesses at the scene—the two men that came to his aid—were also quoted as saying that "the man never said anything, not even a word."
According to local media reports, the man is a 33-year-old teacher working in the Milan area. Contrary to the false claims, he was not suspended from his job, but took a leave of absence for "personal reasons" some days prior to the incident. He also received two doses of the COVID vaccine, according to his family's statement issued through their lawyer.
"Sorry that unfounded news has been spread about the reasons for the gesture and that there is speculation on a story that would require due respect and proper silence," the note (in Italian) issued by the lawyer on Tuesday morning, said, as cited by LacNews24, and separately by Cosenza Channel. "The act is in no way attributable to a protest about the Green Pass, given that our relative had already been vaccinated with the first two doses and was waiting for the third. We therefore ask for silence and respect for privacy, unfortunately already widely violated."
On February 1, local TV news channel TGR Calabria aired a statement from the local police chief Mariachiara Soldano, who also dismissed the claims that the teacher was suspended for not being vaccinated, and in fact worked regularly having joined the vaccination program.
Several websites and social media users also speculated that the man had died from the burns. Contrary to those claims, the man, who was transferred to a severe burns unit in a major hospital in Naples, was in serious but stable condition as of Tuesday evening, as per his family's statement.
Newsweek could not independently verify the man's current condition, but has reached out to the Cardarelli Hospital in Naples for a comment or an update.
The Ruling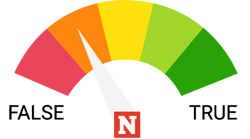 Mostly False.
A graphic video showing a man setting himself on fire in front of a police building in Italy is genuine. But there is no evidence to support the speculative claims that he took this step in protest to Italy's vaccine mandate. While his motives remain unknown, the teacher's family confirmed that he was vaccinated and was not "suspended" from work. Claims that he has died in hospital are unverified: Newsweek found no evidence to support them, as of Wednesday, February 2.
FACT CHECK BY NEWSWEEK
If you have thoughts of suicide, confidential help is available for free at the National Suicide Prevention Lifeline. Call 1-800-273-8255. The line is available 24 hours every day.