Fact Check: Did Bernie Sanders Blame Democrats for Stalling COVID Relief?
Lawmakers and government officials have been working to propose and pass a second COVID-19 relief package. The first, known as the CARES Act, was passed in March for roughly $2 trillion to provide relief to American businesses and individuals during the first U.S. wave of the virus and subsequent lockdowns.
Congress is exploring the possibility of a new $908 billion relief bill that has attracted support from Democratic and Republican senators. The framework has been spearheaded by Democratic Senators Joe Manchin III of West Virginia and Mark R. Warner of Virginia, along with Republican Senators Lisa Murkowski of Alaska, Mitt Romney of Utah, Bill Cassidy of Louisiana and Susan Collins of Maine, according to the Washington Post.
The proposal comes after Democrats rejected a $1.8 trillion relief package on October 10 while pushing for a $2.2 trillion package.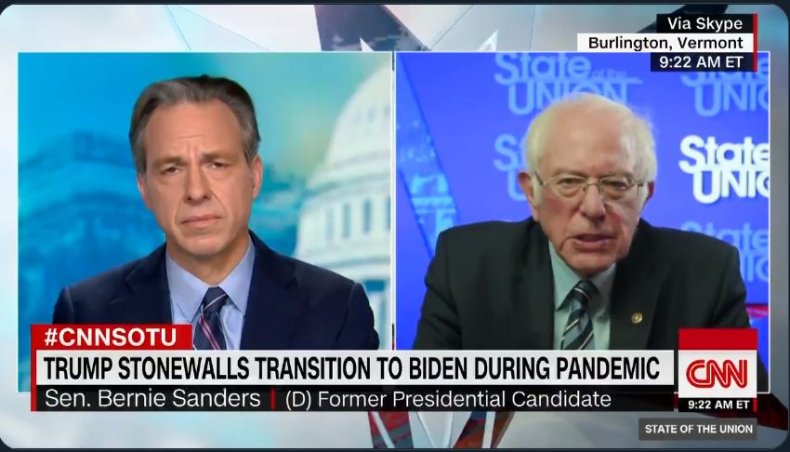 The Claim
Independent Vermont Senator Bernie Sanders, a two-time Democratic presidential candidate, described Democrats' rejection of the $1.8 trillion stimulus package as a mistake during an interview with CNN's Jake Tapper on December 7.
During the interview, Tapper asked Sanders, "Was that a mistake?" in reference to Democratic leaders walking away from the $1.8 trillion stimulus package. Sanders replied, "That's what I'm saying."
"Here was a proposal much much larger, Democrats said, 'No that's not good enough,' and now we are prepared to accept a proposal which has I think $350 billions in new money..."
The Facts
In early October, the White House presented a new stimulus offer of $1.8 trillion to Democrats in hopes of reaching a consensus before the election. There were negative responses from both parties to the package and House Speaker Nancy Pelosi (D-Calif.) declined the proposal.
The earlier proposal included $1,200 individual payments, which the current $908 billion package does not include.
"...It does not address the economic crisis facing tens of millions of families in this country," Sanders said in the interview. "This proposal does not include that $1,200 direct payment per individual and $500 for kids that we desperately need..."
Sanders expressed concern that the current coronavirus relief bill is "far, far, far less" than the previous bills brought to the Senate, and that he believes there is a need for a compromise that this current bill does not provide.
The Ruling
True.
Sanders believes that the Senate Democrats made a mistake by rejecting the previously proposed $1.8 trillion stimulus bill, and that it also would be a mistake to approve the current package.