Fact Check: Did Colorado Suspect's Grandfather Tweet 'Prayers' to Victims?
The death of five people at a gay nightclub in Colorado Springs has brought much anguish and fear to the local and national LGBTQIA+ communities, with concerns growing that violence is a symptom of anti-gay rhetoric at large.
While the investigation continues into the attack on Sunday at Club Q in Colorado Springs, Colorado, which also saw 18 others injured, 22-year-old Anderson Lee Aldrich has been arrested and named a suspect in the case, although any motive has not yet been determined.
Among the few verified reports around the tragedy was that the alleged shooter's grandfather is California Republican Assemblyman Randy Voepel. According to posts on Twitter, Voepel was said to have sent condolences after the shooting—but was the message real?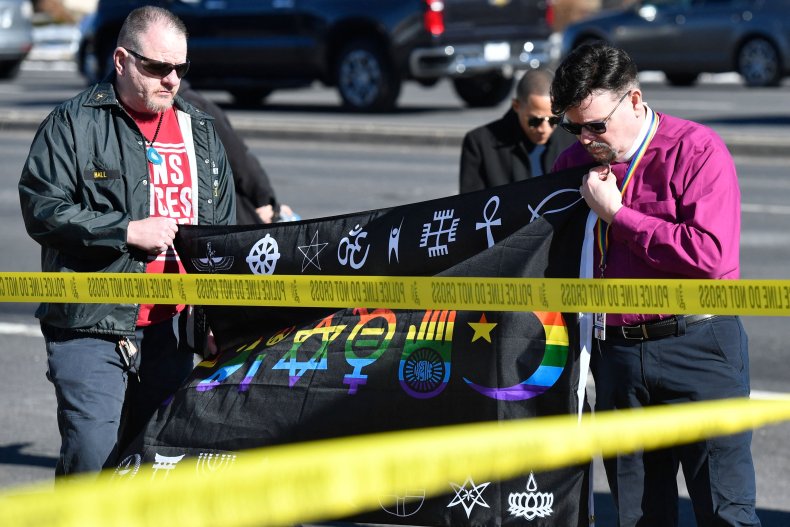 The Claim
A tweet sent on November 21, 2022, which has received more than 40,000 engagements, included what appeared to be a screenshot of a tweet from Voepel that stated "Sending my thoughts and prayers."
An accompanying message ("Just so we're clear here, Assemblyman Voepel's grandson was the mass shooter in Colorado") appears to imply Voepel's post referred to the shooting.
A subsequent tweet, sent from a separate account, suggested Voepel's message was interpreted this way, stating "This is all the empathy that the grandfather of the Colorado Springs mass murderer could muster."
The Facts
The shooting in Colorado Springs took place during a drag night at Club Q, leading many to draw a connection between the attack and some of the recent criticism drag performers have received from MAGA supporters and politicians.
Several high-profile MAGA figures, such as Colorado Congresswoman Lauren Boebert, have misleadingly equated trans activism and the promotion of LGBTQ+ symbolism with the "grooming" of children.
Drag artists have been targeted by right-wing protestors, with lawmakers calling for an end to the rhetoric connecting drag with "grooming."
In this context, rumors that a tweet sent by Voepel, who is a MAGA Republican, offering condolences to the victims of Colorado Springs, sparked derision and outrage.
However, it doesn't appear that Voepel sent this tweet after the shooting, nor did he send any such tweet recently, as far as Newsweek Fact Check was able to establish.
It appears that the tweet was digitally crafted from another message Voepel sent on April 28, 2022, referencing the shooting of a California Highway Patrol Officer in Mission Valley, in San Diego County.
"Sending my thoughts and prayers to the officer and their family 💙🕊" Voepel wrote.
By comparison, the message shared on Twitter does not refer to any particular incident, does not include the date nor where the tweet was sent, and appears to be a fragment of a sentence.
Voepel is not a frequent Twitter user either; his last tweet was sent more than two months ago, on September 1, 2022 (although he has reposted other content since then).
Newsweek Fact Check could find no evidence that Voepel has spoken out about the incident since Sunday, including any messages of condolence.
While it is possible that a tweet has been posted and since deleted, Newsweek has found no evidence of its existence, either in the form of screenshots (with time and date visible) or as an archived item.
Misleading messaging is a common—if unwelcome—trope associated with mass shootings in the United States, when the clamor for details along with the ensuing information vacuum can lead to the proliferation of falsehoods.
Following the shooting at Robb Elementary School in Uvalde, Texas, in May, false narratives spread on social media that the shooter was transgender, based on misleading material, speculation and unevidenced claims.
A shooting at a school in St. Louis, Missouri, in October was also accompanied by false claims, including that the media had attempted to "cover up" the incident.
Newsweek reached out to Assemblyman Voepel for comment.
The Ruling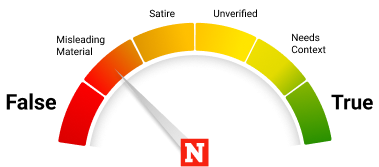 Misleading Material.
The tweet from Randy Voepel appears to be a manipulation of a genuine message he sent in April 2022.
Voepel has not tweeted since early September and does not appear to have commented about the Colorado Springs shooting either.
FACT CHECK BY Newsweek's Fact Check team