Fact Check: Did Donald Trump Join Glenn Youngkin's Closing Campaign Event in Virginia?
The Democratic candidate has been playing up his opponent's supposed affiliation with the former president in Virginia's contentious campaign for governor.
The Claim
In his closing campaign speech on Monday, Terry McAuliffe, the Democratic candidate in Virginia's gubernatorial election that is widely expected to be very tight, claimed that former President Donald Trump was set to join his opponent, Republican Glenn Youngkin, at a campaign event.
"Guess how Glenn Youngkin is finishing his campaign?" McAuliffe told a crowd of supporters at his final rally, held in Fairfax, Virginia. "He is doing an event with Donald Trump here in Virginia."
"I am here with you, and they got Trump over there," he added.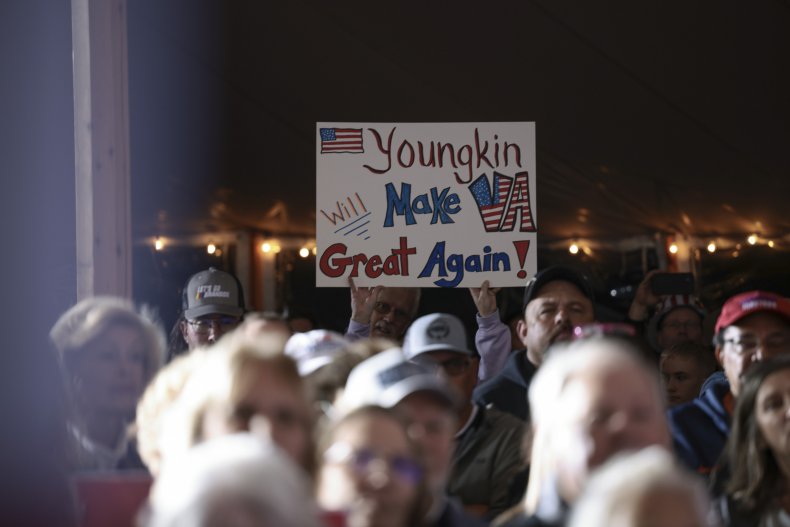 The Facts
Drawing parallels and highlighting connections between Trump and Youngkin appears to have become a key element of McAuliffe's campaign strategy. But even as the Republican candidate previously admitted "Trump represents so much of why I'm running," he has resisted opportunities to tie himself closer to the ex-president, even after being endorsed by him on multiple occasions.
Rumors that Trump could visit the state in show of support for the Republican contender failed to materialize, and even as Trump indicated he would call in to a campaign event on Monday, Youngkin was quick to dismiss the speculation that he would be involved.
"I'm not going to be engaged in the tele-town hall," he told reporters on Saturday, according to The Guardian, adding, "The teams are talking, I'm sure."
Trump did call in to the tele-rally on Monday, praising Youngkin and dismissing media claims that their relationship had cooled. He eventually urged his supporters to vote for the Republican candidate during a six-minute speech.
But Youngkin did not participate in the event, as one of his aides confirmed to CNN. Instead, the Republican hopeful appeared at a different rally, taking place Monday afternoon in an airport hangar outside Richmond, according to the Associated Press. He later traveled to Virginia Beach before closing his campaign in Loudoun County, a key election battleground.
Newsweek reached out to McAuliffe's office for comment on the claim but did not receive a response in time for publication.
The Ruling
False.
Youngkin did not close his election campaign with a rally involving Trump. Though Trump did phone in to an event in support of the Virginia Republican ticket, the Republican gubernatorial candidate was not on the call, instead meeting his supporters at a separate location.