One thing American poet Amanda Gorman and former Democratic presidential candidate and former South Bend, Indiana, Mayor Pete Buttigieg, President Joe Biden's nominee for secretary of transportation, have in common is that they were both seen double masking during Biden's inauguration.
With new coronavirus variants coming out such as the strain found in South Africa, many wonder about the efficacy of masks and if more than one should be worn.
The Claim
British YouTuber and writer Paul Joseph Watson tweeted, "Less than one week after advising Americans that wearing two or even three masks would be 'more effective' against the spread of coronavirus, Dr Fauci has done a complete 180."
The Facts
Dr. Anthony Fauci, the director of the National Institute of Allergy and Infectious Diseases and Biden's chief medical adviser, appeared on Today on January 25 in an interview with Savannah Guthrie discussing the new coronavirus variants, vaccine shortages and mask protection.
"If you have a physical covering with one layer, you put another layer on, it just makes common sense that it likely would be more effective and that's the reason why you see people either double masking or doing a version of an N95," Fauci said.
A few days later, during a CNN town hall on January 27, Fauci emphasized what is recommended by the Centers for Disease Control and Prevention (CDC) regarding masks.
"The CDC does not recommend that you should wear two masks, nor does the CDC recommend that you have to wear an N95 mask. They just say, 'The most important thing is get everybody to wear a mask,'" Fauci said during the town hall.
The next day, Fauci answered questions from members from the American Federation of Teachers (AFT) and the National Education Association (NEA) during a live stream posted to AFT's YouTube channel for a "vaccine discussion."
"The CDC has not changed any of its recommendations about mask wearing in the sense of saying 'wear two masks' or 'do an N95.' They haven't gone there, they have just said everybody should wear a mask," Fauci said in the video.
A 19-second clip posted to Twitter on Sunday captured what Fauci said directly afterward in AFT's live stream. The tweet received thousands of interactions and reads, "Fauci on double masking: 'There's no data that indicates that that is going to make a difference.'"
"There are many people who feel you know, if you really wanna have an extra little bit of protection, maybe I should put two masks on. There's nothing wrong with that, but there's no data that indicates that that is gonna make a difference and that's the reason why the CDC has not changed their recommendations," Fauci said.
Another Twitter user replied to the tweet, saying, "Didn't he just say that it was 'just common sense'?"
In the full YouTube video, Fauci continued by discussing potential future actions of the CDC.
"They might take a look at data that's accumulating and they might change their recommendation, but the bottom line is, the minimal thing you need to do is always wear a mask under circumstances when you're in settings where you're with people or you're in congregate settings."
Regarding double masking, NYU Associate Professor of Epidemiology Danielle C. Ompad told Newsweek in an email Monday: "Given the reports of increased infectivity of the U.K. COVID-19 strain, I think double masking could decrease transmission generally, so long as the nose and mouth are covered. The key is to have multiple layers covering your nose and mouth. If someone is using cloth masks or gaiters, for example, double masking may provide more protection."
The Ruling
Half True.
Fauci did not explicitly advise people to wear two masks during his interview on the Today Show, but he did say, "It just makes common sense that it likely would be more effective," and explains that this common sense is the reason behind why people double mask or wear N95 masks.
Afterward, during his appearance in the CNN town hall and AFT's live stream, he stated the CDC's guidelines on masks, and said they have not recommended doubling up on them.
In AFT's video posted to YouTube, he said the reason the CDC has not issued new recommendations is that there is no current data available about the efficacy of doubling up on masks.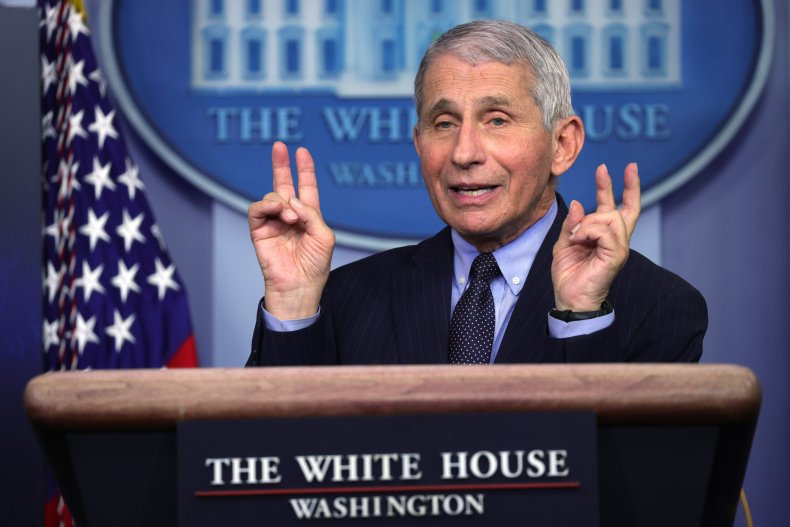 Uncommon Knowledge
Newsweek is committed to challenging conventional wisdom and finding connections in the search for common ground.
Newsweek is committed to challenging conventional wisdom and finding connections in the search for common ground.
For more information about this ranking please click on this
LINK