Fact Check: Did Facebook, Twitter Ban Holocaust Denial Posts?
Six million Jews and the millions of others who died in the Holocaust were remembered Wednesday during International Holocaust Remembrance Day.
According to a Newsweek report, one-third of Americans do not believe that 6 million Jews were killed. In the age of the internet, despite countless victim testimonies and ample amounts of physical historic evidence, denial continues to spread online.
In time for Wednesday's 76th anniversary of the liberation of the Auschwitz-Birkenau death camp, the Anti-Defamation League (ADL) released a report critiquing the efforts of popular social media platforms to combat Holocaust denial on their sites.
The Claim
Twitter and Facebook said they have made significant strides in trying to eliminate Holocaust denial.
While Twitter does not have an explicit Holocaust denial policy, Facebook said it updated its hate speech policy to prohibit Holocaust denial content in an announcement in October. Each platform has a general hate policy.
The ADL on Wednesday published a Holocaust Denial Report Card on its website after its investigation into how nine social platforms address and respond to Holocaust denial content.
ADL issued Twitter a grade of C for its efforts, while Facebook received a D, the lowest grade received by the platforms included in the report.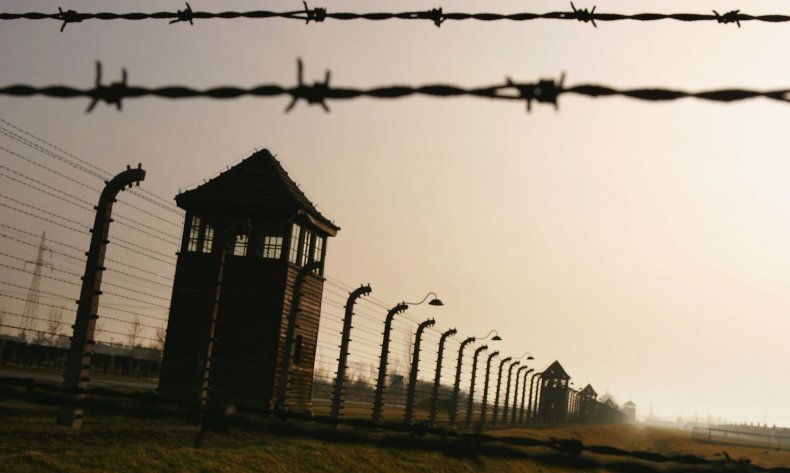 The Facts
Facebook announced on Wednesday in a press release that it is beginning to use a tool to connect people to credible information about the Holocaust.
"We will begin to connect people with authoritative information about the Holocaust. Anyone who searches on Facebook for terms associated with either the Holocaust or Holocaust denial, will see a message from Facebook encouraging them to connect with credible information about the Holocaust off Facebook," said Guy Rosen, Facebook's VP of Integrity.
Facebook spokesperson Sally Aldous told Newsweek in an email that the tool has been in Facebook's planning for weeks and that it involved a partnership with many Jewish organizations.
"Organizations that study trends in hate speech are reporting increases in online attacks against many groups worldwide, and we continue our efforts to remove it," Monika Bickert, Facebook's VP of Content Policy, said in the press release in October when its new policy was announced.
ADL's report states that Facebook's update to its policy occurred "after nearly a decade of advocacy by ADL and others." Still, the organization is dissatisfied with Facebook's efforts to combat Holocaust denial and the efforts of eight other social platforms, including Twitter.
ADL cited examples of Holocaust denial on Facebook and the platform's failure to fully take action against them in their report.
"Facebook determined multiple videos from the BitChute channel called 'Holocaust Lies Exposed' did not violate its specific community guidelines around Holocaust denial...In communicating this decision to the user, Facebook stated, 'The video was reviewed, and though it doesn't go against one of our specific Community Standards, we understand that it may be offensive to you and others.' It offered no additional context and took no further action," the ADL said.
The ADL also displayed examples of Holocaust denial content that still is public on Facebook and other platforms.
The content from Facebook included in the report since has been removed, Aldous told Newsweek, adding that the company "will continue working to keep Holocaust denial off of our platform."
In response to the ADL's rating regarding Facebook, Aldous said, "We don't agree--we've made major progress in fighting Holocaust denial on Facebook by implementing a new policy prohibiting it and enforcing against these hateful lies in every country around the world. We're going even further by taking new steps today to educate people on Facebook with authoritative information about the Holocaust when someone searches for terms associated with it."
The ADL's report recognized Facebook for having one of the most explicit Holocaust denial policies, "but it is also the only platform in our investigation that either failed to respond to our reports or claimed the content we reported did not violate its Holocaust denial policy."
Shortly after Facebook updated its policy to prohibit content denying the Holocaust in October, a Twitter spokeswoman told Business Insider that it's Hateful Conduct policy applies to Holocaust denial.
The ADL's report card said that Twitter and Twitch are the only platforms that received a "yes" for taking action against Holocaust denial. Facebook did not, and received a "no."
Earlier this month, i24News reported that activists from the End Jew Hatred movement protested Holocaust denial on Twitter outside of CEO Jack Dorsey's home by playing recordings of Holocaust-denying tweets verbatim.
The Twitter account for End Jew Hatred tweeted "Hey @jack Dorsey, this is the vile Jew-hatred you blast into our homes. How does it feel hearing it in yours? #EndJewHatred," January 12.
According to the ADL, Twitter took action against many of the tweets it reported as part of its investigation. "However, of note was that Twitter only took action on 12 percent of non-English-language tweets reported versus 85 percent of English-language tweets reported."
Twitter responded to the ADL's grade of C in an email statement to Newsweek that condemned anti-semitism and hateful conduct.
"Our Hateful Conduct Policy prohibits a wide range of behavior, including targeting individuals with abusive intent that make references to violent events or types of violence where protected categories were the primary victims, or attempts to deny or diminish such events.
"We also have a robust glorification of violence policy in place and take action against content and behavior that attempts to glorify or praise acts of violence and genocide, including the Holocaust. We are continuing to evaluate ways to more aggressively take enforcement action against such content and are working with partners to identify the biggest opportunities to do so."
No social platform rated received an A grade in the report. Twitch received the highest score of B.
In the report's conclusion, the ADL said: "Platform policies on their own are not sufficient; they require enforcement that is consistent across a digital social platform," and offered suggestions on how social platforms can enforce their policies.
The Ruling
Half True.
Although Facebook and Twitter have policies to combat hate speech and both have stated that they take actions against Holocaust denial content on their platform, the ADL's investigation found that Holocaust denial content still appears on both platforms.
The ADL gave Twitter a better rating than Facebook for its efforts despite the company not having an explicit Holocaust denial policy.