Fact Check: Did Gavin Newsom 'Disappear' Due to Bell's Palsy or GBS After COVID Booster?
California Governor Gavin Newsom made his first public appearance in nearly two weeks, taking part in a "fireside chat" at the 2021 California Economic Summit in Monterey on Tuesday, November 9.
During the half-hour conversation, which focused on core issues such as post-pandemic recovery and building a sustainable economy, Newsom also addressed the public's concerns about his recent absence.
In a separate appearance Wednesday he explicitly denied that his absence was related to receiving the booster shot.
The Claim
Rumors began to swirl following Newsom's retreat from the public eye after receiving a Moderna booster shot against COVID-19, and the lack of official communications from his office did not help the matter.
On Oct. 29, Newsom's office issued a statement citing "family obligations" as the reason for canceling his scheduled appearances, including his planned meetings at the global COP 26 climate conference in Glasgow, Scotland.
The silence created an information vacuum that was quickly filled with rumors and speculation about his well-being, as well as false and misleading narratives about COVID-19 vaccines in general.
As hashtags #whereisgavin and #whereisgavinnewsom began trending over the weekend, unevidenced claims emerged suggesting his absence was caused by serious or debilitating complications from receiving the vaccine follow-up shot, or even that he died.
The Defender, a website run by Children's Health Defense, an anti-vaccine group founded by prominent vaccine skeptic Robert F. Kennedy Jr, on November 8 claimed, citing "sources close to Newsom" that the governor had an adverse reaction to the booster and experienced "symptoms [...] similar to those associated with Guillain–Barré Syndrome (GBS), a known side effect of many vaccines."
Another outspoken vaccine skeptic, entrepreneur and Silicon Valley veteran Steve Kirsch, made a similar claim on his Substack blog about supposed post-booster complications, but suggested the Governor had instead developed Bell's palsy.
"Did the vaccine cause Bell's palsy for Newsom? He was perfectly fine before the shot and within hours after the shot he's reported to be paralyzed. Could be bad luck. But come on," Kirsch wrote. His tweet of the post gathered more than 2,000 interactions.
Conspiracy theorist Alex Jones also claimed Newsom was "very sick" following the jab because of "mixing vaccines," citing unspecified "California law enforcement" as his source.
These and other articles added further fuel to the social media rumor-mill, with anti-vaccine content seeping into Newsom-related hashtags on Twitter and Instagram, ranging from vague speculation about side-effects to claims he was incapacitated or even dead.
One video, since deleted, appeared to show him speaking as his left eye and cheek were visibly dropping as would occur with facial paralysis, accompanied by the hashtag #GBS.
The Facts
The since-deleted video claiming to show GBS symptoms on Newsom's face is an example of manipulated content. The clip appears to have been edited from a pre-recorded video published by Newsom's office on November 4, wishing his followers a happy Diwali. The original video is identical in all aspects aside from Newsom's face, which shows no signs of paralysis.
Both The Defender's and Kirsch's claims about health conditions resulting from the vaccine booster are supported only by references to unnamed "sources" and cherry-picked and misleading statistical data about potential side effects from vaccines.
There are a number of potential side effects listed by the CDC in relation to different COVID-19 vaccines, most of them are mild and the CDC affirms that booster shots are safe, including those involving the mixing of different vaccines.
Bell's palsy and GBS are currently not listed by the CDC among the possible side effects for Johnson & Johnson or Moderna vaccines.
"The observed frequency of reported Bell's palsy in the vaccine group is consistent with the background rate in the general population," the CDC explains, noting that there is no basis upon which to conclude a causal relationship.
"Guillain Barre and Bell's palsy are possibly albeit rarely associated with COVID-19 infection. Both are relatively rare and are associated with other infections, as well," Steven Pavlakis MD, professor of neurology at SUNY Downstate Health Sciences University in Brooklyn, told Newsweek in an email.
He added that these associations are so rare that it is difficult to establish causality, and "there is no evidence that the vaccines, including the booster, increase any risk to these two nerve problems any more than a natural COVID-19 infection."
Pavlakis also noted that, typically, both diseases (GBS and BP) have a clinical nadir—meaning when symptoms are at their worst—at three weeks after onset and most recover after a few months.
This aligns with fact sheets for Bell's palsy and GBS published by the National Institute of Neurological Disorders and Stroke (NINDS), which note that the first two or three weeks are most severe for both conditions, and some patients could take months to recover fully.
With both conditions, the timeframes in question exclude the possibility that the governor could have fallen ill after receiving the shot on October 27 and recovered in time to appear at the summit less than two weeks later.
While at this stage it is not possible to entirely dismiss the possibility that the governor could have experienced certain side effects, there is no reliable evidence to suggest that was the case, or that his absence was health-related.
Newsom's press secretary Daniel Lopez, insisted the cancelations were not a result of the booster, noting that the governor worked at the state Capitol the previous week and was set to resume appearances again this week, in a statement to SFGATE.
And even though he did not make any official public appearances, Newsom posted a family photo on Instagram, appearing dressed as a pirate for Halloween alongside his wife and their four young children on November 1, later explaining that he "went trick or treating" with his children.
Additionally, on Saturday, November 6, he attended the Ivy Getty wedding at City Hall, according to several outlets, including ABC and Vogue.
After a Daily Mail article made similar claims about a reaction to the booster on Wednesday, Newsom addressed it directly, dismissing the notion that he suffered vaccine side effects.
"That's made up," the governor told reporters during a visit to a coronavirus vaccination clinic in Los Angeles Wednesday. "I had absolutely no impact whatsoever from the COVID shot—the original or the booster. Absolutely none. No fatigue."
He also urged people to "pause and reflect" on "intentional misrepresentation and misinformation around the efficacy and safety of these vaccines."
Instead, it appears the reason for his brief retreat from public view was more mundane, as Newsom himself stated in the Tuesday event. Shortly before he was due to travel to the UN conference, his kids "kind of had an intervention," he explained.
"They said they couldn't believe that I was going to miss Halloween," Newsom said. "You know, mom and dad missing Halloween for them is, like, worse than missing Christmas."
The Ruling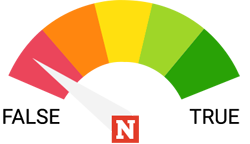 False.
FACT CHECK BY NEWSWEEK
The timescales typically involved in the onset of and recovery from serious afflictions such as Bell's palsy or Guillain–Barré syndrome are incompatible with the length of Newsom's absence, and there is no other evidence to indicate that his brief disappearance from public view was health-related, so the claim is false.