Fact Check: Did Joe Biden Say He Would Repeal The Trump Tax Cuts?
Vice President Mike Pence said that Democratic presidential nominee Joe Biden would repeal President Donald Trump's tax cuts during his debate with Democratic vice presidential nominee Kamala Harris on Wednesday, although Biden and Harris insist the current policy is tailor-made to benefit the wealthy.
The Claim:
"Joe Biden said twice in the debate last week that he was gonna repeal the Trump tax cuts," Pence said during his debate with Harris.
"America, you just heard Senator Harris tell you," he later added. "On day one, Joe Biden's going to raise your taxes."
The Facts:
Harris had said that Biden would "repeal" and "get rid of" Trump's tax bill during her debate with Pence, while insisting that the president's plan was based on "benefiting the top 1 percent and the biggest corporations of America" and had led to a $2 trillion deficit.
Biden also said he would repeal the law in his debate with the president last week. However, Biden's remarks were in the context of the New York Times report claiming that Trump had paid little to no income tax over the course of 15 years, which he said suggested would not be possible under his own proposal.
"That's why I'm going to eliminate the Trump tax cuts, I'm going to eliminate those tax cuts," Biden said as Trump responded, "That's OK."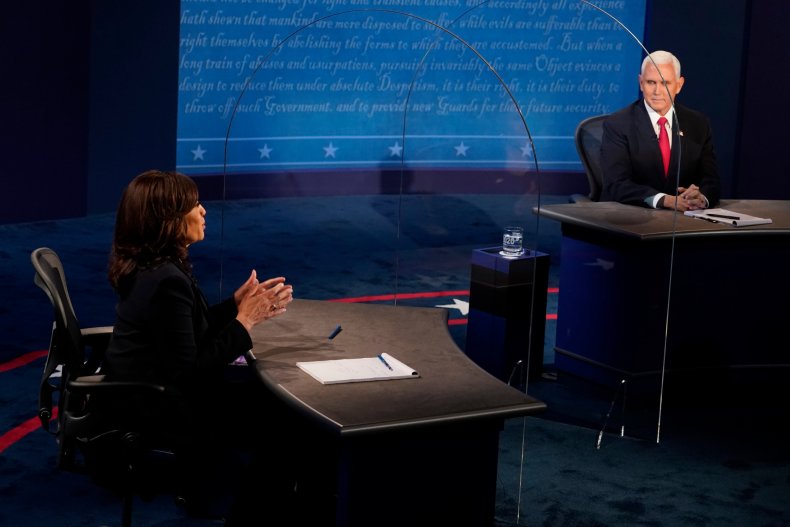 "I'm going to eliminate a significant number of the taxes," Biden later said. "I'm going to make the corporate tax 28 percent. It shouldn't be 21 percent."
On the official campaign website, Biden has called Trump's tax policy a "giveaway primarily for large corporations and the wealthy." He insists that while he will end Trump's cuts, his own policy will not raise personal income taxes on anyone earning less than $400,000 per year. Biden's plan could instead raise $4 trillion over a decade by increasing taxes on corporations and wealthy individuals.
The top income tax bracket, applying to those making more than $400,000, would rise to 39.6 percent under Biden's plan, rather than the current 37 percent under Trump. In addition, a new 12.4 percent payroll tax, evenly split between employer and employee, would be levied on those earning over $400,000.
New and expanded tax credits proposed by Biden could also potentially lower the tax burden on some in lower income brackets.
The Verdict: True
Pence's claim that Biden said he would bring an end to Trump's tax cuts are true. However, his claim that Biden "is going to raise your taxes" likely depends on your income level, since Biden's proposal targets personal incomes above $400,000.
Newsweek reached out to the Biden and Trump campaigns for comment.