Fact Check: Did Law Enforcement Have No Information About Capitol Riot Plans?
As the world watched thousands of rioters storm the U.S. Capitol building on January 6, many questioned if the attacks were planned online or if law enforcement had knowledge of them beforehand.
The Trump supporters that descended on Washington flocked from across the country and federal authorities are identifying and arresting suspects.
Jake Angeli, whose real name is Jacob Anthony Chansley, the shirtless man wearing a fur hat with horns whose photos have been shared widely on the internet, is an Arizona native and QAnon conspiracy theorist, according to the New York Times.
The man photographed smiling while holding Nancy Pelosi's lectern, Adam Johnson, comes from Parrish, Florida, where he was arrested, according to NBC News.
"Just because you've left the D.C. region, you can still expect a knock on the door if we find out that you were part of criminal activity inside the Capitol," said FBI Assistant Director in Charge Steven M. D'Antuono in a statement released by the FBI Washington Office of Public Affairs.
There have been conflicting reports from law enforcement officials about whether the riot was going to happen. But many pro-Trump activists, from around the country, knew to gather and storm the Capitol.
The Claim
D'Antuono told NBC News, "There was no indication that there was anything [planned] other than First Amendment-protected activity."
The day after the insurrection, D.C. Chief of Police Robert Contee told reporters that, "There was no intelligence that suggested there would be a breach of the U.S. Capitol," during a press conference.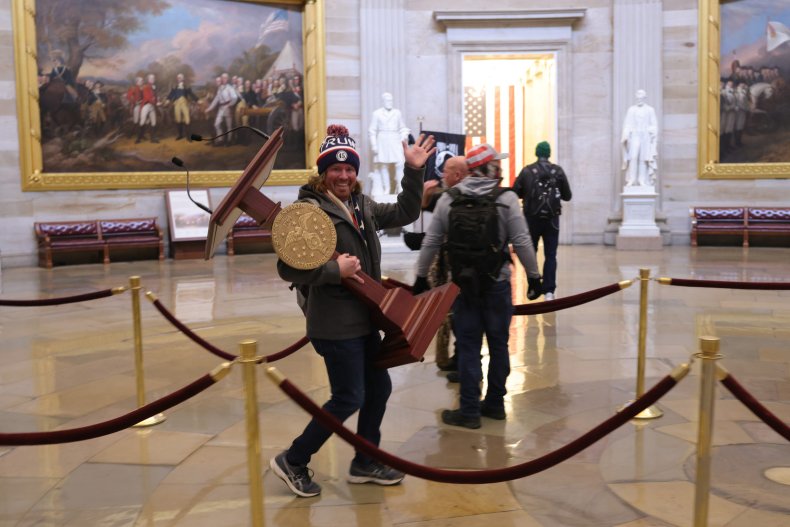 The Facts
Online pro-Trump forums and social media sites such as Twitter and TikTok had been buzzing days earlier with plans to initiate an assault on the Capitol from angry individuals who did not accept the election results after Joe Biden was confirmed to be the president-elect.
Many of these so-called far-right forums include Parler, TheDonald.win and Gab, where users talked about an attack on the Capitol building.
Leaders of the Stop the Steal movement wrote online that "We came up with the idea to occupy just outside the CAPITOL on Jan 6th," ProPublica reported. The founder of the movement, Ali Alexander, posted to the alternative social network platform Parler that "If D.C. escalates...so do we."
Parler, an app that had been prominently used by conservatives to share ideas, has been shut down by Amazon, Apple and Google and is no longer accessible.
However, some of the forums remain online, such as The Donald, a platform similar to Reddit, where violent posts that apparently show the attack was planned are still visible.
One user called "Bioxoho" wrote on TheDonald.win 10 days ago to "storm the capitol" with more than 500 upvotes in agreement. Another user named "magapotus" wrote, "My truck is lifted and I have a plow on it right now. What do you need Mr. President?" in reply with over 200 upvotes.
More than 20 days ago, user "MrMcGreenGenes" wrote on The Donald, "We've got marching orders, bois," with more than 3,000 upvotes in reference to a tweet from Trump's since-deleted Twitter where he encouraged his supporters to gather in D.C. for a "big protest" January 6, according to Politifact.
The day before the riot, the online message board 8kun, which is popular with the right-wing conspiracy group QAnon, had one user write, "You can go to Washington on Jan 6 and help storm the Capitol," according to NBC News. The user continued: "As many Patriots as can be. We will storm the government buildings, kill cops, kill security guards, kill federal employees and agents, and demand a recount."
The FBI and the New York Police Department had passed information to the U.S. Capitol police force prior to January 6, according to law enforcement officials.
An unnamed FBI official who spoke with NBC News divulged that the bureau had prior intelligence about an imminent attack on the Capitol. The FBI said that it visited more than a dozen individuals who planned to participate in the attack to dissuade them from doing so.
"The FBI and our federal, state and local partners collected and shared available intelligence in preparation for the various planned events," the official said.
In his statements, he did not comment about why D'Antuono or Contee said differently.
The Ruling
False.
Evidence of interactions between Trump supporters online shows that the attack on the Capitol had been widely communicated and planned for over 20 days prior to the event.
Also, statements from law enforcement and FBI officials claim that they had received prior intelligence and that they even visited more than a dozen known extremists to discourage violent actions prior to January 6.