Fact Check: Did McConnell Block COVID Relief for More Than 200 Days as Democrats Claim?
Legislators are up against the clock to pass more relief before the end of the year and Democrats blame Senate Majority Leader Mitch McConnell and Republicans for the time crunch.
Nearly nine months after Congress unanimously passed the CARES Act, legislators have yet to pass additional relief and at the end of the month, critical provisions for unemployment assistance and student loan forbearance are set to expire.
With less than two weeks to pass more relief, legislators are negotiating a $908 billion. bipartisan proposal and it's unclear if they'll be able to come to an agreement before Congress leaves for winter break.
The Claim
Democrats blame the lack of relief on McConnell, whom they say blocked coronavirus relief, in part because he refused to budge from needing liability protections for businesses, schools and hospitals. Going into December, several legislators used the 200-day benchmark to drive home the "inaction" on the part of McConnell.
The Facts
On May 15, the House of Representatives passed the HEROES Act, a $3 trillion package largely along party lines. Only one Republican, Representative Pete King of New York, voted in favor of the package.
McConnell called the legislation "dead on arrival" and never brought it to the Senate floor for a vote. In July, he said he wouldn't bring any relief package to the floor for a vote unless it included liability protections, a provision Democrats have pushed back on for putting workers at risk.
The House passed a smaller version of the package in October, commonly referred to as HEROES 2.0, worth $2.2 trillion, but it was not brought to the Senate for a floor vote.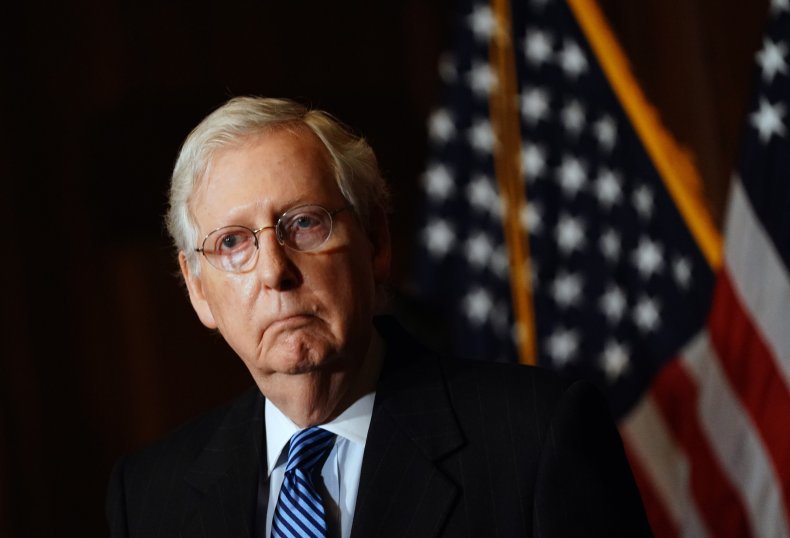 While Democrats pushed for the Senate to take up the relief bill passed in the House, McConnell attempted to pass a GOP-backed plan. Democrats criticized the $500 billion targeted relief package for being an insufficient response to the pandemic and successfully blocked the measure twice when Republicans were unable to get enough votes to overcome the filibuster.
The Ruling
Mostly True.
McConnell said he decides what legislation the Senate votes on and he wouldn't bring either version of the HEROES Act to the floor, thereby blocking it from becoming law. However, he did attempt to pass relief in the Senate, although it failed to gather the votes necessary to get out of the Chamber.
Correction: An earlier version of this story mistakenly said that the package was worth $908 trillion. It has been corrected to read $908 billion.