Donald Trump revived his attacks against the mainstream media during a gathering at his Mar-a-Lago resort in Florida on Saturday night. The former president fired shots at his former Chairman of the Joint Chiefs of Staff General Mark Milley and repeated unfounded "stolen election" claims.
Trump also appeared to take credit for the falling levels of trust in the media among Americans, labeling his media enemies "crooked b*****ds."
The Claim
In his speech to the conservative group Turning Point USA, which was streamed live by Jack Posobiec, Trump aired his grievances against the U.S. press, saying they are "the most dishonest group of people."
"I am proud to say that when I first announced I was running in 2015, they had a 94-95 percent approval rating. And now they have a lower approval rating than Congress," the former president claimed.
"So I am very happy, I consider that to be a great honor," he concluded, without elaborating on the source of those figures or which metrics he was using.
The Facts
While there is no doubt that Trump has been very consistent in expressing his disdain for the press, and trust in the news media has indeed seen a long-term decline in America, it appears he is overstating his role in that process.
Americans' approval of the press has been in decline since at least 2003, when trust in mass media peaked at 54 percent, according to Gallup. It hovered at 40 percent through 2014 and fell further in 2015 to 32 percent—around three times lower than Trump suggested in his speech.
While trust in the media dipped in 2015 as Trump announced his presidential campaign, reaching a low point of 32 percent, neither then nor at any point during Trump's presidency was the public's opinion of the press worse than its views on Congress.
Congress' approval rating ranged from 15 to 20 percent through 2015, and between 13 and 20 percent in 2016. In fact, after the 2016 election, the public's trust in the press began to rise, briefly hitting 45 percent in 2018, and then falling again to 36 percent in 2021.
Other sources paint a similar picture. For example, Edelman's annual trust barometer showed that the percentage of Americans who trust traditional media rose steadily from 2015 to 2019, peaking at 59 percent before a significant drop that left it at 45 percent at the end of 2020—still significantly higher than that of Congress.
Although Congress' approval rating spiked in spring 2021, briefly reaching 36 percent in early March 2021, it rarely topped the 30 percent mark before or since. It stood at just 21 percent as of October, according to Gallup.
Other estimates put the public's trust in Congress at 16 percent (Economist/YouGov), 19 percent (Monmouth), 24 percent (CNN) and 31 percent (Harvard Harris), averaging at 22.2 percent in October-November.
The Ruling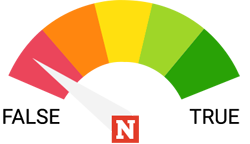 False.
While Americans' trust in the mainstream media has fallen over the past two decades, most research actually suggests that it saw a temporary rebound during the Trump presidency.
No research or data reviewed by Newsweek corroborated Trump's claim that in 2015 approval ratings of U.S. media were at "94-95 percent." Newsweek also found no statistics to back up Trump's claim that the media approval ratings have at any point during or after his presidency fallen below those of Congress. Both claims are therefore false.
FACT CHECK BY NEWSWEEK