Fact Check: Did Rush Limbaugh Read a List of Gay Men Who Died as an 'AIDS Update'?
Rush Limbaugh, conservative talk radio host and political commentator, died Wednesday at age 70. The media personality passed away after a year-long battle with lung cancer.
While conservatives mourned, many left-leaning voices criticized Limbaugh, who had been long accused of espousing racist, sexist and homophobic views throughout his career.
Though a radio pioneer, Limbaugh peddled conspiracy theories and used his platform to deny climate change.
His death has led to many to comment on a particular time in his career, when his show discussed the AIDS crisis of the 1980s and '90s.
The AIDS crisis, caused by HIV, saw gay and bi men die from the sexually transmitted disease at alarming rates. This was at a time when homosexuality was still taboo.
On Thursday, the word "AIDS" was the third-most searched term on Google alongside Limbaugh's name.
The Claim
Many high-profile people on Twitter have been commenting to say that Limbaugh once had a segment on his show, The Rush Limbaugh Show, called "AIDS Update" that mocked the deaths of gay people.
For example, columnist Jessica Valenti went viral with her tweet that claimed: "Rush Limbaugh had a segment called 'AIDS update' set to music where he mocked dying gay people so I don't really want hear about 'speaking ill of the dead' today."
Another viral tweet came from Paul Elliott Johnson, an assistant professor at the University of Pittsburgh, who tweeted: "Rush Limbaugh had a regular radio segment where he would read off the names of gay people who died of AIDS and celebrate it and play horns and bells and stuff."
British political commentator Ash Sarkar tweeted: "In the 1980s, Rush Limbaugh hosted a regular radio segment called 'AIDS Update', where he celebrated and mocked the deaths of gay and bisexual men. May the hatred he spread in life be buried with him."
Similarly, playwright James Morrison added: "Rush Limbaugh mocked Eric Garner's death, Michael J. Fox's Parkinson's disease, Ruth Bader Ginsburg's cancer diagnosis, Kurt Cobain, people who died of AIDS, feminists, Civil Rights activists, and Native Americans. That's his legacy."
Actor Harry Cook added: "Rush Limbaugh had a radio segment called "AIDS Update" where he'd read out the names of gay people who had died and celebrate with horns and bells. So the whole 'don't speak ill of the dead' thing doesn't apply to this absolute f****** monster. Let him rot."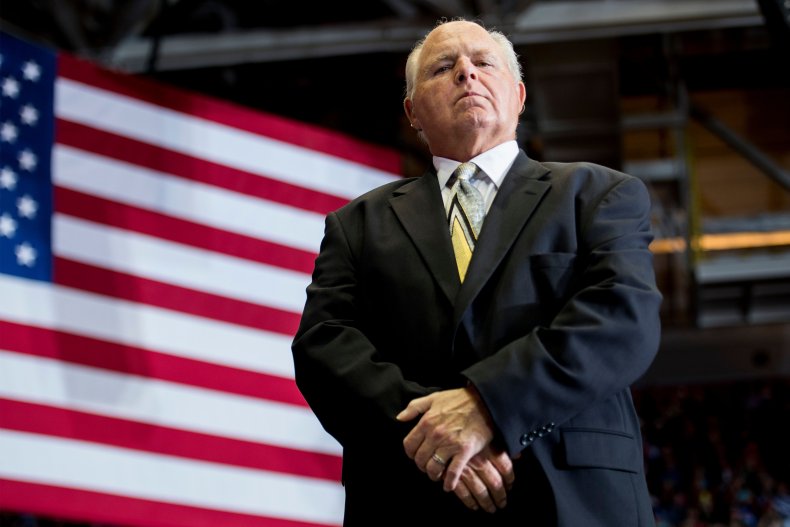 The Facts
Limbaugh did in fact have a radio segment on his show in which he mocked people dying of AIDS.
LGBTQ+ Nation reported that author Ze'ev Chafets wrote about the segment in his book Rush Limbaugh: An Army of One.
A passage reads: "He chastised 'militant homosexuals' for their disrespectful behavior and shortly thereafter began broadcasting irreverent and tasteless 'AIDS Update' segments introduced by Dionne Warwick's "I'll Never Love This Way Again."
The Los Angeles Times published an article in 1998 about what was described as the "popular" feature of Limbaugh's show.
The publication stated that Limbaugh even said, "Gays deserved their fate."
Additionally, per Snopes, Iowa newspaper Cedar Gazette reported in 1990 that the segment played songs such as "Back in the Saddle Again," "Kiss Him Goodbye," "I Know I'll Never Love This Way Again" and "Looking for Love in All the Wrong Places."
In Limbaugh's native Missouri, the 2001 Missouri Biographical Dictionary referred to the segment as "Limbaugh's first major controversy."
"The homosexual community was offended by the segment and Limbaugh's appearance on The Pat Sajak Show was disrupted by ACT UP, a group of AIDS activists," the book states. "Although zealous with his opinions on his radio show, Limbaugh refused to get involved in a battle with the group, and not long after, he discontinued the 'AIDS Update' segments and sent $10,000 to the Pediatric AIDS Foundation."
The New York Times reported that Limbaugh eventually stopped the segment after a few weeks and said it was "very insensitive to people who were dying."
He called it one of the "most regretful things I've ever done."
There does not seem to be any audio recordings of this segment available online.
The Ruling
True.
Rush Limbaugh had a segment on his radio show in which he mocked people dying of AIDS.