Fact Check: Did Russia Swap 200 Azov Fighters for 'Putin's Man' in Ukraine?
An unannounced mass prisoner swap between Russia and Ukraine took place on the night of September 22, 2022, fuelling a variety of claims and comments from both sides of the conflict.
The exchange, first reported by Saudi officials acting as intermediaries, took place in Saudi Arabia, with the involvement of local political leaders as well as Turkey's president Recep Tayyip Erdoğan.
Newsweek Fact Check analyzed some of the more prominent claims and narratives surrounding the exchange.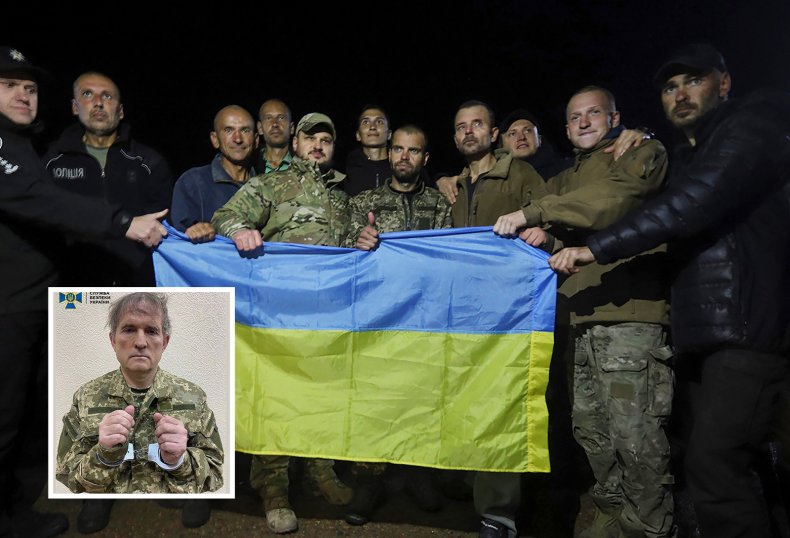 The Claim
As details of the swap began to seep through into the media, they fueled angry and speculative claims among pro-Moscow and pro-Kyiv social media accounts and channels.
"215 defenders of Ukraine released from captivity: 200 of them exchanged for Medvedchuk," tweeted the Ukrainian Pravda in English.
"The Azov leaders captured in Mariupol have been released, among Ukrainian fighters swapped for Putin's oligarch pal Medvedchuk. Once again, this undermines all Putin's crap about denazification, swallowed by a few useful idiots in the West," one commentator wrote.
"The Azov PoWs were swapped for Medvedchuk. In May Peskov [Putin's spokesman] said this will never happen because Medvedchuk is not a Russian citizen, and in any case not a member of the military," wrote Kira Yarmysh, Alexey Navalny's lawyer, in Russian.
Screenshots of pro-Russian military bloggers and Russian internet users fuming at the decision were also shared widely following the swap.
"Who is Medvedchuk? Why do we need this ***hole? They swapped him for 200 nazis. I have no faith, none. Sadly," one user appeared to say in a screenshot of a Telegram chat.
"We gave up all of the Azov prisoners for him? What kind of gesture of goodwill is that," wrote another.
The tweet featuring the collection of screengrabs was shared by a pro-Ukraine blogger on Twitter called Max Scherbina, receiving more than 3,500 interactions.
The Facts
While the prisoner exchange has indeed taken place, as confirmed by the Ukrainian President Volodymyr Zelensky along with Saudi, Turkish and Moscow-installed officials, some of the details being shared on social media are not accurate.
It is true that 215 Ukrainian fighters were released as part of the deal. The Ukrainian government soon published the full list of those who were exchanged, among two British-born Ukrainian marines who pro-Russian forces in Donetsk threatened to execute.
Perhaps, in the biggest win for Kyiv, among those returned were five prominent military commanders and leaders of the Azov steelworks plant defense, whom Zelensky called "superheroes." Photos of some of them were published by Ukrainian officials shortly after the exchange.
It was also confirmed that heading the other way was Viktor Medvedchuk, a mysterious Ukrainian oligarch who was for years seen as Putin's key man in Ukraine.
Medvedchuk, 67, is a pro-Russian Ukrainian businessman and politician who served as a Member of the Ukrainian Parliament and who is opposed to Ukraine joining the European Union.
The oligarch, whose daughter Putin is rumored to have baptized, for years led a luxurious lifestyle in Ukraine while lobbying for the Kremlin, and was at one point seen as the possible pick to be installed as president of Ukraine after its capture by Russia, a plan that went disastrously wrong for Putin.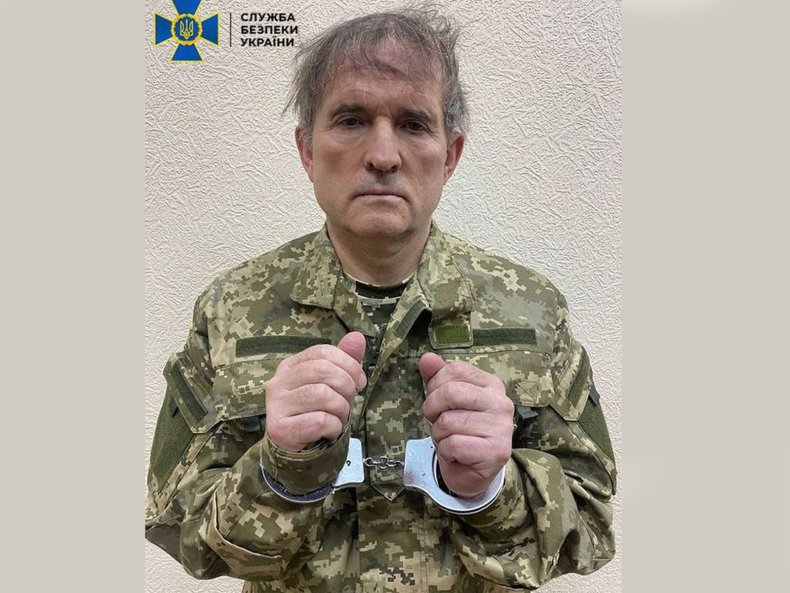 Medvedchuk himself was captured and accused of state treason in February, had later escaped, only to be captured again in April and locked up in an undisclosed location.
Though Zelensky had on a number of occasions suggested that Putin's top ally could be used as leverage in a potential war prisoner swap, the Kremlin repeatedly dismissed such suggestions, claiming it has no interest in Medvedchuk.
Some have speculated that Medvedchuk may face 10 years in jail on the basis of recently passed mobilization laws that include lengthy sentences for "surrendering to the enemy."
There is currently no evidence that he was arrested in Russia, though his current whereabouts have not been made public. Kremlin-linked outlets speculated on Thursday that he may be installed in some capacity to lead the Southern and Easter territories in Ukraine that Russia is intent on annexing.
However, the claims that Medvedchuk was swapped for 200 Azov fighters are missing some context. Along with him, Ukraine also handed back 55 Russians, including—unofficial pro-Moscow sources claim—some of the "top brass" captured during Russia's retreat from Kharkiv, as well as "five fighter jet pilots."
The latter may be significant for the Kremlin, amid reports of shortages of skilled personnel needed to operate military vehicles. As military experts have previously pointed out, training fighter jet pilots is long and arduous, making them one of the biggest human assets in conflict.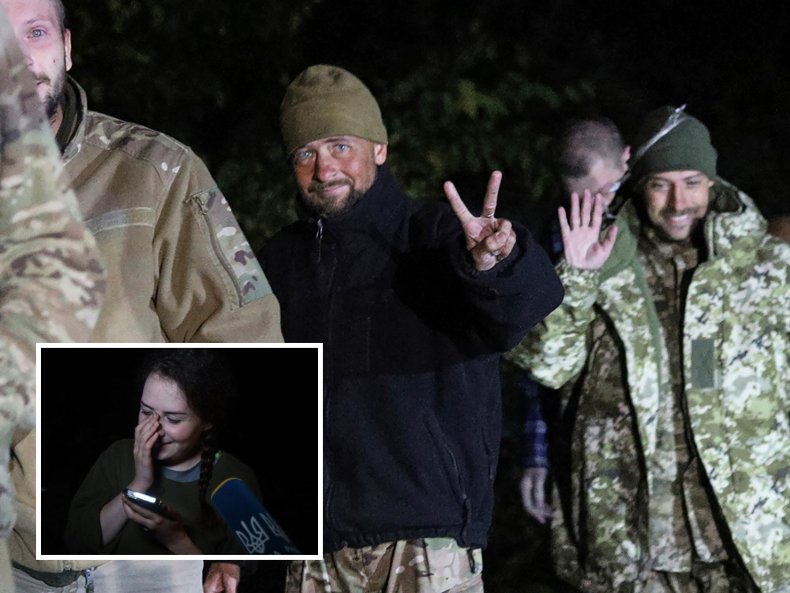 Furthermore, as Zelensky confirmed, the returning Azov leaders would remain in Turkey "in total security and in comfortable conditions" until the end of the war, under president Erdogan's personal guarantee. This claim undermined another misleading narrative that the returning PoWs would immediately take up arms again.
Meanwhile, Ukraine was able to secure the release of the three men facing a death sentence; Britons AIden Aslin and Shaun Pinner, and a Moroccan named Brahim Saadoun.
In addition to that, other British citizens John Harding, Andrew Hill and Dylan Healy, Americans Alexander Drueke and Andy Tai Huynh, as well as Croatian soldier Vjekoslav Prebeg and Mathias Gustafsson, a Swede, were also freed.
"The relevant Saudi authorities received and transferred them from Russia to the kingdom and are facilitating procedures for their respective countries," the statement by the Saudi authorities said.
Newsweek has reached out to the Russian and Ukrainian Foreign Ministries for comment.
The Ruling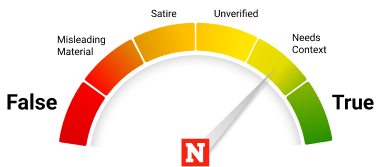 Needs Context.
While the prisoner of war exchange between Russia and Ukraine has indeed taken place on Wednesday, September 21, some of the details of the swap are being omitted or misrepresented on social media.
Among those is the claim that the deal solely included a pro-Putin oligarch and 200 Ukrainian fighters. In fact, Russia has also received 55 captured members of its military as part of the same deal.
FACT CHECK BY NEWSWEEK