Fact Check: Did Russian Media Footage Prove Ukraine Faked War Casualties?
A state-owned TV news network in Russia continued to fuel claims about purported "fakes" created by Ukrainians to accuse Russia of war crimes and atrocities, broadcasting a new video that it insisted was evidence of such conspiracies.
The Claim
A report on Rossiya24, one of Russia's two main state-owned TV networks watched by tens of millions of viewers in and outside Russia, purported to show Ukrainian soldiers dressing up a mannequin to supposedly be used in the "theatre of war" in Ukraine.
"Here you can see the preparations for the 'theatre'—literally—of war activities in Ukraine," the newsreader says. "As you can see for yourself, it's not complicated. Two men in military outfits are wrapping this dummy in scotch tape, with a clear purpose of presenting it as a dead body."
The news anchor then claims, vaguely and without substantiation, that there are "dozens of fakes with such mannequins are popping on Ukrainian Telegram channels."
The news segment, aired on Thursday night or Friday morning, was also published—and later deleted—from the network's online streaming platform later on Friday, April 8.
But the clip quickly spread through a network of pro-Russian Telegram channels and other social media, supporting the false narrative that horrific scenes coming out of Ukraine are simply staged.
The Facts
The Russian government and national media previously denied claims that it was behind the mass civilian deaths in Bucha and other towns in the Kyiv region, which were abandoned by Russian forces last week.
It has claimed that Ukrainian forces and international media conspired to "fake" dead bodies on the streets of Bucha and that the attack was a "provocation" by the West. Its claims were debunked in a recent fact check by Newsweek.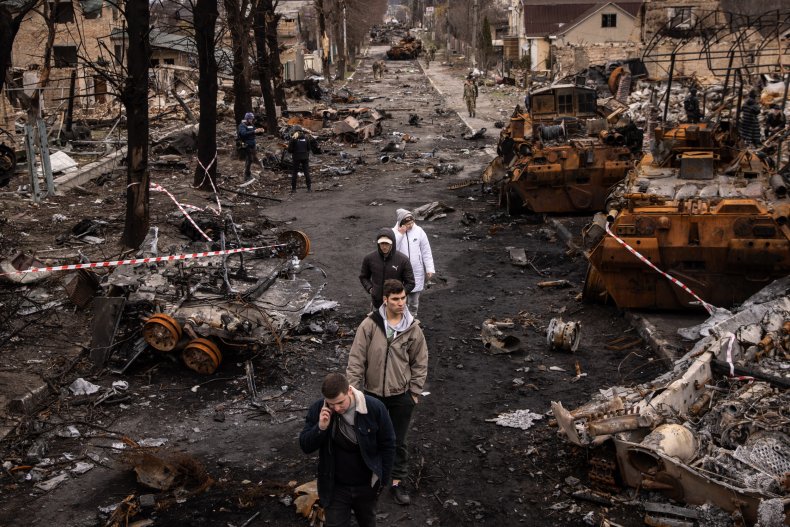 The latest video adds to the body of disinformation streaming out of Russia about the tragic events taking place in Ukraine.
The footage presented as "evidence" of the conspiracy by Ukraine to "fake" deaths of its citizens was, in fact, footage from a set of a Russian TV show, filmed several weeks ago in Russia in Vsevolozhsk, near Saint Petersburg.
This fact was pointed out by the assistant director on the project, Nadezhda Kolobaeva, on her Facebook page, on Friday morning.
"Recently Rossiya24 broadcast their 'debunks' of Ukrainian fakes. And what do you think? They said 'two Ukrainians in military uniforms are wrapping this dummy in scotch tape, to present it as a dead body.' But [the footage] was filmed by us on March 20 in Vsevolozhsk, to show someone falling out of a window, for our TV show. The men are out stunt coordinators, preparing little Albert for the scene," Kolobaeva wrote.
She also shared an image of the scene's location, where the "body" was supposed to hit the ground, with prop blood sprayed across the ground, along with other photos and videos from the set.
The video used by Rossiya24 is overlaid with a watermark referencing the U_G_M Telegram channel. This pro-Russian channel did indeed publish the clip on April 6, claiming that it depicts the AFU "preparing another stunt video to then blame it on Putin."
A voice behind the camera, speaking in Russian, comments: "poor guy, he is going to fall out of a window."
While Rossiya24 is yet to address the accusations of misleading its audience, Roman Super, a Russian journalist who spotted the misleading report, said that he was told by the network's staff that "the news team received a tip off [to the footage], but the news editor nor the producer knew that it was not from Ukraine."
Newsweek has reached out to Rossiya24 for comment.
The Ruling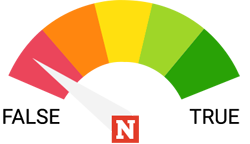 False.
The video that the Russian state TV network claimed was showing a covert attempt to stage a photo op with a dummy "playing" a dead body, with the aim of framing Russian troops for killings of civilians, is in fact taken from a film set. The assistant director of the TV show said the dummy was used for a scene depicting someone falling out of a window, and shared additional footage and images from the film set.
FACT CHECK BY NEWSWEEK