Fact Check: Did Sarah Huckabee Sanders Say She Banned Racism in Classrooms?
President Joe Biden's State of the Union address on Wednesday evening attempted, in part, to try and draw a divided Congress together, arguing "conflict for the sake of conflict gets us nowhere."
Arkansas Gov. Sarah Huckabee Sanders, who delivered the GOP rebuttal, was nonetheless critical, arguing that Biden and the Democrats had "failed" the American people.
Taking this opportunity to mention her achievements since becoming governor, Sanders looked to one of her first executive orders examining "indoctrination" in schools.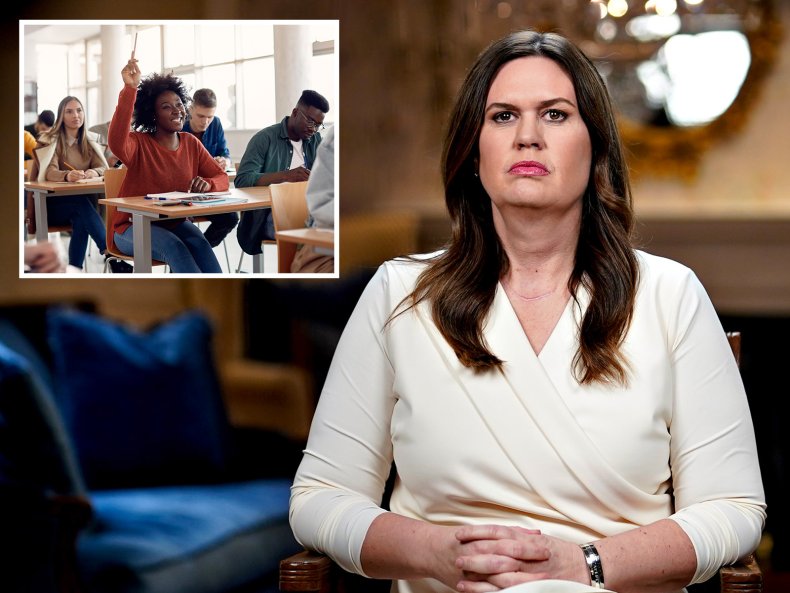 The Claim
Multiple tweets sent on February 8, 2023, claimed that Sarah Huckabee Sanders, during her post-SOTU speech, said that she had banned racism in U.S. classrooms.
One tweet by Rep. Eric Swalwell (D-CA), which has been viewed more than 133,000 times, stated: "Guys—Sarah Huckabee Sanders signed an executive order banning racism in schools so we're good."
Another by political commentator Brian Tyler Cohen, viewed more than 94,000 times, added: "Still can't stop laughing at Sarah Huckabee Sanders saying that she signed an executive order banning racism in classrooms. Like, what?"
The Facts
Huckabee Sanders signed an executive order on January 10, 2023, titled: "EXECUTIVE ORDER TO PROHIBIT INDOCTRINATION AND CRITICAL RACE THEORY IN SCHOOLS".
The order bans the teaching of critical race theory (CRT), an academic study that explores the notion of systemic racism in American laws and institutions.
Huckabee Sanders claimed CRT "emphasizes skin color as a person's primary characteristic, thereby resurrecting segregationist values, which America has fought so hard to reject."
Within the order, the governor told the Secretary of the Department of Education to "identify any items that may, purposely or otherwise promote teaching that would indoctrinate students with ideologies such as CRT that conflict with the principle of equal protection under the law or encourage students to discriminate against someone based on the individual's color, creed, race, ethnicity... or any other characteristic protected by federal or state law."
Broadly, the order (at the very least) severely limits the teaching of CRT or practices similar to it. The order advances no new prohibitions on racism as a concept, nor tries to define it in any new terms, beyond her view that CRT resurrects "segregationist values."
That the executive order treats CRT as "segregationist" indicates Huckabee considers it a kind of racism, but she did not state that explicitly either in the transcript or during her broadcast rebuttal.
The confusion, it seems, comes from her appearing to treat "racism" as a separate clause to "CRT" and "indoctrination" when she is referring to one executive order in politically rhetorical terms.
There is no evidence that she has "banned racism" in classrooms and mocking tweets by Swalwell, Tyler Cohen, and others, reflect that notion.
Tyler Cohen, speaking to Newsweek, said: "Her exact quote was, 'I signed executive orders to ban CRT, racism, and indoctrination in our schools.' There were quite a few folks who got the exact same reading that I did."
However one views Huckabee Sanders' characterizations, or how she delivered her speech, referring to the claim that she "banned racism" in isolation removes the important CRT context needed to understand her view as stated in her rebuttal.
Sanders' invocation of CRT in "segregationist" terms follows a pattern among Republican leaders who have made criticism of the practice part of their campaigns.
In late 2021, Glenn Youngkin also made banning CRT one of his key policies during his campaign for Virginia governor amid debate about the extent to which it was actually discussed in K-12 classes.
Per Associated Press, there was no evidence of CRT in the state's curricula, though some that it formed part of teacher training. Youngkin defeated his Democrat opponent Terry McAuliffe, who was criticized for dismissing parents' concerns about the subject.
Newsweek has contacted Sarah Huckabee Sanders, Eric Swalwell, and Brian Taylor Cohen for comment.
The Ruling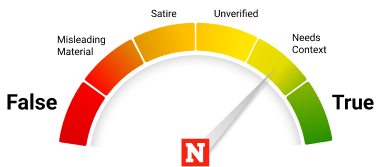 Needs Context.
Sarah Huckabee Sanders' claim to have "banned...racism" refers to an executive order she signed banning CRT in schools. She believes CRT is "segregationist".
The structure of the sentence in which she made this claim—separating out "CRT, racism, and indoctrination"—led to a broader interpretation by some of her critics of what she meant by those comments, i.e. a general ban on racism in the classroom.
However, in full context, it appears she was referring specifically to her ban on CRT and connecting this academic study to, in her view, "racism" and the "indoctrination" of children in classrooms.
FACT CHECK BY Newsweek's Fact Check team