Fact Check: Did Trump's Phone Correct 'Racist Slur' About Letitia James?
Some of Donald Trump's critics accused him of invoking a racist slur after nicknaming black New York Attorney General "Letitia 'Peekaboo' James" via his TruthSocial messaging app.
The former president, who has faced accusations of racism in the past, wrote about James, whose office this week sued him for fraud in a civil suit. Defeat could cost him $250 million and bar him from carrying out business in New York.
The nickname he gave the attorney general was subsequently compared to a deeply offensive racial term, some believing "Peekaboo" was either an invocation or an automatic software correction of that slur.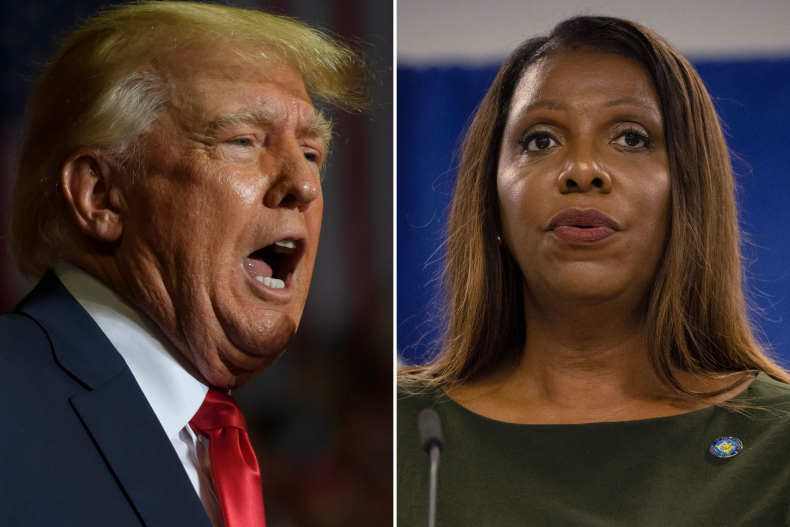 The Claim
Multiple tweets posted on Twitter on September 23, 2022, claim that Donald Trump's use of the word "Peekaboo" to describe Letitia James was an autocorrect of a racist term used to describe Black people.
The tweet was reshared on the r/WhitePeopleTwitter subreddit, where it received more than 44,000 upvotes. Others on social media made a similar claim.
"Evangelicals will see Trump's 'peekaboo' reference to AG James and once they find out he meant 'jigaboo,' a racial slur, they won't care and love him even more.
The evangelical churches in this country are rooted in racism. A true follower of Christ would denounce such hate!" one user tweeted.
"There is no way he's not referring to that particular slur. 'J****boo James' is what they call her in the areas of the internet that are dedicating to worshiping him. There is no way he hasn't been told about that nickname and I'm 100% certain he uses it regularly," wrote another.
The Facts
It's unlikely to be confirmed for certain what Trump's intentions were beyond any explanation he provides (which itself can't be completely verified).
However, on the balance of probabilities, and looking at the best available evidence, there simply isn't enough to say whether Trump's "Peekaboo" nickname for James was autocorrected.
At a technical level, we don't know which phone or device Trump was using when he sent the message on TruthSocial. He may well have been using a phone or tablet that autocorrects or offers automatic word suggestions.
Equally, he may well have been using a desktop or laptop computer that may not have the same built-in features.
Some articles suggest he has used an iPhone most recently; we still cannot independently verify what the device was that he used.
On the assumption that he was using a device with autocorrect, would that software have changed a racial slur to "Peekaboo"?
Neither Samsung nor iPhone devices tested by Newsweek Fact Check (using Android and iOS respectively) force-changed or prompted alternatives for the slur in question. Various misspellings of of the racial slur also did not prompt a replacement with "Peekaboo."
Of course, devices tend to be tailored to individuals, so this doesn't entirely dismiss the possibility, though the way the autocorrect functionality is built also undermines the hypothesis in the tweet.
Ken Kocienda, who created the iPhone's autocorrect software, said in an interview with Wall Street Journal that the autocorrect feature on phones tries to pick words based on a static dictionary (a traditional dictionary with common words) and a dynamic dictionary that consists of words with particular meaning or frequency to each phone's user.
"I wrote the code for iPhone autocorrection based on an analysis of the words we type most commonly, the frequency of words relative to others, and the errors we're most likely to make on a touchscreen keyboard," Kocienda said in a column for Wired.
The autocorrect also includes a list of words that it doesn't autocorrect (including, in some cases, profanities) and deploys machine learning algorithms to work out which words are frequently used elsewhere.
In another Wired article from 2014, which included an interview with the "inventor on the patent for autocorrect," Dean Hachamovitch, it also mentions that "keyboard proximity, phonetic similarity, linguistic context" are features baked into autocorrect software.
Based on this, there are a number of (arguably, very unlikely) possibilities which could have led to Trump's phone or device correcting the racial slur to "peekaboo."
One of these is that Trump used "peekaboo" on so many other occasions that the autocorrect dictionary suggested it when he intended to make a racist comment.
While we can't say whether Trump uses "peekaboo" frequently in his personal correspondence to create such an automation, it seems unlikely (particularly as doesn't appear to have used the word on TruthSocial or in public citations recently).
Another idea is that the autocorrect thought he meant peekaboo based on the context, phonetic similarity or keyboard proximity approximate to the word he intended to use.
However, apart from "aboo", the two words share no other letters and the keystroke (the physical movement from letter to letter to type the word on a standard QWERTY keyboard) is sufficiently different too. The two words also don't sound the same apart from the suffix.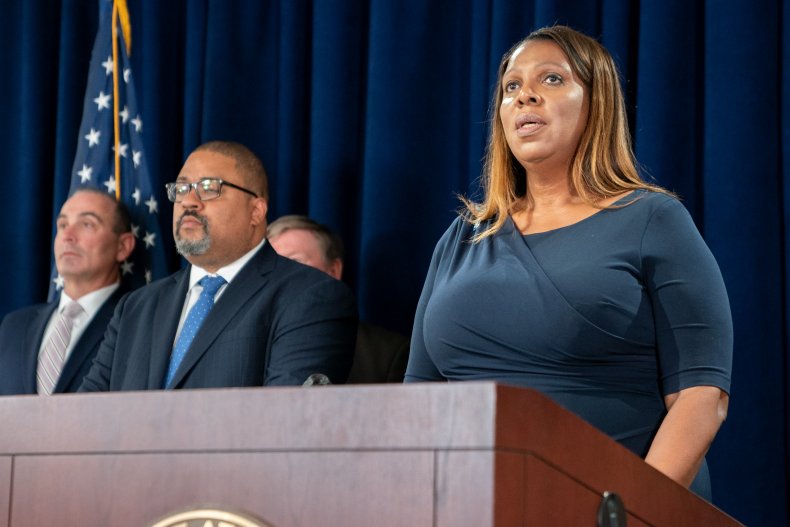 There is also the chance that the word could have been suggested based on frequency of use by other users. While it is almost certain that peekaboo would be more commonly used than the other word, it still seems unlikely this alone would have overridden either Trump's personal autocorrect suggestions or his device's language programming.
Of course, peekaboo could be an invocation of the slur or, as some have suggested, a portmanteau of it and another offensive epithet.
Trump's history of insensitivities (including allegations that he has used racist slurs and "dog whistles") may well have spurred others to believe he was using the word in question.
While still deeply offensive, it was used most frequently in the late 19th and early 20th centuries and is archaic. This arguably lowers the likelihood of its use here (even if we cannot rule out that Trump didn't mean to use it).
It would also be an extraordinary turn for a major public figure vying for widespread public support (and a potential return to office) to even invoke such hurtful and hateful language, even with Trump's record. That is also the point Trump's former advisor Michael Cohen has made when asked about the word.
Again, this does not rule it out entirely but is, nonetheless, important context to consider.
So, while not completely out of the question, there is no way we can verify whether the former president intended to use the word, as some social media users have claimed that he did.
Furthermore, while the idea that his phone autocorrected the word seems very unlikely, there is not enough first-hand information to irrefutably rule that out.
Trump, responding to the civil lawsuit, wrote on Thursday that he cannot be sued for fraud because he repaid loans borrowed from lenders "in full on or before the due date" or is still repaying them.
In the same "Peekaboo" message Trump accused James of being "racist," adding she was "grossly incompetent."
Newsweek has contacted Donald Trump's office for comment.
The Ruling
Unverified.
While we cannot definitively rule out the possibility that Trump intended to use a racist slur which was autocorrected, it appears unlikely and there is other important context to consider that suggests otherwise.
We don't know what device he was using when he made the "Peekaboo" comment, but explanations of how autocorrect works (across different systems) indicate it wouldn't make the connection between it and the racial epithet.
Trump has been accused of racism in the past, but an invocation of such a slur would be an extraordinary outburst for a figure as public as Trump, even with a well-documented history of controversy.
FACT CHECK BY Newsweek's Fact Check team