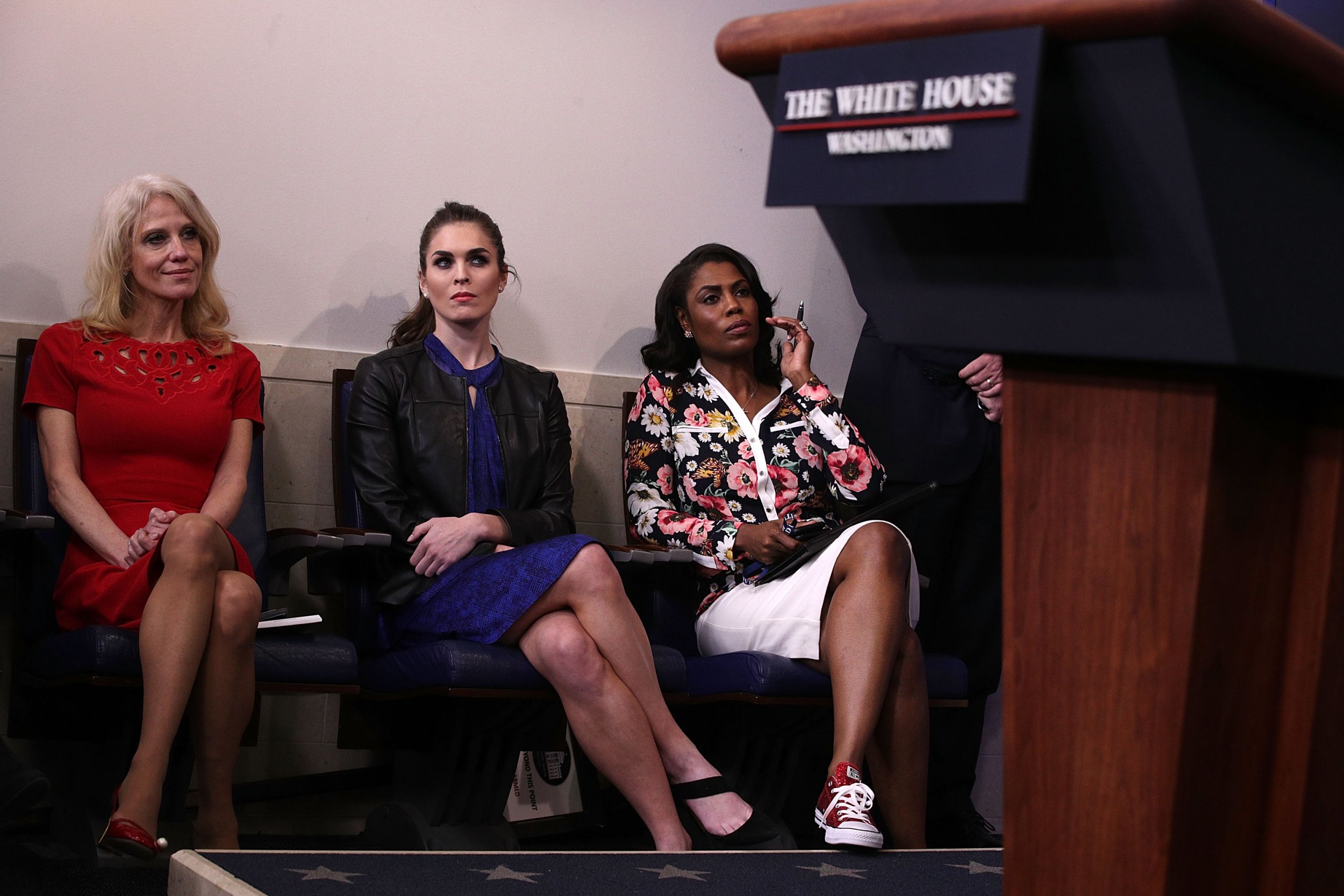 Press secretary Sarah Huckabee Sanders dodged a question about how many black senior staffers work under President Donald Trump on Thursday, insisting that "we have a really diverse team across the board at the White House."
But that's not necessarily true.
Omarosa Manigault Newman, Trump's former director of African-American outreach, was the highest-ranking black person working in the West Wing until her resignation was announced Wednesday. When she actually steps down in January, she'll leave behind a relatively white-washed—and male—staff.
Trump's cabinet includes just one African-American in Ben Carson, the secretary of housing and urban development, and one Asian-American in Elaine Chao, the secretary of transportation. U.N. ambassador Nikki Haley is Indian-American, and labor secretary Alexander Acosta is Hispanic. There are only five women.
TheNew York Daily News noted that outside Trump's inner circle are Ajit Pai, the chairman of the Federal Communications Commission, and Seema Verma, the administrator of the Centers for Medicare and Medicaid Services, both of whom are Indian-American. But that's about as far as the administration's diversity goes, despite Sanders's claims.
"We always want to continue to grow the diversity here," Sanders said Thursday. "Something that we strive for every day is to add and grow to be more diverse and more representative of the country at large, and we're going to continue to do that."
So far, though, Trump is lagging behind his predecessors. In Barack Obama's initial cabinet, 64 percent of members were either men of color or women, according to The New York Times. In George W. Bush's first cabinet, 45 percent were.
Under Trump, even most of the summer interns are white. So, too, are his judicial nominees—an Associated Press analysis from November found that more than 90 percent of his picks for federal courts were white. Only about 20 percent were female.
That concerned people like Kyle Barry, who works for the NAACP's Legal Defense and Educational Fund. He told the AP the lack of diversity could create "a clear perception where the courts are not a place people can go and vindicate their civil rights."
And it's not just Trump. The lack of minorities in the White House matches up with Capitol Hill.
Although the 115th Congress was lauded as the most diverse in history, as of January it still only had 38 Latino, 49 black and 15 Asian lawmakers among its 535 voting members. Although about half of the U.S. population is female, only a fifth of Congress was, according to The Hill.