Fact Check: Does Joe Biden Support the Green New Deal and a Fracking Ban?
While discussing U.S. energy policies during Wednesday night's vice-presidential debate, Vice President Mike Pence said that Democratic presidential nominee Joe Biden supported the Green New Deal and was in favor of banning fracking.
THE CLAIM:
"Joe Biden and Kamala Harris want to raise taxes," Pence said. "They want to bury our economy under a $2 trillion Green New Deal, which you were one of the original co-sponsors of in the United States Senate. They want to abolish fossil fuels and ban fracking which would cost hundreds of thousands of American jobs all across the heartland."
THE FACTS:
Biden denied that he would ban fracking during a July interview. "Well, fracking is not going to be on the chopping block," Biden said. "Right now the president gives [an] advantage to companies that go overseas and invest overseas by reducing the taxes they have to pay on foreign profits. I'd double that tax and do that on day one."
But Biden said during a 2019 debate that his administration would make sure fracking is "eliminated."
"We would make sure it's eliminated," he said.
In a March Democratic debate, Biden said "no more, no new fracking."
Biden also addressed fracking during an address in Pennsylvania. "I am not banning fracking," Biden said in September. "Let me say that again: I am not banning fracking no matter how many times Donald Trump lies about me."
Harris also told Pence during Wednesday's debate that "the American people know that Joe Biden will not ban fracking. That is a fact."
During the first presidential debate in September, Biden said "I do not support the Green New Deal." According to information on Biden's website, Biden considers the Green New Deal "a crucial framework for meeting the climate challenges we face. It powerfully captures two basic truths, which are at the core of his plan: (1) the United States urgently needs to embrace greater ambition on an epic scale to meet the scope of this challenge, and (2) our environment and our economy are completely and totally connected."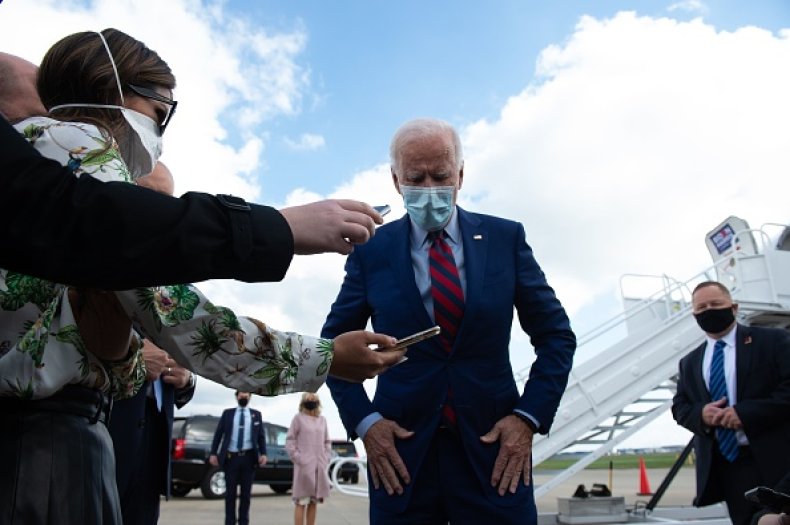 Harris was an original co-sponsor of the Green New Deal as proposed by Massachusetts Senator Ed Markey in 2019.
"Climate change is an existential threat, and confronting it requires bold action," Harris said in a March 2019 statement. "I'm a proud co-sponsor of Senator Markey's Green New Deal resolution."
"Combatting this crisis first requires the Republican majority to stop denying science and finally admit that climate change is real and humans are the dominant cause," Harris continued.
Harris also introduced the Climate Equity Act in August with New York Representative Alexandria Ocasio-Cortez, which wouldbiden fracking establish an Office of Climate and Environmental Justice Accountability. That office would, among other things, "conduct research, using the best available science, on environmental and climate issues and trends in frontline communities."
RATING:
Mostly false. Although Biden's energy plan references the Green New Deal, it does not embrace it in totality. Biden has also said numerous times that he would not ban fracking, though his past statements on the matter have been confusing. Harris has endorsed Biden's plan to retain fracking, although she came out against it before she became Biden's running mate.
Newsweek reached out to the Biden campaign for comment.