Fact Check: Does Philadelphia Have a 'Rotten History on Election Integrity' as Trump Claims?
President Donald Trump repeatedly has alleged, without providing evidence, that there is widespread fraud happening in Philadelphia—a Democratic stronghold that has helped put former Vice President Joe Biden ahead in the presidential race in the battleground state.
The Claim
On Friday afternoon, the president tweeted a quote attributed to Fox News anchor Stuart Varney asserting that Philadelphia "has got a rotten history on election integrity."
The Facts
Election fraud is not unheard of in the city, but experts said the president's statement isn't entirely accurate—especially in today's political environment.
"There certainly was fraud back in the times in urban political machines—from Chicago and Boston and Philadelphia—but that really changed significantly due to reforms implemented post-1950 into where we are today," Jeffrey Carroll, an assistant professor of political science at Chestnut Hill College in Philadelphia, told Newsweek.
One of the city's largest cases of fraud was in 1993, when a federal judge had to overturn the results of a state senate election after it was concluded that Democrats had forged hundreds of absentee ballots.
Robin Kolodny, chair of the political science department at Temple University in Philadelphia, said officials in the area amended nearly everything about the voting process after the 1993 race.
"Everything's changed," she told Newsweek. "The people have changed, the laws have changed, the equipment has changed and the practices have changed."
Philadelphia has experienced a handful of other election integrity issues in recent years, but none on the presidential level.
In March, a former elections judge in Philadelphia admitted to accepting bribes to tamper with the results of primary elections over multiple years. The judge, Domenick Demuro, was convicted for his "role in accepting bribes to cast fraudulent ballots and certifying false voting results" during the 2014, 2015 and 2016 primary elections in Philadelphia.
In 2017, the city had a case of fraud during a special election for a statehouse seat. Pennsylvania Attorney General Josh Shapiro charged polling-place workers in one location with intimidating voters, casting fake ballots and falsely certifying results.
"While there is no evidence the outcome of the election was impacted by the actions of these individuals, we must protect the sanctity of Pennsylvania elections at all costs," Shapiro said at the time.
Carroll, the political scientist, said he believed the two instances to be "outliers" as "the election apparatus in Philadelphia is one that has been improved and is highly professionalized."
The president was leading in the state again in 2020 as ballots were counted on November 3. But his lead continually narrowed as mail-in ballots were counted in the days after the election, especially those from Philadelphia. As of Friday evening, Trump trailed Biden in Pennsylvania by roughly 20,000 votes.
"This is definitely more about math than fraud," said Carroll, noting that registered Democrats far outnumber registered Republicans in the city.
Kolodny agreed, adding: "I don't see any real merit to the president's accusations."
This also is not the first time that Trump has made disparaging comments about Philadelphia's election process. While on the campaign trail in 2016, Trump said he had heard "horror shows" about stolen votes in the city.
"I just hear such reports about Philadelphia," Trump said at a rally in Wilkes-Barre, Pennsylvania, just weeks before the 2016 race. "Everybody knows what I'm talking about."
Trump won Pennsylvania by less than 1 percentage point four years ago, though he was soundly defeated by Hillary Clinton in the county of Philadelphia by more than 475,000 votes.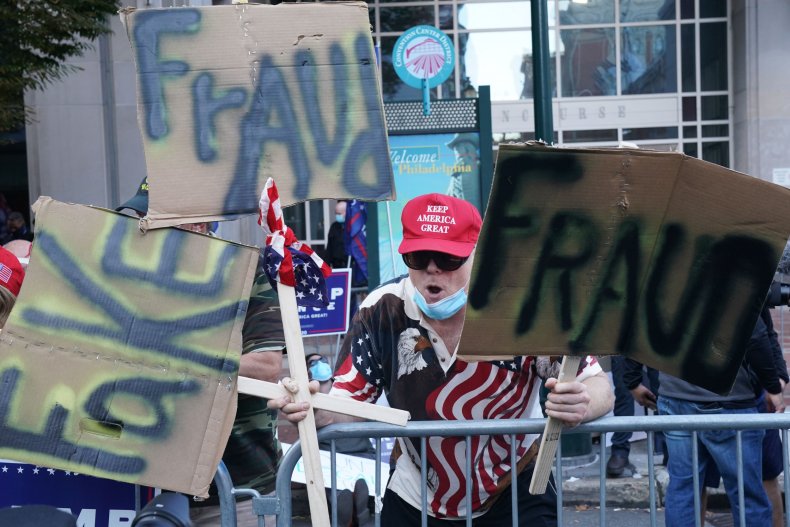 The Ruling
At least partially true, although none on the presidential level.
So far in the 2020 election, Pennsylvania officials repeatedly have said there is no evidence of fraud in the state. Republican Senator Pat Toomey of Pennsylvania called Trump's allegations "disturbing" and said there was no proof of widespread wrongdoing in his state.
When asked about Pennsylvania's election integrity, Secretary of State Kathy Boockvar said Thursday that there are "very strong" processes in place to "make sure that voter integrity and security are constantly followed by every county in the state."