Fact Check: Does Senator Kelly Loeffler Not 'Show Up' 75 Percent of the Time?
Kelly Loeffler entered the U.S. Senate in January after Georgia Gov. Brian Kemp appointed her to fill the seat of Johnny Isakson, who retired because of his health.
She faces the Rev. Raphael Warnock, a Democrat, in the January 5 runoff that is part of a rare pair of Senate seats up for grabs in the same state. Both are tight, hotly contests contests.
Loeffler serves on four committees: the Committee on Health, Education Labor and Pensions, also known as the HELP Committee and seen as one of the most influential in the Senate; the Joint Economic Committee; Committee on Veterans Affairs and the Committee on Agriculture, Nutrition and Forestry—all plum assignments for a freshman.
The Claim
On December 14, actress and activist Debra Messing retweeted a tweet about Loeffler's committee attendance with a stinging rebuke.
"WHY does @KLoeffler want to be Senator?" Messing tweeted to her nearly 680,000 followers. "She doesn't show up 3/4 of the time!No wonder there hasn't been economic relief, veteran support or healthcare expansion in #Georgia. No one was there fighting."
The tweet has been retweeted more than 800 times and has nearly 2,000 "likes." While Messing's portion doesn't explicitly state it, her tweet is connected to one specifically about committee attendance.
Is it true that Loeffler "doesn't show up" 75 percent of the time to committee hearings.
The Facts
Based on Newsweek's analysis of committee meeting records, Loeffler's held a combined 32 hearings since she took office.
Committee attendance isn't wholesale tracked for members the way votes are or attendance on the floor. For example, the last transcript for the Agriculture Committee was posted before Loeffler joined the Senate. Such claims often are based on numbers from opposition researchers who analyze video or keep an ongoing record.
Also complicating the claim: Hearings often are streamed online or on C-SPAN, giving senators a chance to watch even if they aren't in the room. Two of the Joint Economic Committee hearings are noted as being conducted remotely.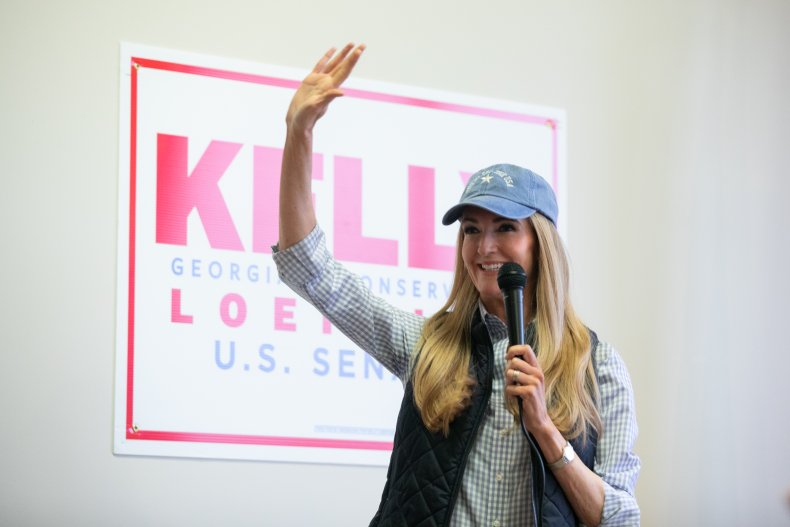 The Ruling
Mostly True.
The numbers Messing cited were based on a tweet from a researcher for CAP Action, an offshoot of the liberal Center for American Progress, that specifically was referencing committees.
Researcher Will Ragland told Newsweek that CAP Action came to its figure after manually screening all of the hearings for Loeffler's committees. He provided a detailed spreadsheet to Newsweek, noting the dates of committee hearings.
Based on CAP Action's analysis, Loeffler was not present for 23 of the 31, including half of the HELP Committee's hearings on COVID-19 and all of the Joint Economic Committee hearings.
A spokesman for Loeffler's campaign didn't respond to Newsweek's request for response to the claim.
It's not uncommon for senators to skip committee hearings, dip in and out until it's their turn to ask a question, or watch the hearings remotely. Because attendance isn't steadily tracked, it's hard to compare Loeffler's record to other members.
But there is a figure that is more comparable and can show how often Loeffler showed up: She has missed 33 of the Senate's 270 roll-call votes, which is 12.2 percent and makes her the 26th-most-absent member of the Senate, based on an analysis from ProPublica.
All of Loeffler's missed votes were between October and December, as she was on the campaign trail. Most of the votes during that time were on judicial appointments, and if she followed the Republican Party line, her votes would not have changed the outcomes.