Fact Check: Does a Site Where People Report the Unvaccinated Really Exist?
A website circulating for about a week allowed users to report their unvaccinated friends and family to public health authorities.
The Claim
A site shared in California prompted visitors to "Earn extra cash! Report unvaccinated Family, Friends & Neighbors (FFNs) anonymously online."
The website was called AURS, an acronym for Anonymous Unvaccinated Reporting System, and was created by David Bramante, a Los Angeles realtor and Republican gubernatorial candidate running against Governor Gavin Newsom in the recall election this year.
The site had more than 300,000 visitors and received 2,000 "reports" in the time it was active. The website had many submissions in which people were offering the names of their unvaccinated friends, family members, neighbors or acquaintances.
The Facts
The website, while it did exist, was not intended to actually report unvaccinated people to health authorities.
Bramante said that when he created the website, he did not intend for it to scare so many people.
"The Anonymous Unvaccinated Reporting System, or AURS, is 100 percent for political satire and thankfully is not a real type of company, yet," Bramante told Newsweek. "I created this gut-checking website in response to the New York City vaccine passports last week."
The website had received significant traffic while it was live between August 2 and August 9, however, about 90 percent of the "reports" he received were actually complaints about the nature of the AURS website itself.
"My goal with the site is to point out how dangerously close we are as society to having a company like AURS exist; a world where friends, family and neighbors are reporting each other to a third-party website and local authorities," Bramante wrote.
The website was meant to be a satire; Bramante later revised the reported numbers upward in a statement to Nexstar, claiming that he received more than 3,200 reports in total, 99 percent of which were "fake submissions in protest of AURS."
That still did not stop people from believing the website was real, though. Bramante said that he is the only one who had access to the database in which unvaccinated Californians had been named, and claimed that he has since deleted them.
Bramante stated on Monday that his point had been made. "My goal is not to expose people that are snitching on friends, family and neighbors, but instead get people more aware about where these COVID mandates could be leading us," he told Nexstar.
Bramante told Newsweek, "I am 100 percent against any government mandates, for masks and vaccinations, and totally opposed to a Vaccine Passport. My AURS interactions have resulted in over 300 petition signatures opposing the impending LA Vaccine Passport and I will be delivering these petitions to LA City Hall tomorrow."
"I'm very sorry for the scare, but I'm so appreciative to those who have contacted me and understand my goal, and are now helping our mission," Bramante also wrote online.
His campaign website states that if he is elected over Newsom, he will "end all of the Emergency Orders that Newsom has signed, and any and all COVID-related vaccine mandates on DAY ONE."
"We should never abandon our liberal principles and international stance on body autonomy, free informed choice and human rights, and support unprecedented coercion of professional health workers, patients, and people to have experimental treatments with limited safety data," Bramante added in his statement to Newsweek.
"This and the policies that go with it are more of a danger to our society than anything we have faced during this last year."
The Ruling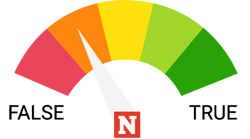 Mostly False.
Yes, the website did exist, for a short time. In the week that it was up, it played the part of the anonymous reporting system, as some were in fact able to give the names of unvaccinated Californians.
However, the website was not intended for that purpose, according to creator Bramante.