Fact Check: Does Video Show Taliban Welcomed Into Kabul by Crowd of Residents?
A video is circulating on social media claiming to show residents of Kabul, Afghanistan welcoming advancing Taliban fighters who have now deposed President Ashraf Ghani and seized control of the war-torn nation for the first time since 2001.
The Claim
Twitter user Syed Sajid Bukhari shared a video on Sunday of a jubilant scene surrounding Taliban fighters.
"The people of Kabul come out from their houses for the welcome of Taliban and gathered on the entry gate of Kabul," Bukhari claimed. "This is different from what media tells us. This shows that peoples of Afghanistan are with Taliban."
At the time of writing, the video has been retweeted more than 600 times, quote tweeted more than 140 times, and liked more than 1,700 times.
The Facts
The video actually shows people meeting Taliban fighters in Kandahar, a southern Afghan city that fell to the Taliban late on Thursday amid the group's lightning advance across the country towards the capital.
The video was taken at the Eid Gah Darwaza, a landmark in the center of the city that sits alongside one of the two main roads passing through Kandahar. The road leads to Kabul to the northeast.
The distinctive Eid Gah Darwaza gate can be clearly seen in the video, as can several landmarks nearby including a large mosque west of the gate.
The Eid Gah Darwaza has been featured in footage carried by numerous outlets including Reuters, showing Taliban fighters hoisting their white and black flag on the flagpole above the gate.
Bukhari claims that the footage shows widespread Taliban support from those residents present.
Kandahar is the spiritual home of the Taliban and housed the group's headquarters as it expanded to control the rest of Afghanistan in the late 1990s. The subsequent Islamic Emirate of Afghanistan was toppled in the U.S.-led invasion of 2001.
The city is close to the Spin Boldak border crossing with Pakistan, which has been under Taliban control since late July. To the north of Kandahar is the city of Ghazni, the last major settlement before Kabul.
The group coalesced in Kandahar under the leadership of Mullah Mohammad Omar in late 1994 and, with the support of Pakistan's Inter-Services Intelligence agency, quickly secured funds, training, and weapons.
Kandahar is an impoverished province and a center of poppy cultivation, second only to neighboring Helmand province, with 20,555 hectares of land given over to growing the opium crop.
The Ruling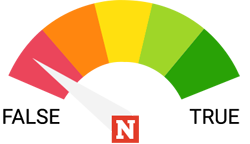 False.
FACT CHECK BY NEWSWEEK
The video being shared shows Kandahar, not Kabul.
Footage from Kabul so far suggests that most people are remaining inside as the Taliban extend control of the city.
At the airport, thousands of desperate Afghanis are trying to flee the country with the help of American and allied air forces.