Fact Check: Are Elon Musk and Pete Buttigieg Half Brothers?
A rumor is circulating online that Elon Musk, the billionaire SpaceX and Tesla chief, and Pete Buttigieg, the U.S. Secretary of Transportation, have a surprising personal connection to each other.
The Claim
According to a claim made on social media, Elon Musk and Pete Buttigieg are actually half-brothers.
The claim was made by TikTok user "Ray Bull" in a video posted on August 4, which has been liked more than 12,000 times and shared just over 4,000 times at the time of writing.
In the video, Ray Bull said: "How did I not know this, Pete Buttigieg and Elon Musk are half brothers. What? Are you kidding me?"
The TikTok user, who has posted prank and comedy content previously, then reads what is purportedly an interview with Elon Musk in the news outlet Recode.
"This is an interview with Elon Musk," Ray Bull said. "'Growing up we didn't see much of each other except for the rare family reunion. We always got along whenever we would see each other but I'm considerably older than Pete so we were always on to different things.' What? What the hell! Why is no one talking about this?"
The video also shows images purporting to be Musk and Buttigieg together when they were younger.
Several other social media users on TikTok and Twitter have also repeated the claim, while Google searches for "Pete Buttigieg Elon Musk brothers" also spiked in the days after the TikTok video was posted.
The Facts
Newsweek could not find any evidence of the Recode interview shown in the TikTok video online.
Elon Musk and Pete Buttigieg do not share a parent.
Musk is the son of South African engineer Errol Musk and dietitian and model Maye Musk. He has several siblings; two full and then three half through his father's other relationships.
Buttigieg is the only child of Joseph A. Buttigieg, who taught literature at the University of Notre Dame, and Jennifer Anne Montgomery, a linguist, and professor at the same college.
Newsweek has contacted Ray Bull, Elon Musk, and Pete Buttigieg for comment.
The Ruling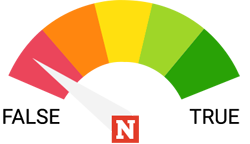 False.
There is no evidence that Elon Musk and Pete Buttigieg are half brothers.
FACT CHECK BY NEWSWEEK