Ann Coulter Inaccurately Claims Tulsi Gabbard Is a Senator In Attempt To Fact-Check Twitter User
Right-wing commentator Ann Coulter attempted and failed to fact-check a fellow Twitter user Thursday, inaccurately claiming that Democratic Representative Tulsi Gabbard of Hawaii is a senator.
Coulter's incorrect fact-check came after the House of Representatives voted 232 to 196 in favor of impeachment rules, paving the way for public witness hearings and the release of closed-door deposition transcripts. Twitter user @Catturd2 was clearly upset that Congresswoman Gabbard, who is also running for the Democratic party's presidential nomination, voted in favor of the resolution along with the vast majority of other Democrats.
"For all you foolish Tulsi Gabbard fans ... She just voted for the illegal impeachment coup. She's just a better looking Nancy Pelosi," Catturd tweeted in response to the vote. Catturd's unverified Twitter profile, which has more than 110,000 followers, references President Donald Trump's "MAGA" slogan and features a cat wearing glasses as its photo. The profile's banner includes the words "farting sound."
Ann Coulter quickly attempted to fact-check the post, but unfortunately, she got the facts wrong.
"No she didn't. Tulsi is a SENATOR, meaning she's in the SENATE and doesn't vote on HOUSE resolutions," the conservative commentator wrote, re-tweeting Catturd's post.
Despite Coulter's apparent confidence in her fact-check, Gabbard represents Hawaii in the House of Representatives, not the Senate. She also definitely did vote "yes," in favor of the House impeachment inquiry rules, which the lower chamber of Congress went on to approved Thursday. Only two Democrats chose to vote against their colleagues, Representatives Jeff Van Drew of New York and Collin Peterson of Minnesota. One Democrat, Rep. Donald McEachin of Virginia abstained.
Coulter realized her mistake a couple hours after her original tweet. Instead of deleting her post, she re-tweeted it with self-deprecating humor. "Apparently, in some quarters, people have disputed my ability to advance congressmen to the Senate," she quipped.
"She SHOULD be in the senate," she added in a follow-up tweet. "This should make international headlines. Coulter Makes Mistake! First Ever!" she wrote in another post.
Back in 2016, ahead of the presidential election, Coulter published a book entitled: "In Trump We Trust: E Pluribus Awesome!" However, she has gone on to become a fiery Trump critic after his administration has failed to fulfill his signature campaign promise to "build the wall" along the southern U.S. border with Mexico. The right-wing commentator is vehemently against undocumented immigration, and has slammed the president for not addressing the issue as he had promised.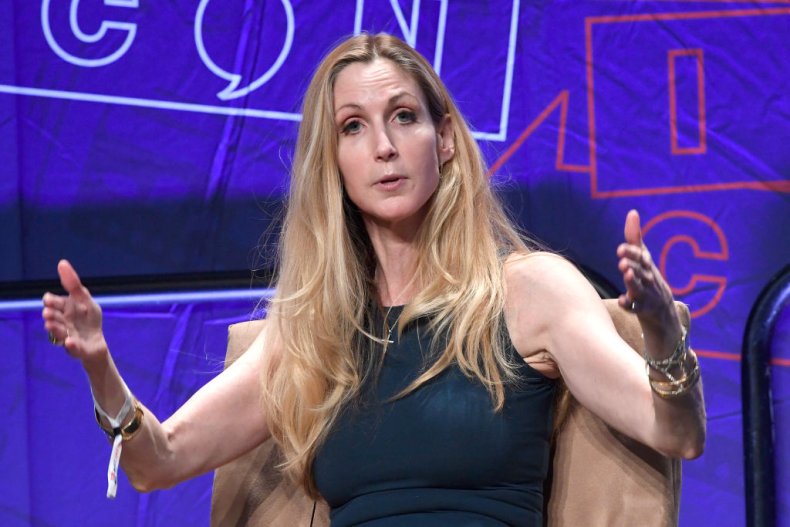 Earlier this year, she even suggested that Trump would lose in the 2020 election. "If he doesn't build the wall, the next president will be a Democrat," Coulter said during a January interview with radio host Mark Simone.
In April, Coulter argued that Trump's immigration policy was worse than what would have been implemented if former Democratic presidential candidate Hillary Clinton had won in 2016 instead. "How about this—worse than it would ever be under any Democrat. Worse than it would be under Hillary," she said in an interview with PBS.