Democratic challenger Jon Ossoff and Republican Senator David Perdue are in a hotly contested senatorial race in Georgia that will be decided in a runoff on January 5, 2021, after neither reached the 50 percent vote threshold to win on November 3.
Perdue has accused Ossoff of previously working with a company owned by the Chinese government. Perdue's latest accusation came on Monday afternoon in a Twitter post.
The Claim
With a video clip of an interview he did with Fox News discussing Ossoff's connections to China Perdue tweeted, "Jon @Ossoff did business with a company owned by the communist Chinese Government and then tried to hide it from Georgia voters. Georgians can't trust him to hold China accountable."
In the interview, Perdue said, "He'll never hold China accountable or deal with our foreign policy with a straight-up perspective."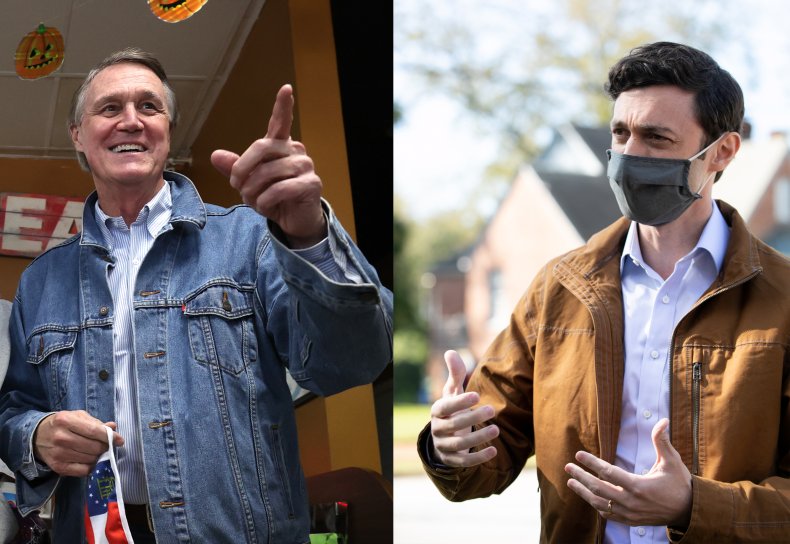 The Facts
An updated financial statement shows that Ossoff received at least $5,000 from PCCW Media Limited, a Hong Kong-based media corporation whose owner has expressed opposition to Hong Kong's pro-democracy protests, according to the National Review.
Ossoff acquired the $5,000 from PCCW Media Limited over the course of two years and did not disclose his ties with the company in his initial financial statement, which was filed in May, the National Review reported. Ossoff later updated his personal financial statement to include the money.
Ossoff, who lost a special-election runoff for a House of Representatives seat in 2017, was been an investigative journalist for Insight TWI, a London-based media production company that focuses on the investigation of corruption, organized crime and war crimes. Ossoff became CEO of Insight TWI in 2013. TWI's investigations are created, then licensed out.
A spokesperson for the Ossoff campaign told the National Review that the payments from PCCW were for the airing of "two investigations produced by Jon's company of ISIS war crimes against women and girls," representing "one of dozens of TV stations and distributors in more than 30 countries that have aired Jon's work."
PCCW Media Limited is the largest telecommunications agency in Hong Kong and is run by Chairman Richard Li. In 2016, Li said in a public statement that he is "staunchly opposed to the independence of Hong Kong," and he has continued to oppose the pro-democracy movement.
"Jon strongly supports Hong Kong's pro-democracy movement and condemns the brutality and authoritarianism of the Chinese Communist Party," an Ossoff campaign spokesperson told the National Review.
Ossoff addressed the claims while meeting with Central Georgians in Macon on October 30.
"These were aired by television broadcasters all over the world. He (Perdue) is cherry-picking that there was one Asian TV channel that aired our documentary," Ossoff said, according to local Central Georgia CBS news station 13WMAZ.
Ossoff said he believes the claim was made by Perdue to distract Georgia voters from pressing issues.
"It is nonsensical to claim that just because a broadcaster aired content produced by Jon's company that Jon in turn has a working business relationship with the government of a tangential country and an entirely separate economy," said Miryam Lipper, Ossoff's communications director.
Perdue has been involved in business deals in China. He was the CEO of Dollar General from 2003 to 2007 and "expanded aggressively into China to import cheap products into the United States," according to The Intercept.
Investor reports and earning-call transcripts from the time Perdue was CEO show that he increased profitability by importing goods from factories in low-wage overseas markets.
John Burke, a spokesperson for the Perdue campaign, told The Intercept, "As CEO of Dollar General, which is an American Fortune 500 company, David Perdue created tens of thousands of American jobs, a claim that has been verified by independent fact checkers."
Neither Burke nor anyone else in the campaign addressed Perdue's outsourcing to China directly.
The Ruling
False.
Ossoff has had business dealings in Hong Kong, which is a semiautonomous Chinese territory, but PCCW is not owned by the Chinese government.
Update: The ruling of this fact check has been updated to reflect additional information.