Fact Check: Have More Americans Died From COVID Under Joe Biden Than Donald Trump?
The U.S. has hit another grim pandemic-related milestone, reaching 800,000 cumulative COVID-related deaths.
With cases rising again across the country as the Omicron variant of the coronavirus takes hold, politicians, journalists and social media users are taking stock of President Joe Biden's pandemic-handling abilities in his first year.
The Claim
This week, multiple public figures and social media users attempted to directly compare how current and previous administrations fared in the battle against COVID by analyzing the cumulative number of deaths from the virus under each president.
"Joe Biden based his entire 2020 presidential campaign on the promise he would solve covid by trusting "the science." It was all bullshit. He's presided over more deaths, hospitalizations & cases than Trump. Yet media crushed Trump for covid, gives Biden a pass," political commentator Clay Travis tweeted.
Others simply posted death count figures that suggested more Americans fell victim to COVID under Biden than under Trump.
Some tied their claim to reports from Reuters and other outlets stating the total coronavirus deaths in the U.S. in 2021 have now topped those of 2020.
The Facts
According to the latest data from the Centers for Disease Control and Prevention (CDC), dated December 19, 2021, 803,593 people have died due to COVID since the beginning of the pandemic.
OurWorldInData's figure for December 19 is slightly higher, putting the total at 806,439 deaths. Of those, 351,754 deaths occurred in 2020, meaning that indeed there more deaths—nearly 455,000—in 2021.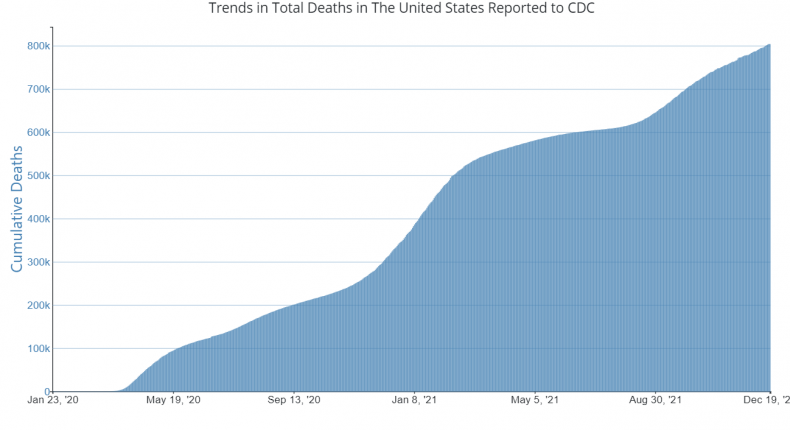 While comparing the annual data is fairly straightforward, it becomes slightly more complicated when it comes to assessing the records of Trump and Biden's respective administrations.
One issue is where exactly to place the dividing line. The election was called in Biden's favor on November 7, and all the individual results were certified by December 9. State electors' votes were officially counted by Congress on January 6–7, 2021, and Biden was finally inaugurated on January 20, 2021.
December-January 2020 saw the strongest wave of the pandemic so far, meaning that those few weeks could tip the scales one way or another.
The inauguration of Biden marked the point at which his administration began implementing its own strategy to contain the virus.
Though some have argued that Biden's "real" count has to start two to three weeks later due to some cases being passed over from the previous administration, for the sake of simplicity we will choose January 20 as the dividing line.
On that day the cumulative U.S. COVID death count stood at 424,401, according to CDC data, meaning that fewer people have died under Biden—379,192 in total (up to December 19).
In response to a Newsweek email, a CDC spokesperson shared a week-by-week breakdown of COVID-related fatalities during the course of the pandemic, confirming that indeed more people had died through to January 20, 2021, than after that date. While the post-January 20 death count, standing at 337,489 compared to 467,954 under Trump, contained the data up to December 12, 2021, the spokesperson pointed out that some of the deaths attributed to the week ending January 24 included pre-1/20 fatalities.
Finally, according to OurWorldInData, which relies on Johns Hopkins University figures, cumulative deaths stood at 412,892 as of January 20, still significantly more than the 393,547 recorded under Biden through to December 19.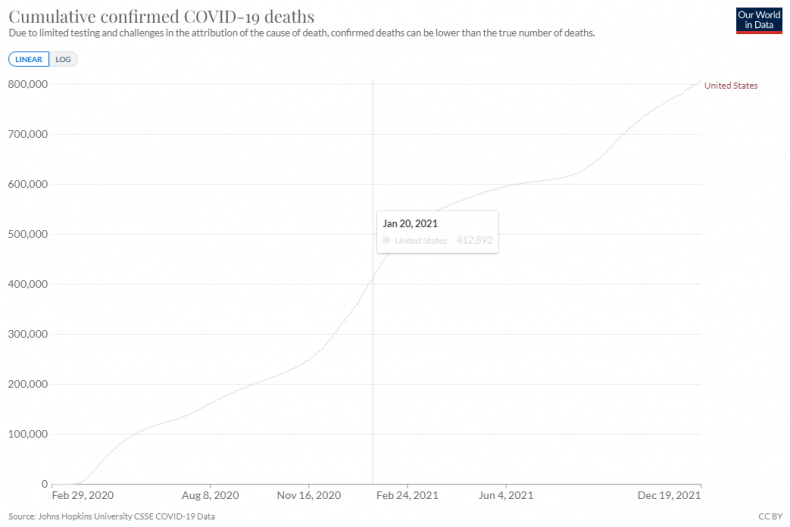 Notably, the first confirmed coronavirus death to occur on U.S. soil was dated February 28, 2020. There were 327 days between the first American death and Trump leaving office, and 333 days from Biden's inauguration to December 19.
Using CDC data, 1,298 people were dying per day on average under Trump during his pandemic presidency, and 1,139 have died per day under Biden.
A variety of other data points and conditions could be factored into calculations assessing the effectiveness of pandemic response by the two administrations, including the exponential spread of the virus (meaning it becomes increasingly more difficult to contain), as well as the vaccine factor (vaccines were not available until the late stages of the pandemic), and different ways to estimate Americans' share of total global deaths from the pandemic at different points in time.
Inclusion of additional measures of the pandemic intensity, such as hospitalization rates, case numbers, and the strain on the health system, could also be considered in a more in-depth evaluation of the effectiveness of Trump and Biden's responses.
But focussing strictly on the death counts, the claim that more Americans were killed by COVID under Biden than under Trump is, at least as of December 19, inaccurate.
The Ruling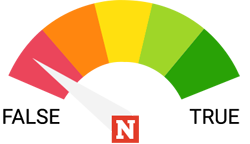 False.
While the number of deaths from COVID in the U.S. under president Biden is on course to top the death count during the Trump administration, it has not yet done so. Around 379,000 people have died in the U.S. from COVID since January 20, when Biden took over as president, around 45,000 fewer than under Trump.
Correction 05:28 a.m. ET 12/22/2021: This article was corrected, with the first recorded COVID death on US soil dated February 28, 2020. The original article dated it February 28, 2021. We apologize for the typo.
Update 12/22/2021: This article was updated to include comments from the CDC.
FACT CHECK BY NEWSWEEK