A Facebook page made in the name of Hong Kong's Falun Gong movement claimed the religious group was leaving the city after more than two decades.
The Claim
The viral social media post made by the page "The Hong Kong Association of Falun Dafa" thanked the city's residents for their nearly 25 years of support and said its Hong Kong website and social media pages would cease to operate after August 11, 2021.
The Facts
Wednesday's Facebook post quickly went viral and was circulated among local media outlets after it said the Falun Gong had "decided to pull out of Hong Kong." It had initiated relevant procedures to remove the organization from the city and would no longer update its online services, according to the notice.
However, the Hong Kong Falun Gong group rejected the Facebook post as "fake news" on Thursday. A statement on its website, hkfalundafa.org, said the Hong Kong branch of the spiritual movement has no social media accounts.
Falun Gong "condemns deliberate attempts to cause disruption by using a fake account to create 'fake news,'" the statement said, adding that the group reserves the right to take legal action.
The Hong Kong branch emphasized that it has no social media presence. Any accounts made in its name "do not represent Hong Kong Falun Gong," it said.
The movement is a legally registered organization in Hong Kong; its religious freedom and freedom of speech are guaranteed under the city's Basic Law, the statement read.
"Hong Kong Falun Gong does not intend to pull out of Hong Kong," it added.
The Facebook page in question has since removed the post and has even shared reports of the movement's official denial. But it is easy to see how the account could have been mistaken as legitimate. The page links to the group's official website and even lists local contact persons.
According to Hong Kong Free Press, a Falun Gong practitioner whose name and number appear on the page said her personal details were disclosed without permission. Complaints to Facebook have not resulted in action, and the information remains, she told the news site.
Falun Gong was outlawed in mainland China and declared a religious cult in July 1999. Its global headquarters are located in New York state.
The Ruling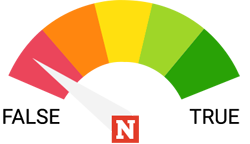 False.
FACT CHECK BY NEWSWEEK
The claims made in a Facebook post by The Hong Kong Association of Falun Dafa were false. The Hong Kong Falun Gong group has since clarified that it has no social media pages—and that it does not intend to leave the city.