Following a nine-month stalemate on a second coronavirus relief package, congressional leaders finalized a $900 billion bill on Sunday.
The second COVID-19 relief package includes $600 checks for individuals, $300 weekly supplemental unemployment insurance, small business aid through the Paycheck Protection Program, food and rental assistance, among other things.
The Claim
People reportedly have been receiving text messages that claim to provide access to a $1,200 coronavirus stimulus check. So is the IRS sending texts to sign up for stimulus checks?
The text message allegedly states: "You have received a direct deposit of $1,200 from COVID-19 TREAS FUND. Further action is required to accept this payment into your account. Continue here to accept this payment."
The text then ends with a linked web address, which appears to be from a legitimate state agency or relief organization, leading recipients to a website that appears similar to the IRS's Get My Payment section of their site.
The website prompts visitors to enter their personal and financial account information.
The Facts
The Internal Revenue Service (IRS) issued a warning over Twitter on December 1. The warning urged people to stay alert of new text scams and links to a news release published by the IRS on November 4.
In the release, the IRS noted that "neither the IRS nor state agencies will ever text taxpayers asking for bank account information so that an Economic Impact Payments (EIP) deposit may be made."
"Criminals are relentlessly using COVID-19 and Economic Impact Payments as cover to try to trick taxpayers out of their money or identities," IRS Commissioner Chuck Rettig said in the release.
"This scam is a new twist on those we've been seeing much of this year," Rettig continued. "We urge people to remain alert to these types of scams."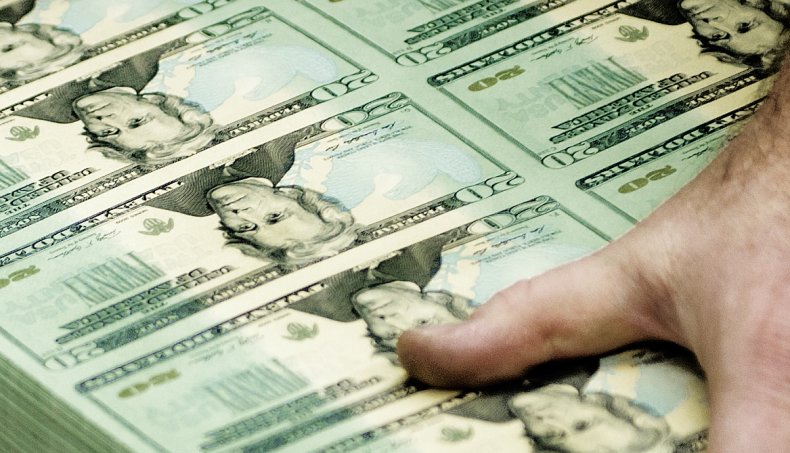 The Ruling
False.
In the news release, the IRS calls the text messages a scam created by thieves with the goal of tricking people into disclosing their bank account information.
The IRS urges people who receive this text scam to take a screenshot of the message and send it in an email to phishing@irs.gov alongside the number that appeared beside the sender's Caller ID, the number that received the text message, and the date, time and time zone the message was received.
"The IRS does not send unsolicited texts or emails. The IRS does not call people with threats of jail or lawsuits, nor does it demand tax payments on gift cards," the IRS said in the release. "People who believe they are eligible for the Economic Impact Payments should go directly to IRS.gov."
Newsweek reached out to the IRS but didn't hear back in time for publication.