Fact Check: Did Joe Biden Break a Dr. Seuss Tradition on Read Across America Day 2021?
Today is Read Across America Day, a day dedicated to encouraging children to read that has traditionally been synonymous with the children's author, Dr. Seuss.
However, President Joe Biden may have broken an unofficial presidential tradition by omitting Dr. Seuss from his official proclamation to mark the day.
The Claim
Conservative voices have accused Biden of breaking with a tradition by not mentioning Seuss. A Fox News article shared more than 400,000 times on Facebook, said Biden had "erased" the author from Read Across America.
Shortly after the president's address, Republican California Governor candidate Errol Webber said "Biden has just removed Dr. Seuss." The tweet has been like more than 1,000 times on Twitter.
Others have echoed similar sentiments on social media.
The Facts
Read Across America Day was established by the National Education Association in 1998 and was originally synonymous with the children's author Dr. Seuss, falling on his birthday on March 2.
Former presidents Bill Clinton and George W. Bush did not make any Read Across America Day proclamations.
However, former President Barack Obama began a short-lived tradition by mentioning Dr. Seuss in each one of his Read Across America Day proclamations from 2009 until 2016.
In 2009, Obama said: "On Read Across America Day, we partner with the National Education Association and mark the birthday of Theodor Geisel, whose beloved Dr. Seuss books still inspire children throughout the world to read."
Then in 2016, Obama called Seuss "one of America's revered wordsmiths," and said "Theodor Seuss Geisel—or Dr. Seuss—used his incredible talent to instill in his most impressionable readers universal values we all hold dear.
"Through a prolific collection of stories, he made children see that reading is fun, and in the process, he emphasized respect for all; pushed us to accept ourselves for who we are; challenged preconceived notions and encouraged trying new things; and by example, taught us that we are limited by nothing but the range of our aspirations and the vibrancy of our imaginations.
"And for older lovers of literature, he reminded us not to take ourselves too seriously, creating wacky and wild characters and envisioning creative and colorful places."
President Donald Trump continued the tradition by mentioning Dr. Seuss in every Read Across America Day proclamation except in 2017 when first lady Melania Trump read Dr. Seuss to children at a hospital.
At the time, the former first lady said: "Dr. Seuss has brought so much joy, laughter and enchantment into children's lives all around the globe for generations.
"Through his captivating rhymes, Dr. Seuss has delighted and inspired children while teaching them to read, to dream, and to care."
In 2020, Trump said: "On this Read Across America Day, we recall the motivational words of Dr. Seuss—an American icon of literature—and impart his wisdom on our Nation's young people: 'You're off to Great Places! Today is your day! Your mountain is waiting, so...get on your way!'"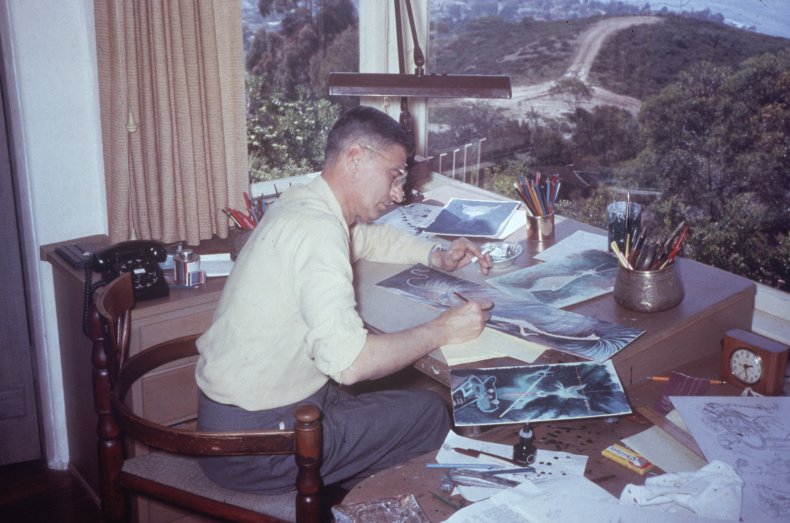 Biden did not mention Dr. Seuss in his Read Across America Day proclamation.
In Biden's Read Across America Day proclamation, he said: "The key to developing young learners into engaged, active, and innovative thinkers is instilling in them a love of reading at an early age. Reading is the gateway to countless skills and possibilities—it sets children on the path to a lifetime of discovery.
"On this Read Across America Day, we celebrate the parents, educators, librarians, and other champions of reading who help launch our Nation's children on that critical path."
Biden did not mention Dr. Seuss by name, ending the short tradition carried out by former presidents Obama and Trump.
"The proclamation was written by the Department of Education and you could certainly speak to them about more specifics about the drafting of it, but Read Across America Day has not existed forever," White House Press Secretary Jen Psaki said Tuesday. "It has only been around for a short period of time. It elevates and celebrates a love of reading among our nation's youngest readers and the day is also a chance to celebrate diverse authors whose work and lived experience reflect the diversity of our country.
"That's certainly what they what they attempt to do or hope to do this year. And as we celebrate the love of reading and uplift diverse and representative authors, it is especially important that we ensure all children can see themselves represented and celebrated celebrated in the books that they read."
In response to a question asking if the Read Across America Day is partnering with Dr. Seuss Enterprises, the NEA says: "There's a growing need for schools and libraries to include and promote diverse books."
"Students need books that provide both windows and mirrors if we are going to create more readers, writers, and people who feel included and recognized, and who understand that the world is far richer than just their experiences alone.
"NEA recognizes the need to work with a more diverse array of organizations and publishers to fulfill this need, and the Read Across America brand is now one that is independent of any one particular book, publisher, or character."
The National Education Association no longer is partnering with Dr. Seuss.
The Ruling
Mostly True.
Biden broke a tradition by not mentioning Dr. Seuss in his Read Across America Day proclamation. But the National Education Association has said that Read Across America Day no longer is partnered with Dr. Seuss Enterprises.