Fact Check: Is Joe Biden's 'Putin Price Hike' Inflation Claim Accurate?
Inflation figures for the U.S. continue to provide gloomy reading as the U.S. government appears increasingly hamstrung by the economic crisis.
Republicans point the finger squarely at the the Biden administration for failing to address the price rises; the president, in turn, has blamed it on the war in Ukraine, calling it "Putin's price hike."
But, given that prices began rising many months before Russia began making aggressive advances, is it a fair call?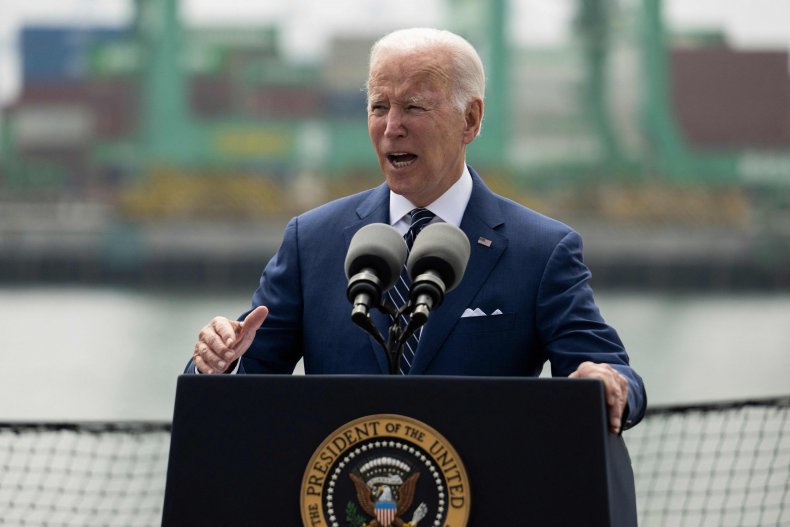 The Claim
In a press conference in San Pedro, California, on June 10, 2022, President Biden claimed that Putin's price hike was to blame for 8.6 per cent inflation recorded in May 2022.
"I understand inflation is a real challenge to American families," Biden said.
"Today's inflation report confirms what Americans already know. Putin's price hike is hitting America hard."
The Facts
The conflict in Ukraine has had an undoubted influence on prices in the U.S. in the short-term, with headline rates rising from 7.9 per cent in February 2022 to a then historic high of 8.5 per cent in March 2022 following Russia's invasion.
The increase in March reflected in part the the spike in geopolitical risk caused by Ukraine, as the U.S. and the rest of the world began to negotiate its trade agreements and diplomacy with Russia.
However, inflation had already been running hot for some time, rising by 2.5 percent between September 2021 and February 2022, which sits among the widest fluctuations of the past 20 years.
Reports in January were already flagging high inflation, with some analysis showing Consumer Price Index (CPI) rising to 7% by December 2021, the largest year-over-year increase since 1982.
The reason in-part can be traced to the easing of Covid-19 restrictions, as businesses faced a supply chain crisis as economies reopened. A shortage of semiconductors, used in cars and household goods, was widely cited as another significant supply-side factor.
Throughout Biden's presidency, rates have rarely decreased month-on-month, reaching a 40 year high of 8.6 per cent in May 2022.
All of this is not to say the conflict in Ukraine, which is creating turmoil in both energy and grain export markets, played no role in the trend.
As stated in a May 2022 report by the Federal Reserve Bank in Dallas, the war in Ukraine led to a "commodity prices surge... pressuring inflation higher," and that the U.S. "was not unrestrained due to supply-chain bottlenecks, shortages and various regulatory, financial and technological hurdles to profitability."
Newsweek reached out to several global economists, academics and other experts for their views on the president's comments.
Among them was Michele Geraci, former Undersecretary of State at the Italian Ministry of Economic Development and a Professor at Nottingham University Business School China.
Professor Geraci noted that while conflict in Ukraine had impacted inflation, the rises were far longer in the tooth, noting that near-zero interest rate policies adopted by the Fed, along with generous stimulus packages and quantitative easing following the 2008 financial crash, played a role.
The supply side crisis caused by Covid-19, limiting the ability of businesses to restart after the pandemic, exacerbated this issue. The war in Ukraine was, as Professor Geraci describes, "an add on" and that EU sanctions on oil and gas were also causing prices to go up.
"In a way, it's not Biden's fault because he inherited the problem and he can be sheltered from criticism. But on the other hand, he is also wrong to blame Russia, because if the problem comes 10 years ago, that's nothing to do with the war," Professor Geraci added.
"If I was Biden I would do the same. I would blame someone else external, that has nothing to do with me. Last year was Xi Jinping, this year it is Putin. For good reason, by the way, of course—the war—but it's very easy for a politician to offload the responsibility into external factors."
Professor Geraci added that by blaming Putin solely for the crisis, he would in effect be admitting inflation was "imported," meaning "the Fed or the US policymakers have no power to make any changes."
"Especially here, in the specific case of inflation, where you cannot really do much to change it, it is almost that Biden is saying to himself, in a very clever way, 'There are problems, but they have nothing to do with me'
"One comes from Obama 10 years ago–which he may not say because he's on the same side—but he could say the global financial crisis of 2008. The other one is Putin.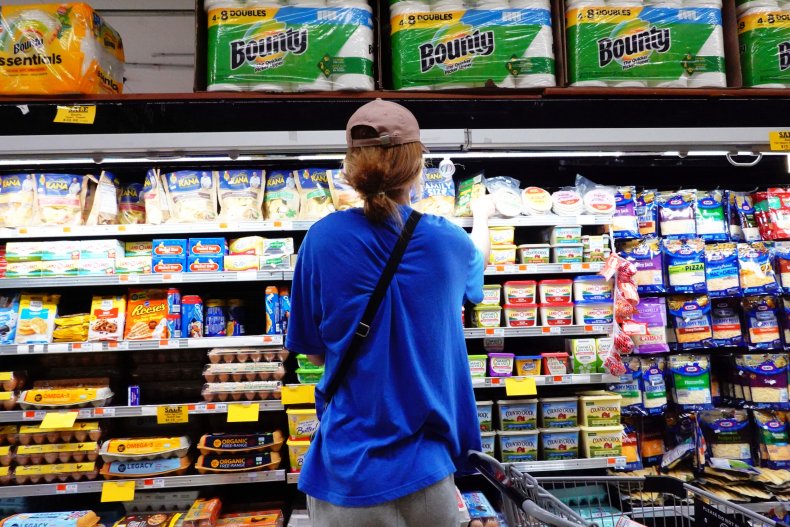 Dr Michael Jonas, an associate professor and co-chair at the Department of Economics at the University of San Francisco, echoed some of Professor Geraci's views although took a stronger view of the war's impact.
"One may hypothesize that once the scale of the war and the West's economic response became known, the market began expecting a spike in food and energy prices due to supply disruptions," Dr Jonas said.
"Since inflation is largely a self-fulfilling prophecy, higher price expectations began being priced into new contracts and pushing effective prices higher.
"So, while it is surely an oversimplification to "blame Putin" for the rise in inflation, my belief is that the war in Ukraine has had a significant impact."
The U.S., as a domestic producer and consumer of gas and oil, is arguably better placed to weather the effects of energy shortages compared to other nations closer to the conflict in Europe.
In its analysis of firms' earning calls in 2022, based on staff calculations, and S&P Global Market Intelligence, the Federal Reserve found that firms in Europe far more frequently mentioned the Russia-Ukraine war than the rest of the world too.
"The rest of the world does not appear to be exposed as intensely.
"All told, this evidence is suggestive of the risk that European countries may suffer relatively more from the economic fallout from the conflict," the report concludes.
However, even if Russia's impact is removed from the equation, inflation was nonetheless rising consistently in the months leading up to the Russian invasion (including core inflation, which exclude gas and food prices).
Further estimates made by the Federal Reserve even claim that, while the impact of the conflict "will weigh adversely on global economic conditions throughout 2022," its effects "do not appear to be large enough to derail the global recovery from the pandemic."
In projections, measuring the effect of geopolitical risk on global inflation and GDP, the Fed estimates that world GDP will fall throughout 2022, before slowly recovering early next year. Similarly, it estimates that while world inflation may rise through the year, rates are likely make a steady recovery toward Q4 of 2022.
Its assessment still ends with a soft conclusion as to what impact the conflict could have, adding: "unforeseen developments in the conflict could generate further changes to geopolitical risk and worsen its economic effects."
In Biden's defense, during his speech he noted that "inflation, outside of energy and food, core inflation, has moderated in the last two months"—and recent data supports that claim.
There is indeed a growing disconnect between core inflation, which has dropped off after peaking in March, and headline inflation, which has continued to rise. That means there's scope to argue that war-linked factors, such as shortages of grain or oil, are taking on more weight in the overall inflation dynamic.
Similarly, as other fact checkers found, Biden's past claims, such as that 70 percent of the increase in monthly inflation was due to Putin's invasion, though tenuous, do have some factual basis.
But while the conflict in Ukraine undeniably has had, and continues to have, a significant impact on the U.S. economy, the "Putin price hike" oversimplifies the situation and doesn't fully reflect economic reality, which is rooted in much longer-term dynamics.
Newsweek has contacted The White House for comment.
The Ruling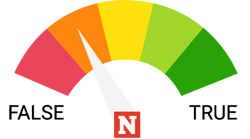 Mostly False.
The war on Ukraine and the geopolitical risk it entailed evidently has had a significant (and arguably growing) impact on the U.S. and world economy, as established global trade links and diplomatic relations were overhauled. However, it can hardly be called the trigger to the inflationary pressures that began arising months before the conflict, particular in the case of the U.S. economy, which is more insulated from the war than many of America's European allies.
FACT CHECK BY Newsweek's Fact Check team