Fact Check: Is Kanye West Beating Donald Trump and Joe Biden in Kentucky?
Kanye West has posted a joyful video to Twitter of him celebrating a screenshot showing him in third place in Kentucky, ahead of Donald Trump and Joe Biden in the state's election results.
The rapper also posted the image purporting to show said election results from the state, where polls opened Wednesday for early voting.
The Claim
The screenshot from local news outlet Lex18 shows West ranking third with 19 percent of the vote and 40,781 votes, ahead of both the Democratic candidate Biden, on 14 percent and Republican Trump on just two percent.
It also shows Libertarian candidate Jo Jorgensen winning the race with 36 percent of the vote, with former child actor Brock Pierce in second place with 29 percent.
The tweet containing the image has been liked 42.9k times and retweeted almost 10,000 times at the time of reporting. West simply accompanied the image with the eyes emoji. It now has a 'manipulated media' tag attached from Twitter.
In the video posted afterward, West is heard saying: "Get the West wing ready."
The 43-year-old followed up with another tweet which reads: "PEOLE TRIED TO TALK ME OUT OF RUNNING FOR PRESIDENT... NEVER LET WEAK CONTROLLING PEOPLE KILL YOUR SPIRIT."
The Facts
The poll West posted to Twitter is confirmed to be a fake by news outlet Lex18 in Kentucky.
The local outlet confirmed that a cached link on its website was showing test election results from the state but that they were part of their election preparations and not real results and are "not valid."
Lex18 released a statement confirming the mix-up.
"Someone discovered a cached web link that we used during June's primary election to post Associated Press election results," the statement reads. "The old link was still populating current AP data and showed test results, which is part of the preparation the AP does in advance of elections."
The data has since been removed from the page.
"The results shown were not valid," the statement continues. "They were simply part of a test. We regret the discovery of the cached web link and have removed the data from that page. We apologize for any confusion."
Aside from this clarification, early votes in Kentucky are not counted till election day on November 3.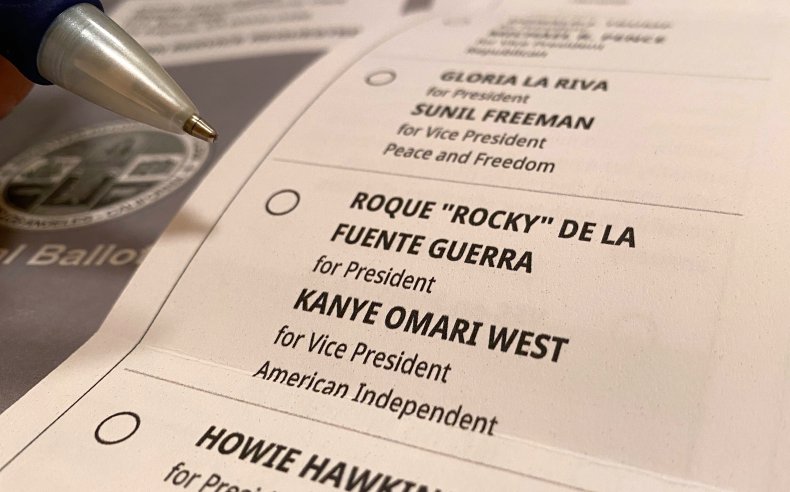 Rating: False
West's celebrations were premature as the rapper and his campaign referenced a mock-up election poll result which the news outlet had created to prepare for their election coverage on November 3.
The Bluegrass State is one of a handful that the "Jesus Is King" rapper is running for president, along with Arkansas, Colorado, Idaho, Iowa, Louisiana, Minnesota, Oklahoma, Tennessee, Utah and Vermont.